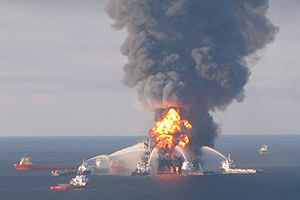 Fight disinformation:
Sign up
for the free
Mother Jones Daily
newsletter and follow the news that matters.
Today the Energy and Commerce Committee is grilling CEOs from the nation's top five oil companies, to be followed by even more smoke and fire on Thursday when BP CEO Tony Hayward takes the hot seat for the first time. The Committee, led by Congressman Henry Waxman (D-CA), has honed in on five "serious questions" about potential screw-ups aboard the rig. But a story that I've published today suggests that Congressional investigators should add a sixth line of questioning: Did BP's rig pass a key safety test—or not?
Spokesman for BP, Halliburton, and Transocean won't talk to me. If I had the chance, here's what I'd ask them:
BP has given conflicting statements about how many negative pressure tests—key procedures that test the integrity of the well casings—were performed aboard the Deepwater Horizon before the explosion. At times, the company has suggested that two tests were performed, and at other times that three or more "pressure tests" were performed. So what is BP's official position?
Halliburton service supervisor Christopher Haire has testified that workers on the rig floor, where the platform's drilling equipment was set up, told him that a third test was performed. But Haire's attorney says his pressure gauges indicated that a third test never took place. This suggests that a third test might have been done improperly or even fabricated. If BP still maintains that a third test was performed, what evidence does it have that a third test took place?
Halliburton has released results for only two negative pressure tests. What was the result of the third test?
Were the results of the negative pressure tests approved by BP's US headquarters in Houston? If so, why were they approved when BP has acknowledged that the results of the first two tests were unsatisfactory?
Several rig workers have described a confrontation between Transocean's rig installation manager, Jimmy Harrell, and BP officials aboard the rig on the day of the disaster. While Harrell has downplayed the conflict, other workers have suggested that BP was ignoring his safety concerns. Exactly what transpired during this conflict?