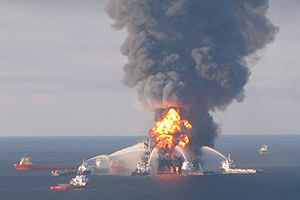 Fight disinformation:
Sign up
for the free
Mother Jones Daily
newsletter and follow the news that matters.
More than seven weeks after BP's Deepwater Horizon oil rig caught fire and sank, causing the worst environmental disaster in US history, what exactly happened during its final hours remains murky. There is broad agreement that the platform exploded shortly after a series of safety checks—but just how many tests were done and what they revealed is the subject of intense speculation and debate. Now a lawyer for some of the survivors says he has new evidence that casts doubt on BP's claims that a key safety check was successfully performed just hours before the explosion.
Tony Buzbee, a Houston attorney with a long record of winning settlements from oil companies, is representing Halliburton service supervisor Christopher Haire, who helped perform safety tests on the rig on April 20, the day of the blowout that killed 11 workers. That afternoon, Halliburton contractors performed negative pressure testing, a routine safety check that creates a sucking effect to test for leaks in a well's cement and casings. Haire helped with two negative pressure tests, both of which indicated potential problems with the well the rig had been drilling, known as Macondo. Buzbee says that statements he's taken from Haire suggest that an alleged additional test was not actually completed. Haire was injured when the rig exploded; Buzbee says his client is "focusing on his medical treatment" and unavailable for comment.
BP has acknowledged that two negative pressure tests on the day of the accident were unsuccessful. A company official told congressional investigators last month that the tests' results may have indicated that an influx of gas was causing pressure to mount inside the wellbore. According to a briefing (PDF) given to congressional staff by Halliburton, a negative pressure test is considered successful if no material such as drilling mud, a lubricant injected into unfinished wells, comes up to the surface. However, the first negative pressure test aboard the Deepwater Horizon returned 23 barrels of drilling mud to the surface of the rig and the second test returned 15 barrels, according to public statements by an attorney for Halliburton.
Haire, who performed the two tests with the help of another rig worker, discontinued the second test at around 7 pm because the tank that held the drilling mud was full, Buzbee says. He was then told to shut a valve on the well and stand by. After about 45 minutes, Haire and a coworker began to wonder what was going on and went down to the rig floor, where the platform's drilling equipment was set up. There they found four employees of rig owner Transocean—the driller, tool pusher, and two assistant drillers. "At that point, I was instructed by the driller and the tool pusher that they had achieved a successful negative test on the rig floor," Haire told investigators from the Coast Guard and Minerals Management Service last month. (All four of the Transocean employees died in the blast.)
Yet Buzbee now tells Mother Jones that Haire (pictured below) saw no evidence that this third and final negative pressure test actually took place. As Haire had been waiting above the rig floor, his pressure gauges did not show any changes in the well—as they should have if another test had been performed. "That's why I've always said from the beginning that there never was a 'third test,'" Buzbee says. "The only information that we have about any so-called 'third test' is the word of BP." BP did not respond to a call and email seeking comment.
"There never was a 'third test,'" Buzbee says. "The only information that we have about any so-called 'third test' is the word of BP."
Buzbee and Haire's description of events is partly reflected in testimony given by Tim Probert, Halliburton's chief health, safety, and environmental officer, before the House Energy and Commerce Committee on May 12. Probert said that negative pressure testing had continued "until Halliburton's cementing personnel were advised by the drilling contractor [Transocean] that the negative pressure test had been completed, and were placed on standby"—echoing Haire's claims of being told to wait for further instructions. Probert did not mention any additional testing taking place after that.
BP had final say on all operations on the rig. An internal email (PDF) submitted to the House Committee on Energy and Commerce shows that the company's Houston office signed off on a plan for negative pressure testing on April 20. Yet the company has offered offered contradictory accounts on whether a successful third negative pressure test took place. On May 10, James Dupree, the company's senior vice president for the Gulf of Mexico, told comittee investigators that he believed the well blew out moments after the second pressure test. A day after his testimony, lawyers for BP contacted the committee and "provided a different account," wrote chairman Rep. Henry Waxman (D-Calif.) in an opening statement (PDF) delivered before a hearing on May 12. "According to BP's counsel," continued Waxman, "further investigation has revealed that additional pressure tests were taken, and at 8:00 pm, company officials determined that the additional results justified ending the tests and proceeding with well operations." It was unclear from Waxman's statement what "additional pressure tests" BP might have been referencing other than the alleged third negative pressure test that Haire mentioned.
Testifying before Waxman's committee later that day, Lamar McKay, the president of BP America, would not elaborate on what happened after second pressure test. "I think the investigation needs to look hard at…what decisions were made after that point," he said.
Two weeks later, a memo released by Waxman (PDF) summarizing a briefing (PDF) from BP's internal investigation of the explosion made no mention of the additional pressure tests. However, it quoted BP's investigator as saying that a "fundamental mistake" may have been made in the performance of the second negative pressure test since its results indicated "a very large abnormality." After this test, according to the BP briefing, there was "discussion about pressure on the drillpipe" and well was monitored until 7:55 pm, when the rig team was "satisfied that [the] test [was] successful." The Deepwater Horizon exploded less than two hours later.
Waxman's office would not comment on its investigation. Yet on Monday, Waxman repeated accusations that the oil company had cut corners to save money and time on the Macondo well, which was significantly behind schedule at the time of the accident. In a letter (PDF) to BP CEO Tony Hayward, Waxman wrote that "BP appears to have made multiple decisions for economic reasons that increased the danger of a catastrophic well failure." His letter did not mention negative pressure testing. (Read Kate Sheppard's latest coverage of Waxman's investigation here.) 
Adding more confusion to the third-test question was the May 27 testimony of Jimmy Harrell, a top manager for Transocean, who told federal investigators that BP originally had not planned to conduct any negative pressure testing. Harrell said that the first test had been performed at his suggestion; the second test was suggested by someone else (possibly BP or Halliburton). Harrell said that he and BP officials on the Deepwater Horizon had considered both tests successful despite the large amounts of drilling mud that came back to the surface. He said he did not know of a third pressure test.
The disputed third pressure test hasn't come up again in subsequent public hearings. Yet the conflicting claims about the Deepwater Horizon's safety checks are likely to remain a key focus for investigators trying to reconstruct the rig's final hours—not to mention BP, Transocean, Halliburton, and lawyers like Buzbee as they scramble to assign blame for the disaster.
Photograph of Christopher Haire by US Coast Guard