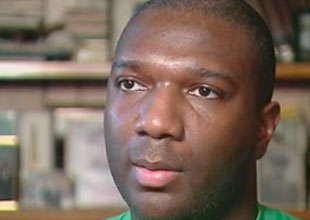 Fight disinformation:
Sign up
for the free
Mother Jones Daily
newsletter and follow the news that matters.
Is Alvin Greene a Communist plant from North Korea? That's at least what one casual observer believes, according to an email I received on Wednesday drawing attention to Greene's previous military service on the Korean peninsula. "All US Servicemen there are controlled by the 'crazy' people!" read the message. "It's a communist plot, soiled with the Greene plant!" This may sound loopy—but it's not that much more far-fetched than some of the theories flying around regarding Greene's improbable victory in South Carolina's Democratic Senate primary on Tuesday night.
There are at least two key mysteries that state officials are trying to unravel. How did the unemployed Greene come up with the $10,400 filing fee required to run for office? And why did 100,000 voters cast a ballot for a total unknown who had no website, no party support and no visible campaign? Some are convinced that shadowy forces are pulling the strings. But hard proof of any foul play or outside manipulation remains elusive. And others who have met with Greene have come away convinced that he is the beneficiary—or victim—of circumstance.
Greene is also facing felony obscenity charges brought against him in November. Former state Democratic Party chair Dick Harpootlian points out that he's being represented in this matter by a public defender—meaning he would have had to state that he didn't have the funds to pay for his own defense. Yet four months later, Greene had somehow come up with the election filing fee, which he told me he paid out of his own savings. "He represented himself as indigent, at the same time that he's paid a $10,400 charge for Senate," said Harpootlian, a former prosecutor in Richland County, where Greene is being tried. The discrepancy raises two questions, Harpootlian said. Did Greene get the funds from an undisclosed source? Or did he misrepresent his financial status to the state during his arraignment in order to receive a free lawyer?
Harpootlian himself is quite familiar with his state's history of dirty political tricks. More than a decade ago, he successfully prosecuted Rod Shealy, a Republican operative, for paying the filing fee for an unemployed black fisherman to run in a congressional race against Shealy's sister. But there's no obvious motive for such a ploy in the Democratic Senate primary, as incumbent Republican Sen. Jim DeMint (R-SC) is heavily favored to win re-election.
Possible shenanigans aside, nobody has yet figured out how Greene, who does not seem to have done any campaigning, managed to win 59 percent of the vote. Democratic Majority Whip James Clyburn has claimed that Greene must be "somebody's plant" and said he'd received reports of a whisper campaign to vote for the first name on the ballot. "I'm told in a lot of rural communities, people were told, just vote for the first name on the ballot…that's the kind of instructions that went out to people," Clyburn said in a conference call Thursday. He added that robocalling or a direct mail campaign may have been carried out covertly. But no one has come forward with any proof of such a scheme, and Clyburn said he had no idea who might be behind one.
Clyburn suggested that the Greene campaign could be part of a larger conspiracy that included his own primary competitor, Gregory Brown, who ran unsuccessfully against him in the 6th congressional district. Clyburn alleges that Brown, like Greene, had failed to file his campaign spending reports with the Federal Election Commission, as required by law for expenses over $5,000. He estimates that Brown had spent than $500,000 on his campaign to unseat him, including broadcast television advertisements and signs—raising the question as to where the money was coming from. "There was something going on in South Carolina that was untoward," Clyburn said Thursday, on a conference call. "We can see our entire electoral process destroyed if we don't do something about it."
But in the absence of any convincing evidence or motivation, other state Democrats are becoming increasingly skeptical of such theories—and increasingly concerned that Greene is not fully cognizant of his own situation. He seems completely overwhelmed by the flood of attention, not all of it positive: on top of the conspiracy theorists, the mother of Greene's felony accuser has vowed to wreak havoc upon his campaign, as she told Mother Jones this week. Democrat state Rep. Bakari Sellers, who met with Greene on Thursday, said that he didn't believe the unlikely candidate was a plant. "I think he just kind of doesn't know what he's getting into," Sellers told Talking Points Memo. TPM continues:
Todd Rutherford, another Democratic state representative who met with Greene today alongside Sellers, told TPMmuckraker, "Before I got to my third question, I could tell that something was awry," adding, "I don't know whether everything is OK."
Rutherford, an attorney, said that if Greene were his client, he would move for a mental evaluation. "If there's a joke he doesn't get the joke. If someone paid him to do this, they certainly exploited someone who is vulnerable. It's not even funny, it's just sad."
On election night, I was among the first reporters to speak with Greene after his victory was announced. His verbal tics and strange affect were immediately apparent: he frequently repeats and interrupts himself, speaks haltingly, and sometimes descends into incoherent rambling, as subsequent video and audio interviews have made all the more obvious. In his interview with Keith Olbermann on Thursday, he had great difficulty answering the most basic of questions, seeming to take cues from his attorney off camera. There are still plenty of questions about his decision to run for Senate—perhaps less about any shadowy operatives than his own state of mind.