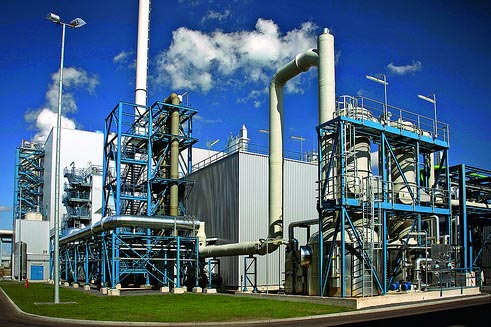 Fight disinformation:
Sign up
for the free
Mother Jones Daily
newsletter and follow the news that matters.
Renewable energy enthusiasts have been disappointed lately by President Obama's embrace of nuclear energy at the expense of cleaner, renewable options like wind and solar. He has also long been a supporter of "clean" coal, an umbrella term for strategies to reduce coal pollution, which critics have said amount to little more than government-sponsored green-washing.
One clean coal technology that has taken off in recent months is carbon storage and sequestration (CSS), which essentially transforms carbon emissions into a liquid to be kept underground. And as David Biello reports, American Electric's Mountaineer plant, the first to successfully store carbon under our feet, indicates that coal will remain a large part of our energy portfolio:
President Barack Obama seems to think so, even as he continues to push for reducing emissions of greenhouse gases by more than 80 percent by mid-century. To meet that goal, Obama said during his State of the Union address in January, the U.S. must not only develop renewable sources of energy but must also invest in clean coal technologies. A week later, the Obama administration created an interagency task force to develop a federal strategy by August for carbon capture and storage (CCS), the underlying principle of so-called "clean coal." The goal is to make carbon capture and storage widespread within a decade.
So far, Mountaineer only stores 2 percent of its emissions, but the plant itends to increase carbon storage potential to twenty percent with the help of $334 million in federal funds. And the Obama administration has set a goal to add storage capability to five new plants by 2016, including the FutureGen plant, which was abandoned in 2008 due to its $1.8 billion price tag.
The problem, reports Victoria Schlesinger for Mother Jones, is that many communities are saying "Not Under My Backyard" to carbon storage, fearing that the new technology could raise electric bills, and worse, leak dangerous chemicals into public spaces. Earth scientists have said that such dangers are highly unlikely, but carbon storage remains untested on a large scale. "It's tricky to know what conduits exist underground" a lawyer for the Union of Concerned Scientists told Schlesinger. "Those could be a potential pathway for the CO2 or other minerals to leach out."