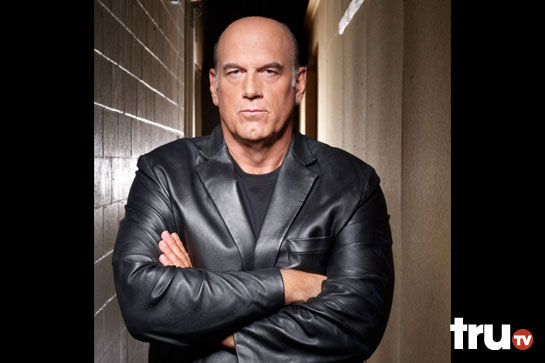 Fight disinformation:
Sign up
for the free
Mother Jones Daily
newsletter and follow the news that matters.
Jesse "The Body" Ventura, the erstwhile professional wrestler, Navy Seal, motorcycle gang member, and governor of Minnesota, has embarked upon yet another career: investigator of nefarious plots. This month, Ventura launched a show called "Conspiracy Theory" on TruTV which claims to shine light on "the most frightening and mysterious conspiracy allegations of our time." So far Ventura has explored whether 9/11 was an inside job (he doesn't buy the 9/11 Commission's official explanation) and whether the government is testing mind-control weaponry at a secret base in Alaska. (Conclusion: "I learned that radio waves really can get inside your head. They got inside mine.") And in another recent episode, he takes on "the global warming scam."
"Whether global warming is real or not, some people may be using the issue to earn billions of dollars, start a one-world government and control people's lives," warns the teaser on the website for TruTV (formerly known as Court TV). In the show, a voiceover promises that "Jesse Ventura finds the direct link between global warming and a plot to rule the world."
Enter Ventura, who spends much of the 60-minute show skulking around in a black leather jacket, meeting gravelly voiced informants in abandoned warehouses for no apparent reason. "I never thought I'd be investigating global warming. I believe it's real and that saving the planet is good," intones Ventura. "But now I'm on my way to see a guy named Noel Sheppard. He says he has proof that some people are using global warming as an excuse to make money and control the world. That's a conspiracy I want to expose."
Ventura sets up a "clandestine meeting" in a deserted San Francisco courtyard with Sheppard, who is described as an "investigative journalist." This not-exactly-elusive figure—he is a writer for Newsbusters.org—has it on good authority from Russian tabloids that "the earth is now on the brink of entering another Ice Age." He also believes that the occurrence of snowstorms disproves global warming. Ventura learns that climate change may in fact be a vast and elaborate hoax—perpetrated, as he puts it, for "Power. Money. Control."
So Ventura dispatches his team of expert investigators to uncover the truth. These super sleuths fail to locate the thousands of scientists from the Intergovernmental Panel on Climate Change or other preeminent institutions who have spent years studying the phenomenon of planetary warming. Instead, they visit three scientists suggested by Sheppard.
One of Ventura's hard-hitting investigators—June Sarpong, formerly a reporter on a British youth entertainment show—travels by what appears to be a passenger ferry to an undisclosed location to meet Dr. X, a scientist who is "hiding for his life." June frets that someone is following her (presumably someone other than Ventura's camera crew). In order to protect Dr. X from the climate change mafia, he is never named and nor are his credentials revealed. Sitting in deep shadow, he reveals that while he believes the planet is warming, the culprit isn't carbon dioxide. It's the sun. "There's absolutely no question the sun is virtually ignored by the authorities," he says.
"If global warming isn't man-made, why are they telling us it is?" asks June. "Because they're using it as a vehicle for political control," Dr. X replies. "Control every aspect of people's lives, the number of children you can have, the number of people on the planet, where they live, what they can drive. Everything."
Other interviewees include Lord Christopher Monckton, perhaps the wackiest and best-known climate skeptic, and Richard Lindzen, an MIT atmospheric physicist and contrarian extraordinaire who claims, falsely, that the global temperature has "stopped increasing." (The show doesn't mention that in the 1990s Lindzen accepted at least $10,000 from fossil-fuel industries to dispute the existence of climate change as an expert witness before Congress and industry-sponsored events.) Ventura's team also solicits the opinion of a "conspiracy expert"— who turns out to be Alex Jones, chief 9/11 conspiracy theorist, radio host, and head of InfoWars.com, the web hub for the tinfoil hat club.
The tough questions are reserved for Benjamin Santer, a climate scientist at Lawrence Livermore National Laboratory. Sarpong grills Santer about Monckton's allegations that he "cooked the books" on climate change in United Nations' reports. "Lord Monckton, to my knowledge was not part of the process," Santer points out. "I was." The investigators also grill Amit Chaterjee, CEO of carbon-monitoring software firm Hara. As Sarpong presses him for answers about his relationship with Al Gore (a partner in the venture capital group Kleiner Perkins, which backed Chaterjee's start-up) and the sinister business of carbon reduction, Ventura bursts into the room, demanding answers about Gore's motives. "If this is a war on the environment, there are going to be profiteers," he says.
Ventura ultimately decides that Al Gore is not really "trying to control the world." "I know Al Gore," he says. "I don't think he's out to do that." Instead, Ventura reveals, "the hunt leads to one man": Sir Maurice Strong, the former executive director of the United Nations Environment Program and, according to Ventura, the "wizard behind the curtain" on climate change. Wait, make that two men: Ventura also sees a culprit in Edmond de Rothschild, the billionaire banker who died earlier this year. These powerful figures are perpetuating a massive lie in order to profit from carbon trading, Ventura and his sources allege.
Ventura's team is never able to actually talk to Strong, despite a few more secret meetings in warehouses and a trip to China, where Strong now lives. However, one of Ventura's investigators reports via webcam that he has concluded that "Strong's a double agent, pretending to be an environmentalist, but really he's been working as an adviser to the Chinese government, and helping them make money off global warming." As with most of the allegations in the show, no evidence is given to support this claim. And it's safe to say that Ventura isn't exactly skeptical when presented with outlandish theories; in the pilot episode he insinuates that the government may have caused Hurricane Katrina and the Indonesian tsunami with a weather-controlling "death ray."
In his final summation, Ventura doesn't actually say whether or not he thinks that climate change is real and caused by mankind. "I'm no scientist. The conspiracy theory here is a scare tactic to control people, make billions, even trillions in profit," he says, stone-faced. "Al Gore, you've been a real inspiration. But a lot of other people who preach the global warming gospel aren't out to save the world. They're out to run it."
You can watch the whole episode in six parts on YouTube. Here's the first: