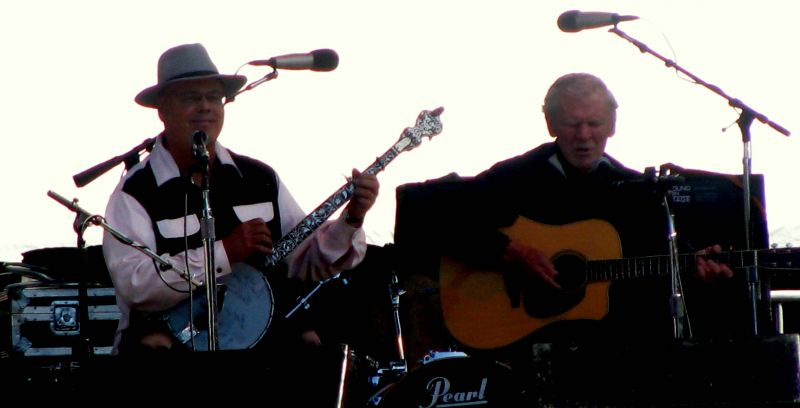 Fight disinformation:
Sign up
for the free
Mother Jones Daily
newsletter and follow the news that matters.
There were two distinct personalities in attendance at San Francisco's Hardly Strictly Bluegrass Festival this weekend. One was comprised of old bluegrass standards and quick-tempo banjo melodies popular among the older crowd of free spirits. The other, favored by the twentysomething folk enthusiasts in skin-tight jeans, was a hip hybrid of blues riffs, funky instruments, and alternative style. Though noticeably distinct, the two personas were married by the unbeatable combination of light beer and cheap bourbon.
The crowd that came out to hear Doc Watson's signature old-school flatpicking seemed less energetic than the audiences for the Old 97s, Gillian Welch and Galactic, which all market a watered-down variety of the pure stuff to a younger audience. Although he remains a legendary fixture of bluegrass, a surprising number of onlookers sitting near me at the festival's Banjo stage were surprised to hear Doc was on the schedule, even as he took the stage. But Watson, despite being 86 years old and blind for 85 of those years, knows how to get a festival crowd excited; he's been entertaining people for more than half a century, after all.
For Watson, music is a family affair. He played almost exclusively with his son Merle for 15 years, until Merle's untimely death in 1985. For the past two decades, Doc has played with a number of close friends, notably David Holt, with whom he shared the stage yesterday. Holt is known for his plucky banjo solos and narrative songwriting style. Doc was also joined by his grandson Richard, who announced to rousing and emotional applause that he recently became a grandfather, which makes Doc a great great (!) grandfather. The importance of Doc's family in his music was most apparent when he crooned the mountain love song "Shady Grove" in honor of Rosa Lee Carlton, his wife of 64 years. And Doc gave his late sister Ethel a callout when he introduced his penultimate tune, "Sitting on Top of the World," a popular 1930s tune about a boy trying to cheer himself up after his girl leaves him.
The Watson-Holt duo beautifully combines Watson's deep, raspy baritone with Holt's smooth, meandering tenor in songs that'll sound familiar even if you've never heard them before, and instrumentals that keep your foot tapping. Near the end of the set, Holt summed up the secret of Watson's success perfectly: He has the ability to "make an old song sound new and a new song sound old." That skill was readily apparent as the duo launched into a particularly haunting version of "Summertime." From this dark cover of the Gershwin classic, it would be difficult to distinguish Watson's sound from some of the newer varieties.
As Doc Watson's die-hard fans get older and audiences at festivals like Hardly Strictly get younger, you might worry that the Doc Watsons of the world will be replaced by more mainstream musicians before long. But the excitement to see Watson play this weekend was palpable, and he proved that a combination of great songwriting, solid guitar playing and charming personality is still enough to get a crowd of thousands on their feet for a standing ovation. And judging by the respect shown by some of the younger performers, like the Old Crow Medicine Show on Sunday night, for the classic greats who have defined bluegrass as we know it, Doc's influence will no doubt endure.