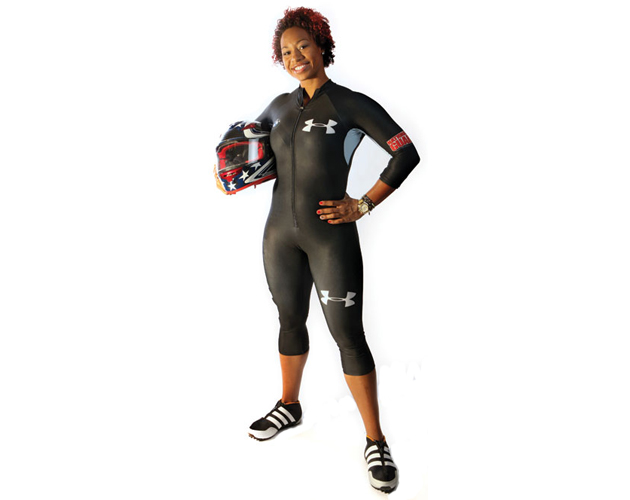 Fight disinformation:
Sign up
for the free
Mother Jones Daily
newsletter and follow the news that matters.
A "controlled car crash." That's how US bobsled pilot Jazmine Fenlator, 28, remembers her first run. "I was sliding down a mile of ice with my head buried in the bottom of the bobsled," she says. "I'm getting jostled around and I'm not understanding why I'm moving so much." She ended the run drooling and shaking, but she was hooked.
Bobsledders, many of whom, like Fenlator, hail from track-and-field sports, have to be some level of crazy to send their bodies careening down steep ice passages at speeds up to 100 miles per hour. But it's not just the risk of bodily harm that makes the experience intense. "It's a grueling blue-collar sport," Fenlator says. "We carry our sleds. There's no caddy, there's no pit crew." And, like many Olympians in less-prominent sports, the athletes often have to dip into their own coffers to pay for their training. At one point, Fenlator and her teammate had to scrounge up $20,000 for a new sled—which meant a slew of side jobs.
Their dedication paid off in early December, when Fenlator joined five teammates on the podium for a World Cup sweep—the first since 2001* for US women's bobsledding, and a hopeful indicator of what may lie ahead for Team USA in Sochi.
Mother Jones: What kind of reactions do you get when you tell people what you do?
Jazmine Fenlator: A lot of people think I'm on the Jamaican bobsled team. It's a question every black bobsledder gets, even if you're wearing a USA shirt. Or a lot of times people don't know what bobsled is, so they'll reference luge or skeleton. It's a hard sport because not many people can relate to it, and it's a hard sport to spectate. You only see it every four years on TV, and it doesn't have a lot of popularity, which we're trying to change. So, you get a lot of naïve questions. But I welcome those. The more people I can teach and tell about bobsled, the more cheers we'll have in Sochi.
MJ: How does one become a bobsledder?
JF: I was a senior in college in 2006-2007 at Rider University as a track and field athlete. I started to realize that I was a little bit behind the pace I needed to qualify for Beijing. I was really going to focus on revamping my training when my coach mentioned bobsled. I didn't really take him too seriously, but he submitted my athletic resume and the team invited me to a tryout camp. I jumped on the opportunity. It's not everyday a national team invites you, especially if you've never done the sport before.
MJ: Had you ever even imagined bobsledding?
JF: No. I'd seen Cool Runnings and watching the 2002 and 2006 winter games, but I did not actually know much about it.
MJ: What do you remember from the 2002 games, the inaugural year for women's bobsled?
JF: For Team USA to bring home gold, as well as Vonetta Flowers winning the first medal in winter sports for an African-American, was huge. I remember watching her and Jill Bakken push that sled down the start ramp on the final run and the announcer saying, "This is where Olympians are made, this is where medalists can break or make it." They kept their composure and they did just what they needed to do and came across the line screaming.
"It's not everyday a national team invites you [to try out], especially if you've never done the sport before."
MJ: What was bobsledding like the first time you did it?
JF: I had no idea what is happening. I was a brakeman, so you don't get to see where you are going. My helmet doesn't even fit properly, I am getting jostled around in this sled. A lot can happen in your brain in a minute, I've learned.
One of the coaches stood at the bottom to make sure that the newbies weren't getting motion sickness or about to run and call a taxi and head to the airport. I'm breathing heavy and have drool and snot probably everywhere. I can't unbuckle my helmet. I'm shaking, and I feel like "Aaah, I don't really know. How many times do we do this today?" He's like, "Great, 'cause we have a couple more training trips to go! Head right on the truck and go back up." It was a pretty incredible experience. Extremely humbling.
MJ: How do you shave seconds off your time?
JF: You're searching for thousands of seconds that add up to equal hundredths. I've gotten third in a race by six-hundredths. You can't even blink that fast. And you can be like, where did I lose that time? Was it a piece of tape flapping on the side that I forgot to take off when cleaning my sled? Was it this little mistake here or there? You can't just be a great athlete. You can't just be a great pilot. You can't just have great equipment. You're looking for a combination, because it's not just one thing. That's why you're in the weight room, and sprinting every day—to shave off hundredths in your 30-meter time, and lift 5 or 10 more pounds in the squat. Because all of that adds up.
MJ: What kind of mishaps lead to crashes?
JF: There's a joke that we say, "It's the brakeman's fault: They moved!" [Laughs.] It could be something with your equipment. I've been in a sled where one of the ropes that connects to the steering has snapped, and now you're pretty much driving with only one side, and sometimes you make it down and sometimes you crash. Sometimes it's a driver error: You did the wrong steer in a corner, which put you in a poor position. Maybe you needed to be lower around the corner, and you let the sled in so you're higher around the corner. Well, sometimes you run out of corner to finish your steer, and you flip the bobsled.
MJ: That's a lot of pressure. Why do you prefer to be the pilot?
JF: I like manipulating scenarios and trying to find speed and adapting. Throughout my life, I've had to adapt to different situations, and I think being the pilot suits me. You're never going to have a perfect run. There are so many variables: temperature, ice conditions, your push time, your equipment, your reaction time. If you're late coming around the corner, you need to get back to what's right. You need to have a plan B, C, and D to get back on the line and still be fast.
MJ: Tell me about your worst crash.
JF: I've crashed a lot. I crashed my third day ever in the sport in Lake Placid, and I have permanent ice burns and a scar. I slid from corner 4 to 20 on my side. That was not fun. But you learn a lot. It's a long way down.
MJ: Winter Olympics have traditionally been extremely white. Bobsledding seems like one area with some racial diversity—in women's bobsledding, you now have Aja Evans and Lauryn Williams, for instance.
JF: Growing up biracial, I never really thought about things. I mean, you're treated differently and you have some acceptance issues, but I grew up in a predominately white town. My whole side of the family I'm closest with is all white. I'm used to being surrounded by blond, blue-eyed people. It was only when noticed our women's team was so diverse that we realized we were really, I guess, making a statement and breaking through for winter sports. To me it's inspiring to let people know that it doesn't matter where you come from or what you look like. If you have a goal and you want to be the best, no one can tell you no.
MJ: Your dad is Jamaican. How does he view the sport?
*Correction: The original version of this article stated that the US women's bobsled team swept the World Cup podium for the first time ever.
JF: My dad used to love watching Cool Runnings with me. I quote it all the time. When I told him I got an invite to try out for the US team, his first words were: "Sanka! You dead, mon? Let me kiss your lucky egg!"
MJ: What kind of personality traits do you need to be a bobsledder?
JF: Every pilot has some kind of OCD tendencies. Everything has to be organized in a line, or they have to use a particular kind of tape, or things like that. Every pilot has a routine that makes them feel confident and ready for battle. I think also, having control over fear. Crashing and malfunctions are just a part of our sport. To be a good pilot, you have to be able to roll with those punches and to adapt fairly quickly and stay calm doing it.
MJ: Why are so many track and field stars, like you or Lolo Jones, crossing over to bobsledding?
JF: It's very similar training, to a point. You're always trying to be the fastest and strongest. Coming into bobsled, you need to be as fast, or faster, than a 100-meter sprinter, because we only run 40 to 50 meters. And as strong as a lineman in football. You're pushing a 400-pound instrument, so you're just maximizing those tools to be a force for bobsled.
MJ: Lolo Jones was criticized earlier this summer after complaining that it was unfair that she was only making about $741 for the entire season. Other bobsledders countered that they might walk away with nothing. I know you spoke up in her defense.
JF: People who follow her Twitter and Instagram know she is very cynical and sarcastic. Lolo knows she has a platform to bring awareness of our sport. I think her goal was to entertain, but to show the reality of what we go through to support our Olympic dream. I think she and I relate because we come from such struggles and personal tragedies. If you don't laugh about things, you're going to cry.
MJ: She mentioned that you had gone into debt to pay for sleds at one point. Is that true?
JF: Yes. We lost some funding from the US Olympic Committee. The USA 3 sleds on tour that year had to fund the first half of their season, which was an estimated $20,000.
MJ: So do you have to work on the side then?
JF: I've worked since I was 12. To support my bobsled habit, as I call it, I've worked three jobs sometimes in the off-season, and freelance during the season. I've babysat, I've been a manager at a creperie and deli in town. I've done graphic design, I've catered, I worked at Johnson & Johnson, mowed lawns, cleaned houses, stripped floors, been a maid—anything that gives me a paycheck. I worked at a liquor store. The list could go on.
To support her "bobsled habit," Fenlator has babysat, managed a deli, done graphic design, catered, mowed lawns, cleaned houses, stripped floors, and been a maid.
MJ: Do you think people have misconceptions about how Olympic hopefuls get by?
JF: It's hard that the Olympics only come around every four years. For most winter sports, until it's in their face, people don't see it. They see the pro athletes, like Lindsey Vonn or Tiger Woods or NFL players or Serena Williams. They're phenomenal and have earned their income, but we don't receive an income, we don't receive federal aid, and to train is extremely expensive. I do one of the most expensive sports in the history of Olympic sports. I love it. I don't do it for a paycheck; I do it because of the happiness and joy it brings me.
MJ: Your mom's been battling lupus for years. Are you her main source of support?
JF: I'm more of her cheerleader. I let her know that she's my biggest inspiration. Without her strength and what she's gone through, there's no chance I'd be the person I am today. My mom suffered two strokes a month and a half ago and can no longer drive. She lost her sight. I try and help financially. Yesterday I paid her overdue phone bill so she doesn't have to worry about it, and so I can call her without worrying that the phone is shut off. She sent me an email saying, "I'm sorry you had to do that!" I said, you supported me for 28 years. I think I can pay a phone bill for you.
MJ: Will she be able to travel to Sochi?
JF: It depends on her state. And the visa is extremely hard to get. My mom gets motion sickness, so flying is—she has to take a lot of Dramamine. I don't want her to be traveling alone. Her health is just very unpredictable. Lupus is an autoimmune disease that just keeps deteriorating you. I just want her to be comfortable. If coming to Sochi is putting stress on her, I want her to be home and comfortable and screaming at the TV for me.
MJ: If you weren't bobsledding, what would you be doing?
JF: To be honest, at this point in my life I'd be home, giving my mom a big hug and telling her I love her. But if everything was perfect, I'd be a photojournalist. Traveling the world to make a coffee-table book to bring life's simple pleasures to people homes through photos.
MJ: Where would you go?
JF: South Africa. Thailand. And a swoop through Europe.