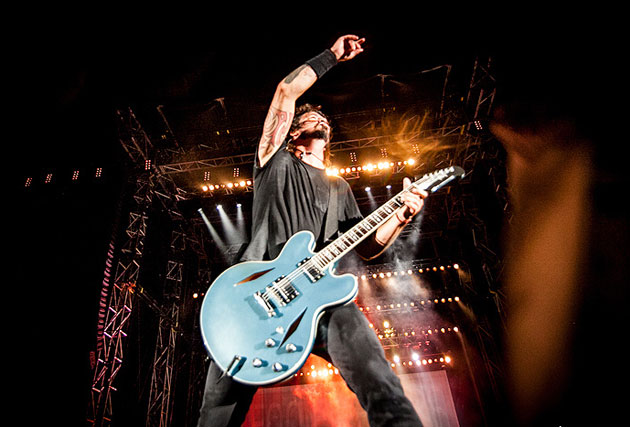 Kurt Cobain was already a few years dead by the time kids in my grade really came around to Nirvana. The one boy I knew who caught on early had older siblings and showed up to school one day wearing an oversize Nevermind t-shirt, only to be marched off by the teacher to the lost and found to pick out a sweater to cover up the now-iconic floating baby. (Anyone wearing Bart Simpson—"Don't have a cow, man!"—or Beavis and Butthead faced a similar fate.)
The night I first listened to In Utero start to finish I was riding shotgun with a friend who'd just gotten her license, both of us screaming along with the windows rolled down. It was an early blush of freedom and a revelatory musical experience, a moment that I expect countless teenagers across the country experienced in their own ways.
Poppier and lacking the raw ferosity of Nirvana but still angsty in its own right, the Foo Fighters came onto the scene with songs like "Everlong" and "Learn to Fly" that will forever be linked to memories of basement parties, football games, and other American high school clichés. But Nirvana always reminds me of those celebratory and sometimes soul-searching suburban joyrides.
So I was especially excited when the opening scenes of Sound City, Dave Grohl's filmmaking debut, featured a time-lapse of someone driving aimlessly along a California freeway while Grohl reminisces in a voice-over about what it's like to be a teenager.
"We were just kids with nothing to lose and nowhere to call home. We had songs and dreams. When you're young, you're not afraid of what comes next; you're excited by it."
The documentary, which premiered this month at Sundance, focuses on the history of Sound City, a former Voxx amp factory turned recording studio on the outskirts of Los Angeles that produced some of the most influential rock albums of the last 35 years. Neil Young, Pat Benatar, Tom Petty, Nirvana, Foreigner, Slayer, Johnny Cash, Cheap Trick, REO Speedwagon, Fleetwood Mac, Weezer, Rage Against the Machine, and many others recorded there. With its brown shag carpet and walls lined with platinum records, Sound City was the stuff that Behind the Music dreams are made of.
The film's high-water mark comes when a little three-piece band from Seattle shows up.
The popular VH1 cable show (which ran from 1997 until 2006, and resumed last year) seems to be the source of Grohl's directorial inspiration. With rights to the Foo Fighters and Nirvana catalogues, a massive budget, and plenty of rock legends on his speed dial, he was able to wrangle lots of big names. Music fans will dig the parade of current and future Rock and Roll Hall of Famers—from Neil Young and Stevie Nicks to Trent Reznor and John Homme of Queens of the Stone Age—retelling stories from their glory days. But Grohl, widely known as the nicest guy in rock and roll, doesn't want to offend anybody and seems to leave no interview on the cutting room floor. A couple of conversations are even squeezed in under the credits. (Sorry Rivers Cuomo!)
The film's best moments focus on the folklore of the studio itself. The focal point is the Neve 8028 Console, a 24-track "mathematically crisp, built like a tank" custom, handmade sound board that begat famous albums such as Rumors, After the Gold Rush, and Rage Against the Machine's self-titled debut. The musicians speak with reverance about the space itself, which through "luck and magic" gave the drum tracks an especially epic sound.
"Sound City" really starts to drag as aging rockstars rehash the worn-out analog vs digital debate—but the music is still great.
The cast of characters that hung around the studio in its heyday, of course, are as much a part of the mythology as the equipment. Regulars included the runners and receptionists, Tom Skeeter (the studio's owner and father figure), Rick Springfield (of "Jessie's Girl" and General Hospital fame), and Paula (the sweet, feisty redhead everyone had a crush on).
After producing a string of steller albums in the 1970s and early '80s, Sound City began a steady decline, as drum machines, CDs, and the "pure and perfect" sounds of digital recording began pushing analog systems into the shadows. The film's high-water mark comes, of course, when a little three piece band from Seattle shows up in 1991 to save Sound City from its seemingly inevitable demise.
Though the band's name evokes transcendence, Butch Vig, the producer of Nevermind, says Nirvana's members were not exactly seeking perfection in their recording. "Their music was primal," he explains. "You could hear the sweat in the tracks. You could hear Kurt Cobain's vocal chords. So much of that record is about performance."
The film could have satisfactorily ended here—going out in a blaze of rock bygones and misty-eyed conjecture about what might have been were Kurt still around today. But, alas, Grohl plods on because his own history doesn't end there. 
After buying the famed Neve console, Grohl calls up his music buddies to resurrect the greatness.
In the final third of the film—which feels like a separate movie unto itself—Grohl and friends launch into the old "debate" over analog versus digital. He enlists Nine Inch Nails' Reznor to back the pro-digital (and Protools) side, while the other old school (read: older) musicians tend to agree with Sound City studio runner-turned-producer Nick Raskulinecz who says that digital lends itself to a lot of people "who have no business being in the music business." There are a couple of good points made about the genius that can be born out of collaboration—as opposed to holing up in your bedroom with a guitar and a PC—but at a certain point the film really starts to drag.
Pro Tools and the internet are blamed for the ultimate death of Sound City in 2010. But never fear, our rock and roll hero is here. After purchasing the famed Neve console and hauling it back to his own studio, Grohl calls up all his music buddies and attempts to resurrect the greatness. Never mind all that earlier talk about how the old Sound City space had so much to do with the quality of its recordings. Nicks, Reznor, Springfield, and a few minor rockstars all noodle around in front of the cameras until they come up with a few mediocre tracks that will probably sell millions—or not. In fact, it looks like Grohl is taking this supergroup show on the road.
In short, Grohl's film is no masterpiece, and it mostly follows the old VH1 formula: Sound bite from aging rocker/fade in hook from song that made them famous/rinse/repeat. But the musical content, marking the collective memories of American rock and roll fans, ultimately make this an enjoyable film.
Sound City opens in select theaters on January 31 and will be available for download February 1. Trailer below.
Click here for more music coverage from Mother Jones.