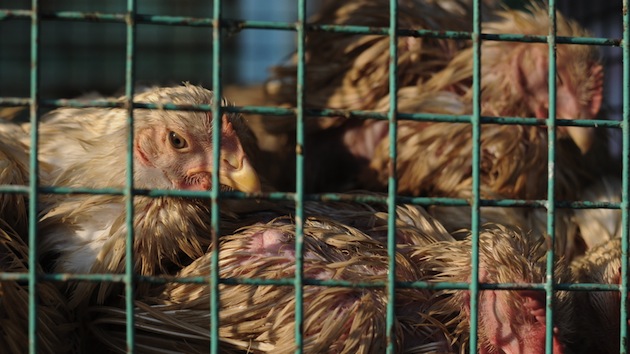 Fight disinformation:
Sign up
for the free
Mother Jones Daily
newsletter and follow the news that matters.
The US meat industry has a problem: American consumers have been eating less flesh. The solution is straightforward: find meat-ravenous people overseas. The opening of the China market to US-grown pork and poultry has helped stabilize the industry through a rough decade of waning domestic demand and elevated feed prices.
But now the meat giants want more. As a new report by Ben Lilliston of the Institute for Agriculture and Trade Policy shows, the industry is licking its chops at the prospect of a massive trade proposal called the Trans-Pacific Partnership, which would dramatically lower trade barriers among a group of nations that includes the US, Canada, Chile, Peru, and Mexico on this side of the Pacific, and Australia, Japan, Malaysia, New Zealand, Singapore, and Vietnam on the other. " The TPP would establish a free-trade bloc stretching from Vietnam to Chile and Japan, encompassing about 800 million people and almost 40 percent of the global economy," Reuters reports.
China isn't included in the TPP, but it is pushing for yet another treaty, the Free Trade Area of the Asia Pacific (FTAAP), which would encompass—not compete with—the TPP, Reuters reports. (Unlike the TPP, this treaty remains in its early stages, and isn't slated for completion until 2025.)
To date, there have been two major obstacles to the TPP, which is embraced not just by Big Meat but also by the entire US corporate sector, which sees it as the way to gain "better access to those lucrative markets," as the US Chamber of Commerce puts it.
The first is that the TPP would require Congressional approval, and the Democratic caucus has opposed the treaty because of its "potential to undermine important environmental, public health, and labor standards," as Huffington Post reported in January.
President Obama and the new Republican-dominated Congress agree on precious little—except the idea that capital and goods (but not labor) should careen frictionlessly across borders.
The second is the determination of Japan to maintain a semblance of a domestic meat-farming sector under an avalanche of US imports. To do so, Japan has been maintaining high tariffs on US meat—a program that has frustrated US trade negotiators and so far scuttled a deal.
But the Nov. 6 midterm elections, which slaughtered, so to speak, the Democratic majority in the Senate, changed everything. President Obama and the new Republican-dominated Congress agree on precious little, but one thing that unites them is enthusiasm for the creed of free trade—the idea that capital and goods (but not labor) should careen frictionlessly across borders.
Emboldened by their victory, the Congressional GOP leadership is actively savoring the prospect of passing the TPP over the objections the Democratic caucus. Meanwhile, the President, eager to trumpet his bipartisan bona fides, is hotly promoting the TPP overseas, declaring at a recent meeting of TPP partners that "today is an opportunity for us at the political level to break some remaining logjams" to the deal, Reuters reports.
The US meat industry, for its part, is cheering on this turn of events. And IATP researcher Lilliston makes clear the industry's stake in the fight: maintaining vigorous growth despite the American public's waning (but still high by global standards) appetite for beef, pork, and poultry.
The TPP countries already represent a massive market for the meat giants, Lilliston shows—they currently account for about $58 billion in total US food-and-ag exports, or about 72 percent of total US agricultural exports to the world. However, many of the TPP nations still maintain high tariffs on meat to protect their own domestic producers—but if Big Meat gets its wish, the treaty will rip those barriers down.
Unfettered access to Japan, the globe's third-largest economy, is the biggest prize. The country stringently restricts imports of US beef on mad-cow-disease grounds, refusing to accept US beef from cows aged under 30 months, Lilliston reports. On top of that, it maintains a 38 percent tariff on beef imports. Japan also maintains a complex tariff system on US pork that prevents sales from going even higher. Eliminating that barrier is so important to the US National Pork Producers Council that it vows to oppose the TPP if Japan manages to negotiate a pass for its pork tariffs, Lilliston writes.
Smaller but faster-growing Asian economies also maintain trade barriers that Big Meat wishes would disappear. "Poultry from the US faces a 40 percent tariff in Malaysia," reports Lilliston, while Vietnam has "up to 20 percent tariffs on beef, poultry, and pork, as well as a host of other restrictions. Vietnam, meanwhile maintains "restrictions based on veterinary drug residues" and "zero tolerance for pathogens," neither of which pleases Big Meat, Lilliston writes.
Even Canada, that faithful US trade partner, operates agriculture policies that the US meat industry would prefer to see crushed under the weight of the TPP, including a "supply management" system that keeps small, pasture-based Canadian dairies flourishing even as their US counterparts consolidate into large, feedlot-based systems—a story Barry Estabrook told in a classic 2010 Gastronomica piece.
So why should US consumers care about this alliance between Obama and his erstwhile opponents in the US Congress to push through and ratify an agribusiness-friendly Pacific-based trade treaty? Sure, we're eating less meat, but why shouldn't our domestic industry—dominated by a handful of companies, including Tyson, Cargill, JBS, Smithfield, and Perdue—continue to grow by feeding the rising appetite for meat elsewhere?
Lilliston delivers a litany of reasons for concern, including several I've written about before: reliance on routine, massive antibiotic use, contributing to the rise of antibiotic-resistant pathogens; "pollution of both ground and surface water, with giant manure lagoons leaching into rivers and lakes"; egregious working conditions and rock-bottom wages for slaughterhouse employees; and the hollowing out of communities with high concentrations of factory-scale farms. Our emergence as the globe's feedlot will benefit few Americans other than those who own shares in the meat giants.
Nor will a flood of US meat unambiguously benefit the countries whose agriculture policies TPP hopes to undermine. Here's Lilliston:
Free trade agreements have a long history of increasing price volatility in agricultural markets and lowering consumer protections while increasing corporate concentration within sectors. Past free trade agreements like the North American Free Trade Agreement (NAFTA) have undercut farmers and ranchers in all participating countries, while strengthening the market power of global agribusiness.
The kind of trade that Obama and his GOP allies in Congress are promoting may be "free" in some sense, but it's not without cost.