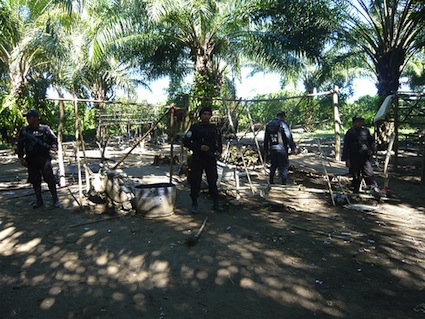 Fight disinformation:
Sign up
for the free
Mother Jones Daily
newsletter and follow the news that matters.
The debate over how to "feed the world" amid population growth and climate change often hinges on crop yields. The theory is that if we can squeeze as much crop as possible per acre of farmland, we'll have abundant food for everyone. This idea dominates the marketing material of giant agrichemical firms like Monsanto. "In order to feed the world's growing population, farmers must produce more food in the next fifty years than they have in the past 10,000 years combined," proclaims the company's website. "We are working to double yields in our core crops by 2030." Such rhetoric is routinely echoed by policymakers like US Department of Agriculture secretary Tom Vilsack.
But jacking up yields—even if Monsanto and its peers can accomplish that feat, which they haven't so far—won't solve the hunger problem on its own. The globe's farms are already producing enough food to feed 12 billion people—twice the current population and a third again more than the peak of 9 billion expected to be reached in 2050. Yet at least 925 million people lack access to enough to eat. What causes hunger isn't insufficient crop yields but rather people's economic relationships to food: whether they have access to land to grow it, or sufficient income to buy it.
Unfortunately, rising food prices and competition for resources appear to be making the situation worse. Take the trend of rich-country investors buying or leasing huge, highly productive tracts of farmland in low-income countries, and exporting the resulting crops. In a scathing report on these "land grabs," the global anti-hunger group Oxfam reports that an "area of land eight times the size of the UK" has been sold off in the past decade—a combined swath of land that "has the potential to feed a billion people," or more than the 925 million who live in hunger. "[V]ery few if any of these land investments benefit local people or help to fight hunger," Oxfam adds.
Investors in these deals aren't agribiz companies like Monsanto, which just want to sell inputs like seeds and agrichemicals, not take on the risk of farming. Rather, they are US or European hedge funds, sovereign wealth funds from nations like China or Saudi Arabia, or companies like Iowa's AgriSol, owned by GOP stalwart, large-scale hog farmer, Iowa university regent, and all-around charmer Bruce Rastetter, whom I wrote about here.
While some land grabs involve domestic elites taking land in low-income areas of their own countries, the more typical cases involve rich-country investors gobbling land in poor countries. According to an April 2012 analysis by the Land Matrix, cited by Oxfam, the average investor in these deals come from a country with a per capita GDP of $18,918, while the target countries' per capita GDPs average $4,404—a more than five-fold disparity.
Oxfam presents a devastating analysis:
Two thirds of agricultural land deals by foreign investors are in countries with a serious hunger problem. Yet perversely, precious little of this land is being used to feed people in those countries, or going into local markets where it is desperately needed. Instead, the land is either being left idle, as speculators wait for its value to increase and then sell it at a profit, or it is predominantly used to grow crops for export, often for use as biofuels.
Nearly a billion people live in hunger today, and yet the land that could be used to sustain them is being bought up by investors and being put to other uses, including speculation.
Let's get this straight. Nearly a billion people live in hunger today, and yet the land that could be used to sustain them is being bought up by investors and being put to other uses, including speculation. Now, defenders of these deals claim that the targeted land is typically abandoned and marginal farmland that can only be made productive with outside intervention.
Not so, Oxfam says. "Most agricultural land deals target quality farmland, particularly land that is irrigated and offers good access to markets," the report states. And "much of this land was already being used for small-scale farming, pastoralism, and other types of natural resource use." Since 2000, according to the Land Matrix's analysis, about 140 million acres of African farmland, or nearly 5 percent of the continent's total agricultural area, have been snapped up in deals. That's a land mass nearly the size of Alaska.
Perhaps because so much of the land is already being used by domestic farmers, land investors tend to target countries with weak frameworks for protecting the land tenure of small-scale farmers, Oxfam shows. Thus displaced people are often compensated at below-market rates for their land—if they're compensated at all, the report adds. The result has been an attack on food security in countries that can least afford it. Here's Oxfam:
More than 30 per cent of the land in Liberia has been handed out in large-scale concessions in the past five years, often with disastrous results for local people. In Cambodia, NGOs estimate that an area equivalent to between 56 and 63 per cent of all arable land in the country has been handed out to private companies. In Honduras, the toll of people killed in a land conflict in the Bajo Aguán region has risen to over 60, and shows no sign of stopping.
The situation in Honduras' Bajo Aguán region is indeed bloody—a human rights lawyer representing smallholder farmers in a land dispute with palm plantation owners was gunned down just last month, BBC reports. The Bajo Aguán conflict involves a key driver of the land grab phenomenon: the pushing of food-growing smallholders from land to make way for vast palm oil plantations for exported biofuel. According to Oxfam, the area used for oil palm cultivation has increased "nearly eightfold over the last 20 years to an estimated 7.8 million ha [hectares, or 19.3 million acres] in 2010 and is expected to double again by 2020." That means that within eight years, a chunk of land equivalent to the area of Iowa will have been plowed over for palm plantations to feed not the world's people, but its cars.
If such trends continue, no amount of Monsanto wonderseeds, even if they do pan out on their promises to increase crop yields, will put a dent in global hunger. The solution to the growing global food crisis will not be technical; it will be social and political. The Oxfam report offers a good start: The World Bank, which operates under the leadership of a president chosen by the US, should stop financing dodgy land deals in the global south—as it has been doing—and start advising the governments of low-income, food-insecure countries to set up strict protections for smallholder farmers. Further, Oxfam advises, the World Bank should cajole low-income nations to insist that any land deals be structured to ensure that local food security is enhanced by them.
Normally, I think, the World Bank would ignore such advice. But new president Jim Yong Kim, whose work in Haiti will have taught him the danger of obliterating domestic farms in the name of free markets, just might listen.