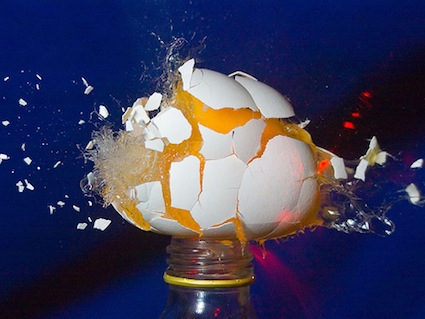 Twice in 2010, the Humane Society of the United States snuck undercover, camera-toting investigators into factory-scale egg facilities, and both times they revealed savage animal-welfare and public-health abuses: everything from unpackaged eggs exposed to rotting hen carcasses to "trapped birds unable to reach food and water."
Meanwhile, the industry put a bunch of egg on its own face by releasing a cool half-billion salmonella-tainted eggs. They turned out to have emerged from the fetid factories of a shadowy magnate named Jack Decoster, who has a decades-long history of violations. Congressional investigators found that the Decoster operation's own testing had detected salmonella on its conveyor belts no fewer than 73 times before the outbreak, and did nothing to remedy the situation.
Perhaps chastened by these revelations, the industry is now playing ball with its most prominent critic. In what could prove to be an historic deal, the Humane Society of the United States (HSUS) and the United Egg Producers (UEP) have joined forces to push for federal legislation that would transform industrial egg production. According to their joint press release, the proposed legislation would be the "first federal law addressing the treatment of animals on farms." Among other things, it would nearly double the amount of space allotted each hen—making conditions less cramped and thus more humane and hygienic—and provide the birds "with environments that will allow them to express natural behaviors, such as perches, nesting boxes, and scratching areas."
If the UEP, which claims that its members produce 97 percent of the eggs consumed in the US, seriously pushes for and then complies with such legislation, it will truly be an amazing turnabout: Industry groups typically react to such proposals with howls and fierce oppositional lobbying. Indeed, other sectors of the industrial livestock trade are already lining up against the legislation. The pork industry, which has also been documented by HSUS abusing animals, has condemned the UEP's move, declaring it a "dangerous precedent" that will "take away producers' freedom to operate."
Some may question the legislative route. Why does the industry need an an act of Congress; why can't it just enact the new standards on its own? But I actually like the approach—so long as it doesn't force into an expensive registration process those nonindustrial producers who are already giving their hens plenty of space. For the big players, voluntary standards likely would be quickly watered down and nearly impossible to enforce. The UEP already offers its member companies certification for a set of animal-welfare standards, and the effort doesn't appear to have done much to improve animal welfare in egg factories. One of the companies that the Humane Society caught on tape abusing animals last year, Cal-Maine, quickly issued a press release afterward tersely declaring that "All of Cal-Maine Foods' eggs are produced in accordance with United Egg Producers (UEP) animal care guidelines." In other words, don't blame us, we're just following industry-standard practice! Legislation would force a federal agency—presumably the USDA's Food Safety and Inspection Service—into the role of enforcer, at last giving the public a set of eyes on the factory-farm floor.
But much needs to be done before you can be sure that the supermarket eggs you buy weren't squeezed out of routinely abused hens under filthy conditions. The legislation has to be sponsored and make it through the Byzantine pathways of Congress. And the UEP's commitment to the bill will have to be monitored closely. The group has a history of saying the right things publicly after a scandal but also defending the industry's ways behind the scenes. After last year's Cal-Maine exposé, the UEP vowed to run a rigorous investigation to get to the bottom of the abuses. What did its sleuths find? Turns out, one of the investigators it tapped for the job was Rob Smith, who covers livestock and poultry for the trade journal Feedstuffs. He hardly counts as a neutral observer. In his account of the investigation later published in Feedstuffs, Smith writes that his inspection of the Cal-Maine facility led him to believe that the HSUS video was "bogus." In other words, no need to make changes—the egg industry is just fine as it is!
The HSUS/UEP tie-up has potential to transform the conditions under which eggs and other animal products are produced in this country. Soon enough, we'll know whether the industry is serious about changing its ways, or just putting on a diversionary sideshow as it tends to agribusiness as usual.