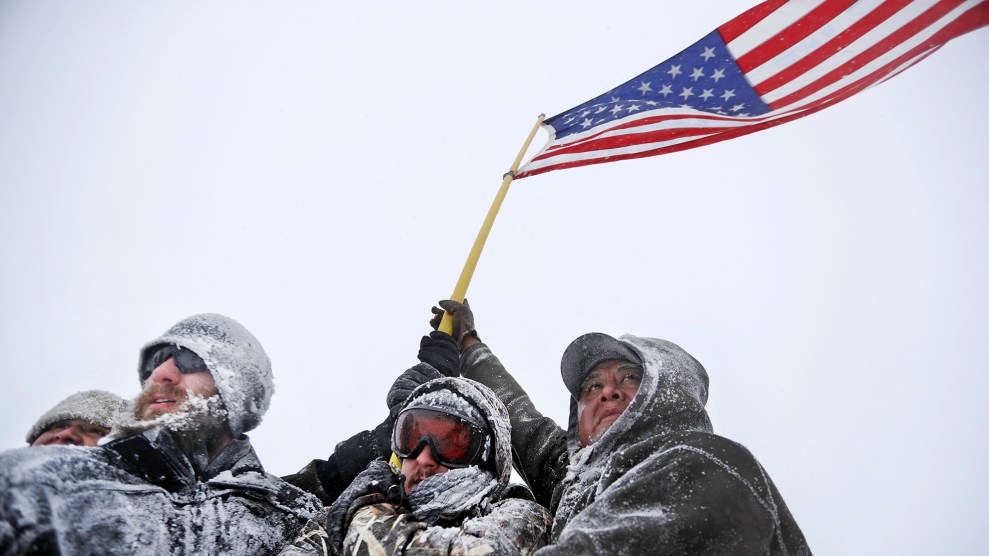 Fight disinformation:
Sign up
for the free
Mother Jones Daily
newsletter and follow the news that matters.
Clashes broke out today near the Standing Rock Sioux reservation in North Dakota following the announcement that the Dakota Access Pipeline (DAPL) would be completed. Seventy-six protesters were arrested near the town of Cannon Ball after setting up a camp on land owned by Energy Transfer Partners (ETP), the company overseeing construction of the 1,172-mile pipeline. Around 4 p.m., according to witnesses, police and National Guardsmen approached the protest camp on the pipeline route near the Missouri River, where activists had erected tepees. The police convoy included bulldozers, Mine Resistant Ambush Protected trucks, and Long Range Acoustic Device sound cannons, according to several eyewitnesses.
For the past month, the Dakota Access Pipeline—and the conflict prompted by its construction—has been at a standstill. ETP does not have an easement to tunnel under Lake Oahe, which is part of the water-system supplying the Standing Rock Sioux tribe, whose reservation is less than a half-mile south of the pipeline route. Yet last night Rep. Kevin Cramer (R-N.D.) issued an announcement that the easement had been granted.
Cramer's statement, which appeared on his website, appeared below the headline "Approved: Dakota Access Pipeline Receives Federal Easement," alongside a photo of a shovel and the hashtag "#Build It." "President Trump has proven to be a man of action," Cramer wrote.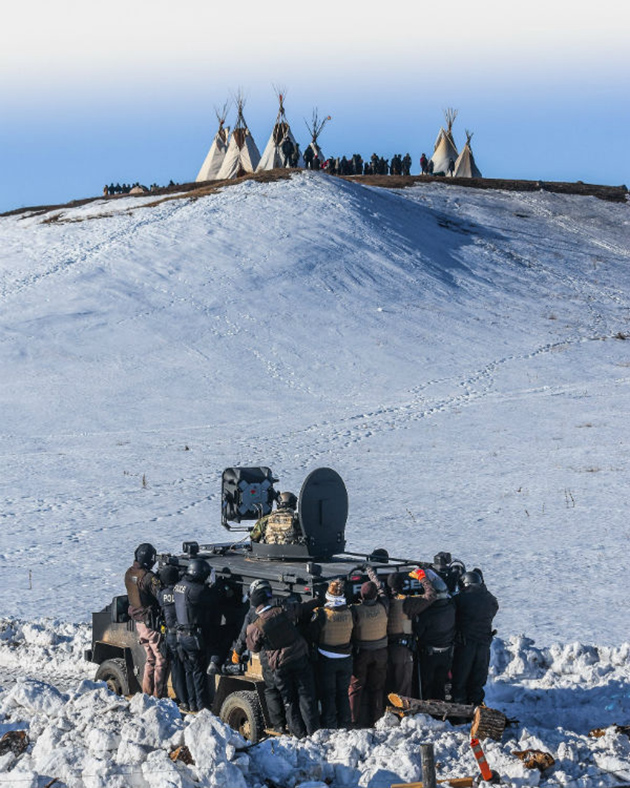 After months of clashes between protesters and police and private security contractors, the anti-pipeline activists celebrated a temporary victory on Dec. 4 when the Army Corps of Engineers announced that it would not allow completion of the pipeline without further environmental review, a process that could take two years. But the Trump administration has exerted pressure on the Army Corps of Engineers to reverse its decision. A Jan. 24 executive order insisted that the Army Corps "review and approve [the Dakota Access Pipeline] in an expedited manner." Trump has also asked the Corps to consider withdrawing the environmental-impact requirement.
On Tuesday, Acting Secretary of the Army Robert Speer said that he had "directed the Army Corps of Engineers to proceed with the easement needed to complete the Dakota Access Pipeline," according to North Dakota Sen. John Hoeven. In a statement, Major General Malcolm Frost, the US Army chief of public affairs, said that the government was acting on Trump's orders "to expeditiously review requests for approvals to construct and operate the Dakota Access pipeline in compliance with the law."
Lawyers for the Standing Rock Sioux Tribe have declared that ignoring the Dec. 4 ruling by the Army Corps of Engineers is illegal, and they have promised to battle the pipeline's progress in court. "We are not surprised to see that North Dakota's U.S. Sen. John Hoeven issued a statement prematurely championing Trump directives to grant an easement for illegal construction," a spokeswoman for the tribe, Chelsea Hawkins, said.
As recently as this summer, Trump owned between $15,000 and $50,000 of ETP stock. Though he claims to have sold his shares in the company, he has not released any records substantiating his claim. Trump has also not commented on whether he's sold his shares of Phillips 66, an investor in the pipeline. ETP CEO Kelcy Warren gave $100,000 to help elect Trump. "It would be really unprecedented for the president-elect to tell the agency to reverse the decision," Sarah Krakoff, a professor of resource law at the University of Colorado-Boulder, told the Atlantic's Robinson Meyer in November. "It would cause all kinds of consternation about undue executive influence."
Protesters near the pipeline's path have vowed to resist any attempts to evict them, but their numbers are depleted. While as many as 15,000 "water protectors," including 4,000 veterans, were present in December, in recent weeks the population of the protest camps has dwindled to an estimated 1,100 activists. Standing Rock Sioux tribal leaders have, in dialog with the Morton County Sheriff's Office, encouraged protesters to leave, citing a need to clean up the area and the threat of a possible flood. Many activists have also moved on to other anti-pipeline battles, such as the site of the ETP's Trans-Pecos pipeline in Texas. As news of the Secretary of the Army's order came in late on Tuesday night at the Oceti Sakowin camp, the scene was "all scrambled chaos as actions move elsewhere," one person there said. "Resistance [is] spreading everywhere, especially other pipelines, but shrinking at the mothership."
Yet more showdowns in North Dakota are likely. A group of veterans, Veterans Stand, has raised $37,000 to send members to Standing Rock in the coming days. "We are committed to nonviolence, and we will do everything within our power to ensure that the environment and human life are respected," Anthony Diggs, a spokesman for Veterans Stand, told CNBC. "That pipeline will not get completed. Not on our watch."
LaDonna Allard, who has hosted protesters on her land at the Sacred Stone Camp, invited more supporters to participate in what some activists fear could be the most intense stage yet of the #NoDAPL protests. Joye Braun, an activist who helped initiate the protests and a key organizer in efforts to stop the Keystone XL Pipeline, said, "I'm so upset, but I'm ready to do what's needed. I'm scared, but I'm ready."