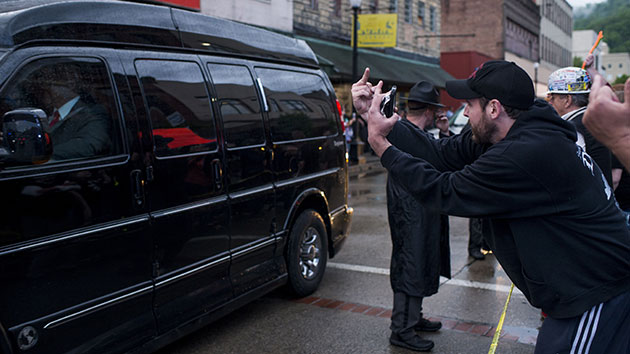 The presidential primary in West Virginia isn't until next week, but Hillary Clinton was there yesterday to campaign in coal country and tout her endorsement from Sen. Joe Manchin, the state's popular Democratic senator.
Things didn't exactly go as planned.
Clinton has tried to balance her promise to carry forward President Barack Obama's climate change agenda—which didn't cause the current collapse of the coal industry, but certainly isn't helping it—with a commitment to ignite new economic activity in Appalachia. But she stumbled during a CNN town hall in March, when she said her administration would "put a lot of coal companies and coal miners out of business." (She was attempting to tout her plan to bring new economic development to coal country.) She quickly apologized for the remark, but not before producing a delicious sound bite for her Republican opponents in the region.
It seems that the people of Williamson, West Virginia, at least, have not forgotten. From the New York Times:
As Mrs. Clinton stepped onto the sidewalk on Monday to tour a health and wellness center here, a crowd of protesters stood in the rain, many of them holding signs supporting the leading Republican candidate, Donald J. Trump, and chanted, "Go home!"

Later, when Mrs. Clinton sat down with residents to discuss health care and other issues affecting the community and coal miners in particular, the chants of the protesters outside could still be heard.
To make a bad situation even more surreal, the Clinton protest in Mingo County was attended by an unexpected guest: Coal baron Don Blankenship. The former CEO of Massey Energy was sentenced in April to a year in prison for federal mine safety violations. In 2010, 29 coal workers died in an accident at one of Massey's West Virginia mines. Blankenship is, to put it mildly, a controversial figure among West Virginia's coal community, as my colleague Tim Murphy reported last fall:
Blankenship cultivated an image as a Mingo County son made good—a good ol' boy who ran a multibillion-dollar company from a double-wide trailer. And he saw himself as a heroic figure who brought jobs to the depressed enclaves of his native West Virginia. But with his gaze fixed on the bottom line, Blankenship crushed the mine workers union that was baptized in his backyard. Voluminous court records and government investigations show that he presided over a company that padded its profits by running some of the most dangerous workplaces in the country. Massey polluted the waterways that had sustained Blankenship's forebears, rained coal dust on the schoolyards where his miners' children played, and subjected the men he grew up with in southern West Virginia to unsafe working conditions.
At the same time, Blankenship has played an outsized role in coal country politics:
A mascot of the coal industry's worst excesses, Blankenship pumped millions of dollars into West Virginia's political system to promote an anti-regulatory agenda and curry favor with state lawmakers and officials.
So you can imagine Clinton's surprise to see Blankenship, who hasn't publicly endorsed a presidential candidate, mingling with miners outside her event. (Blankenship is due to report to prison on May 12.)
Don Blankenship with protesters outside @HillaryClinton event in Williamson WV today, photo by @drdesrochers. pic.twitter.com/azJOsDB3TH

— Kenwardjr (@Kenwardjr) May 2, 2016
Clinton was quick to criticize Blankenship:
Let's act on coal miner safety so people like Don Blankenship are held accountable for blatantly disregarding it. https://t.co/eyXdXpvTuH

— Hillary Clinton (@HillaryClinton) May 3, 2016
.@HillaryClinton camp comments on Don Blankenship, who joined protesters outside her event yesterday Williamson, WV. pic.twitter.com/cFDDJq2riI

— Ruby Cramer (@rubycramer) May 3, 2016
The last primary poll in West Virginia put Clinton nearly 30 percentage points behind Bernie Sanders, but it was way back in February. The same poll gave Donald Trump a 20-point lead over Ted Cruz.