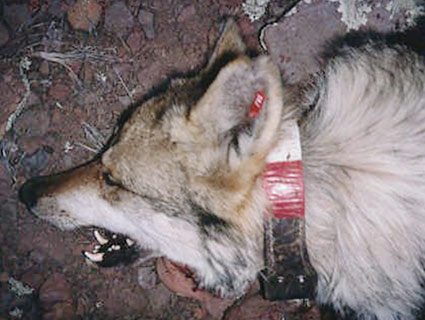 Fight disinformation:
Sign up
for the free
Mother Jones Daily
newsletter and follow the news that matters.
ONE WARM EVENING early last summer, I found myself in New Mexico's Gila wilderness at Bucky's BBQ Bash. Beyond celebrating the birthday of Bucky Allred, garrulous owner of the Blue Front Bar and Café (one of two bars in tiny Glenwood), the annual shindig has a higher purpose: raising money to help ranchers get rid of wolves.
By the time I arrived, the party was in full swing. The lot was packed with dirt-encrusted Dodge Rams bearing bumper stickers like "WOLVES: GOVERNMENT-SPONSORED TERRORISTS." Preschoolers in Wranglers and cowboy hats darted around the line snaking from a pavilion where a beef brisket had been smoking all day. As the sun set over piñon-and-juniper-studded hills, a man took the stage and played "The Star-Spangled Banner" on his fiddle before leading the crowd in the Pledge of Allegiance. Reese and Chance, young brothers in pearl-snap shirts, shyly approached the mic. They had given every last penny of their allowances to an anti-wolf group called Americans for Preservation of Western Environment to help protect their dad's cows. The crowd cheered.
The way these folks were talking, you'd think wolves had all but taken over the Gila. Not exactly. The day before, I'd seen wolf country firsthand. Cathy Taylor, a veteran wildlife biologist with the US Forest Service, picked me up from my motel in her Chevy 2500 pickup. As we climbed the switchbacks, open ranchlands gave way to Ponderosa pines and Gambel oaks—the edge of the Mogollon range. A bear cub scampered out in front of us. We pulled off onto an unpaved service path, where Taylor gestured to a dense swath of forest. "This is where the Dark Canyon pack is denning," she said. I asked whether we might see a wolf. Taylor smiled and shook her head. "I really doubt it."
In 1998, the US Fish and Wildlife Service released 11 captive-bred Mexican gray wolves into the newly created Blue Range Wolf Recovery Area—comprising some 10,000 square miles within the Gila and Apache-Sitgreaves national forests. The Mexican gray, often simply called lobo, disappeared from the wild in 1970, and wildlife authorities hoped the reintroductions would help restore balance to the ecosystem.
There were solid precedents for this notion. A 2005 UC-Berkeley study in Yellowstone National Park, for instance, concluded that milder winters, a product of climate change, have led to fewer elk deaths. This left scavengers like coyotes and ravens scrambling for food, but the problem was far less pervasive in areas where wolves were around to hunt elk. In 2009, another team reported that Yellowstone elk were less likely to overgraze near rivers and streams—damaging fragile ecosystems—when wolves were in the neighborhood.
Reintroductions have worked elsewhere: In the upper Midwest and the northern Rockies, wolf counts are up from a few hundred in 1973 to 6,000 in 2008. But the Gila program hasn't gone so well. Biologists predicted a few hundred animals by now; instead, there are 42. Some 30 were shot, and two alpha males lost legs in traps. But the biggest problem involves conflicts with livestock. The Gila's forests butt up against pastureland, enabling cows to wander into denning sites; about 70 wolves have been taken captive or put down after attacking cattle. (Defenders of Wildlife has compensated ranchers with $145,000 for 211 "depredations.")
Most ranchers I spoke with said they feel harassed, even persecuted, by the government and environmental groups. "Their goal is to get us off the land."
On the surface, the ranchers seem to harbor undue anger over a few dozen limping lobos. But the wolves symbolize something bigger: a century-old debate over whether land is meant to be used by humans or preserved as wilderness. Roughly 170 ranchers live within the recovery area, many of them descended from pioneers who homesteaded the area in the 1800s. In 1905, Teddy Roosevelt declared the Gila a national forest, and the government took ownership. Today, the ranchers lease their land from the feds, and if they don't follow the rules, they pay: Ranger caught your cow wallowing in the wrong part of the river? That's a warning. Land looks overgrazed? Another warning—too many warnings, and you might lose your grazing permit. Most ranchers I spoke with said they feel harassed, even persecuted, by the government and environmental groups. "Their goal is to get us off the land," a third-generation rancher named Hugh McKeen told me during an afternoon on his 11,000-acre spread. "The wolves are the last straw. They're trying to get rid of us for good."
It's not all in his head. The Santa Fe-based nonprofit WildEarth Guardians believes the only way to revive wolves is to eliminate ranching. To that end, the group is trying to raise $2.5 million to buy out 300,000 acres of grazing permits in the Southwest. "We have ranchers that are willing," says executive director John Horning. "Their kids aren't interested in taking over the ranch, or they don't think they can make a living. I don't see a great loss in having ranchers move on."
But there may be another option. Carey Dobson is a fourth-generation sheep-and-cattle rancher leasing 100,000 acres on the Arizona side of the recovery area. When wolves began denning near his ranch more than a decade ago, he lost 15 sheep, valued at some $10,000. Dobson was incensed: Despite holding press conferences, US wildlife authorities never directly informed him that they'd released wolves in the area, nor did they pay for damages. (It wasn't until 2009 that federal officials created a program to compensate ranchers for livestock lost to wolves.)
At first, Dobson just wanted the wolves gone. But he reluctantly agreed to accompany Arizona biologist Chris Bagnoli to a workshop led by wolf-management experts in Montana, where ranchers and wolf defenders had begun working together. What Dobson learned there surprised him: Killing wolves that attack livestock doesn't solve the problem. That's because the offending animals have often passed along their knowledge. "You have to reduce the opportunities for wolves and livestock to interact," Bagnoli explains. "That's the only way to change pups' behavior, since pups learn from adults."
In 2007, Dobson and his wife began herding their livestock daily, and he installed electric fencing to keep wolves out. Although the wolf recovery program helped him with the details, the money came from two conservation groups: Defenders of Wildlife and the Mexican Wolf Fund. "Other cattle guys told me I was taking money from the devil," says Dobson. "But you know what? It is really working." With the new strategy, Dobson hasn't had a single sheep kill, and only one calf has been taken. Bagnoli hopes that federal authorities will take note and improve programs to help ranchers give the humane methods a try.
The day after Bucky's bash, I stop in the one-horse town of Magdalena, just north of the Gila. On a corrugated tin building, someone has spray-painted: "Grannies devoured! WOLVES solve health care crisis!" Both Taylor and Bagnoli had confided that they were just coming to learn something they wished they'd figured out a long time ago: "If this project is going to work, these animals are going to have to be woven into the existing fabric of society here," Bagnoli told me. "Landowners really have to be included in this." Dobson, for his part, believes cooperation is now an option. "Working with Game and Fish has been an eye-opener for me," he says. "At the beginning, I didn't trust anyone, but that trust is coming back."
Front page image: dalliedee/Flickr