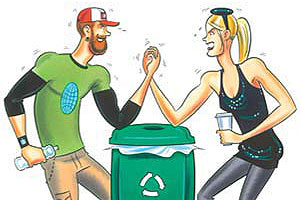 Fight disinformation:
Sign up
for the free
Mother Jones Daily
newsletter and follow the news that matters.
A COUPLE OF SUMMERS ago I was in Boulder, Colorado, where I grew up, for a visit. On a wildfire-dry Saturday morning, I went with my husband and son to the downtown farmers market. We got ice water from a drink stand, broccoli from Pachamama Organic Farm, and a muffin from an old favorite, the Brillig Works, where the guy was nice enough to say he remembered me from when I was 17. On the way out, we threw the remains of the muffin in a receptacle for compostables and the water cup in a bin for commingled containers. I wasn't sure what to do with the straw, so we took it with us, because the market is a "zero waste zone," where anything not compostable or recyclable must be "packed out." I thought of our regular Saturday Greenmarket back in Brooklyn, where there are no recycling bins—just dented metal drums overflowing with newspapers, water bottles, and dog poop. I said to my husband, "This would never work in New York." Then I wondered why.
What makes a city good at recycling? Is it just a cultural thing? Why is Boulder a city of recycling zealots and New York a city of recycling skeptics? Many New Yorkers see their recycling program as a total facade—or, at least, a total failure. Debates about our refuse burn in the massive incinerator online. "Is it true that New York and New Yorkers don't recycle their rubbish?" wonders an Australian on Answerbag. Closer to home: "[A] lawyer friend of ours who works for the City…said he was fairly certain that the City doesn't actually recycle—that it's all a charade," writes Brooklynite Carrie McLaren on Stay Free! Daily, a blog of consumer culture. McLaren herself doesn't "believe in such a massive conspiracy," but is struck by how many others do.
The origins of New York's recycling skepticism are murky, but many point to a notorious 1996 New York Times Magazine cover article by John Tierney titled "Recycling Is Garbage." According to Tierney, recycling neither made economic sense (cities lost money doing it) nor was good for the environment (he claimed, for instance, that recycling newsprint "creates more water pollution than making new paper"). Recycling cranks had been making these arguments for years, but the Times gave their reasoning a kind of counterintuitive cred. I remember reading the article the Sunday it appeared. Though I'd been a committed recycler since my teens—the girl who made a show of collecting the Coors Light cans after the beer bash—Tierney introduced an element of doubt. I actually agreed with him about some stuff—namely, that recycling served as "a rite of atonement for the sin of excess." Was it possible that he was right about other things, too? In the years that followed, I recalled the piece whenever I needed to rationalize a recycling misdemeanor such as tossing a shampoo bottle into the regular trash. The technique used to recycle plastic is actually worse for the environment—right? I found that others also retained their own Tierney "facts." One night when I asked my husband why he'd thrown the breaded-chicken box in the garbage, he cited the glut of recycled paper—a 12-year-old nugget from Tierney. Our memories of the story testified to its staying power. The National Resources Defense Council called Tierney's piece "the most prominent…attack on the nation's growing commitment to recycling," noting that the article was discussed in more than two dozen major newspapers and prompted New York's mayor, Rudolph Giuliani, to mock his city's recycling program as "absurd."
Our next mayor, Michael Bloomberg, went even further. He didn't just dis the program; he dismantled it. In 2002, Bloomberg suspended the recycling of plastic and glass. The city was facing a budget deficit, and Bloomberg said his measure would save $40 million. For the next two years, we left our Brooklyn Lager bottles on the stoop for the homeless or just threw them in the trash. "That lost the faith of a lot of people," says Elizabeth Royte (see "Meet the Zero-Waste Zealots"), who immersed herself in the city's waste stream for her book Garbage Land. Now even true believers began to wonder if the new policy just codified what had been happening all along: mobsters collecting your recyclables and, when you weren't looking, dumping them in with the regular trash. Bloomberg fully restored pickup two years later, in a contrite acknowledgment that recycling did the city both environmental and financial good. (According to the city comptroller, savings from the suspension were "minimal, if any.") At the time, recycling was finally starting to satisfy even the critics who cared only about the balance sheet. As the price of landfilling garbage was rising, recycling markets were improving. The costs of the two kinds of disposal had nearly reached parity when the world economy collapsed last fall. Today the recycling market is depressed. But New York's current contracts with buyers were structured to protect us from such fluctuations. That's good, because another hiatus would be a Sisyphean setback: New Yorkers are still recycling less than they were before the last interruption.
New York City residents—and we're just talking residents, not businesses, not schools, not construction sites—recycle 18 percent of their waste. This is what waste wonks call a "diversion rate," meaning that it measures, by weight, what portion of refuse is diverted from the regular trash. Weight, rather than volume, or rate of participation, is the established metric primarily because all over the world, people put garbage trucks on scales. It's an imperfect system: The number on the scale doesn't differentiate between a ton of glass and a ton of paper, or tell us how many lightweight yet toxic BlackBerrys we're tossing. But for better or worse, the diversion rate is the standard measure of a recycling program's success. Our diversion rate is better than Oklahoma City's, which, at 3 percent, is the lowest of any major city in the country, but not as high as San Francisco's, where residents reportedly recycle nearly half their garbage. (I say "reportedly" because laid-back California only estimates its diversion rates; type-A New York weighs every truck.)
How can we get New Yorkers—or Philadelphians (8.4 percent), or Denverites (13 percent)—to recycle more trash? Perhaps better marketing? The Czech Republic tries to sell citizens on recycling with sexy TV ads. In one, a mop-top boy and his huge-boobed neighbor reach their communal bins at the same time. The tagline: "Any reason is a good reason to recycle." Funny, but in America, it's our policies that require manipulation, not just our perceptions. Even if every New Yorker recycled everything perfectly all of the time, our residential diversion rate would only reach 35 percent. The city simply doesn't include enough materials in the program to do any better than that.
So what aren't we recycling that we could be? Let's start with yogurt cups. New Yorkers are obsessed with the fact that we can't recycle yogurt cups: Three times a month, some of my neighbors carry their rinsed-out cups to the Park Slope food co-op, which sends them to Recycline, a company that turns them into toothbrushes, razors, and other items. Yogurt cups aren't included in the city's recycling program because the resale market for the type of plastic they're made out of is limited. But yogurt cups don't weigh very much. Let's say we began collecting them, as well as all of the other kinds of plastics that are currently excluded from our program: Our residential diversion rate would increase by all of 0.4 percent. Still, Benjamin Miller, a former Sanitation Department policy planner and the author of Fat of the Land, a history of garbage in New York City, argues that we should collect all plastic containers, as they do in Dallas, San Jose, and San Francisco. The volatile yogurt-cup market—that's a headache for the waste wonks. The parsing between No. 1s and No. 2s—that's a task for sorting facilities. For residents, recycling should be as "simple as signs on the street that say, 'Pick up after your dog,' period," says Miller.
If one way to simplify recycling is to change what we collect, another is to change how we collect it. New Yorkers will tell you that they don't recycle because the city makes it too complicated. Sometimes they cite what turn out to be vestigial misunderstandings from an even more bewildering era. It's news to many people, for instance, that they no longer have to bind newspapers into stacks no higher than 18 inches (not since the mid-'90s), or separate out junk mail and cereal boxes (that ended in 1997), or sort different kinds of recyclables into clear or blue bags (2004, R.I.P.). These days, some cities are making recycling as mindless as possible by implementing "single stream" recycling, in which paper, metal, plastic, and glass are all mixed together in one bin. Should this be our standard nationwide? Proponents argue that it makes people more likely to recycle; others counter that the quality suffers. Miller is all for simplicity, but says single stream "degrades the material and reduces the amount that can be made into new products." A glass recycler told BusinessWeek that single-stream glass arrives mixed in with "slime, chicken bones, and needles."
Chicken bones: There's an idea. The most dramatic way to boost a city's diversion rate is to compost food scraps and yard waste, which in NYC are a weighty 39 percent of our household waste stream. At least 42 communities, mostly in California and Washington, have residential composting programs. Could it work in the five boroughs? Debatable. Sixty-three percent of our housing stock is made up of multi-unit buildings—many with exterminator sign-up sheets in the lobby. San Francisco's composting program is lauded, but it serves primarily single-family homes. (Plus, compost needs a place to go once it's collected, and you wouldn't believe the Not-In-My-Borough fights over siting such a facility.)
The issue of infrastructure is not easily overcome. A recent Sanitation Department report stresses, "It is well-known in the recycling evaluation literature that recycling in multi-unit apartment buildings is particularly difficult," citing discouraging studies from sources as varied as the Journal of Applied Social Psychology and the EPA. (High-rise fun fact: Having a trash chute diminishes the amount of materials a building recycles by almost 11 percent.) Our apartment buildings also prevent us from adopting the gold standard of garbage disposal, a pay-as-you-throw system, found in 7,000 communities, including San Francisco, where residents get a hefty discount for producing less garbage, but aren't charged for more recyclables or compost. A San Francisco recycling spokesman jeered in Chemical & Engineering News in 2007 that New York's current free-for-all system is an "incentive for people to create garbage."
"The benefits of pay-as-you-throw are clear," agrees David Hurd of the NYC recycling outreach office. "But how do you assess a fee in a big complex of 1,000 apartments?" Miller, however, compares it to water metering: a 19th-century technology New York resisted until the 1980s.
Before those San Franciscans get too smug, though, take note that among things both cities can currently recycle, like paper, the diversion disparity narrows to within a few percentage points. (And we don't "estimate.") The same high-density, trash-chute-addicted lifestyle that hampers our recycling impulses also has a preventative effect. New Yorkers produce much less waste than the average American: about 250 pounds less per household per year.
And isn't that the real point? While all Americans could do more to recycle, we also need to, contrarily, reduce our fixation on it. Recycling is like a rock star whose solo career has eclipsed the rest of the band. Reduce and reuse—where are they now? We obsess over recycling, demand that our cities make it cost neutral and effortless, yet at the same time, we discard "garbage" with impunity. Recycling gives us permission to consume. But putting a week's worth of plastic bottles into a clear bag instead of a black one doesn't address the real problem. From a literal perspective, John Tierney was right: Recycling is garbage.