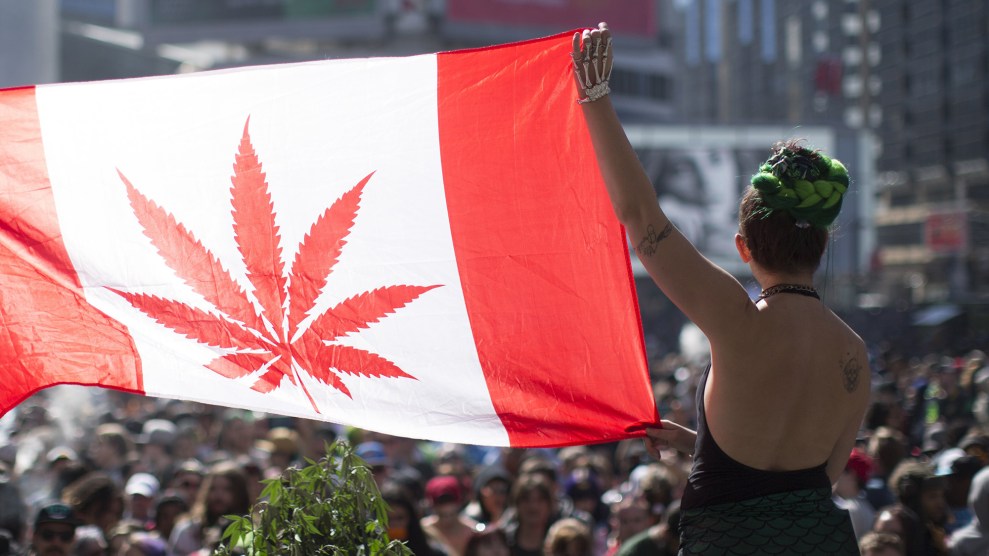 Fight disinformation:
Sign up
for the free
Mother Jones Daily
newsletter and follow the news that matters.
On Tuesday, the Canadian Senate voted to legalize the recreational use and sale of marijuana by adults. The House of Commons already passed the bill on Monday, which means Canada is poised to be the first industrialized nation with federally sanctioned pot shops. And while the potheads up north may see this as a reason to rejoice, it's also a reason for them to be wary when traveling to the United States.
Under federal immigration law, foreigners can be refused entry or even permanently barred from the States for attempting to enter with a controlled substance, for violating the drug laws of the US or any other country, and even for admitting to past drug use.
Julie, a 56-year-old retired payroll administrator, was put on the inadmissibility list last August after admitting to American border agents that she'd been ticketed for marijuana possession in 1984, when she was 18. Julie, who asked that her last name not be used, was crossing from Vancouver, British Columbia, en route to Tuscon to visit her daughter at the University of Arizona, when she was pulled aside for a secondary inspection. After two rounds of questioning about her travel plans, an agent asked if she had ever used drugs or been arrested. When Julie mentioned the ticket, she says, she was questioned for at least another 40 minutes about the long-ago case and whether she still used narcotics.
By the time it was over, she'd also admitted to having once tried hallucinogenic mushrooms at age 16. She was issued a lifetime entry ban, and officials revoked her NEXUS card, which allows prescreened travelers expedited passage. "If it was something that happened recently, I'd understand it," she told me. "I didn't expect to be treated like a freakin' criminal for something that happened so long ago."
Refusals for merely admitting past drug use are somewhat rare. In 2016, there were more than 19 million arrivals to the United States from Canada, according to the American National Travel and Tourism Office, and just over 22,000 refusals—for all reasons—according to the Department of Homeland Security. (Complete data from 2017 is not yet available.)
But that calculus could soon change. Pierre-Hughes Boisvenu, one of three Canadian senators who in April met with American law enforcement and drug policy personnel in Washington, DC, to discuss the matter, says he was told Canadian travelers will face heightened border scrutiny when Canada legalizes pot.
Most Canadians who have been barred from the States for pot-related reasons have had a past criminal conviction. But Boisvenu says US officials told him that travelers who merely admit to past use may be permanently barred, and that they should expect to see more drug-sniffing dogs at high-traffic ports of entry post-legalization. "We wanted to know if they will change their policy to control Canadians that will cross the border after they legalize marijuana. They said no," the senator told me. "We asked them, 'Will you increase the control?' They said yes."
Canadians on the no-entry list who want to visit the United States can apply for an inadmissibility waiver, but each waiver costs about $585 (US) and lasts one to five years, and so the process is a lifelong headache and a significant financial hurdle for people who cross frequently for business or family matters.
Indeed, America's border policies around marijuana were a point of contention in Canada's legalization debate. A poll conducted last September suggested that nearly 40 percent of Canadian adults—more than 11 millions people—intended to consume pot, at least on occasion, once it is legal. Conservative lawmakers, largely opposed to legalization, accused the administration of Prime Minister Justin Trudeau of not being forthright about how pot use could affect travel to the States. US immigration attorneys and drug policy experts testifying before Canada's Legislature similarly warned of problems travelers may encounter.
The Canadian Senate's Committee on National Security and Defence, of which Bosivenu is a member, held hearings earlier this year to discuss border matters related to legalization. In April, he and two colleagues traveled to DC to get answers from US officials. Among those present at the meeting, Boisvenu says, were Michael Dougherty, the Department of Homeland Security's assistant secretary for border, immigration, and trade policy; and Andrew Coffey, executive assistant to President Donald Trump at the White House Office of National Drug Policy. Coffey, reached by phone, declined to discuss the meeting, and Homeland Security did not respond to questions about the meeting or border policy. A representative from Customs and Border Protection told me enforcement "will remain unchanged" post-legalization.
But several immigration attorneys based in Washington state told me that as more American states legalize pot, they have seen an increasing number of Canadians being put on the inadmissibility list simply for admitting to past use. When attorney Len Saunders started practicing in 2001, he says, he would get calls about such cases once or twice a year. After 2012, when Washington legalized marijuana, the calls increased to one or two a month. Since the Trudeau administration began discussing legalization seriously, he says, he's fielded one or two such calls a week.
Saunders says he filed paperwork for at least 200 inadmissibility waivers last year, about 25 of them for Canadians permanently barred for copping to marijuana use. "More than 95 percent of my waiver cases used to be old criminal convictions," he says. "But the growth in my waiver business is for people who admit to using it."
"I tell my clients, you will be my client for life," he adds. "I'm building up a huge repeat business, and the only person who benefits from this is me."
Enforcement style varies by location. A New York state immigration attorney whose clients are mostly Canadians told me waivers for people who admit to pot use are a small fraction of her cases. A border lawyer in Vermont, where pot is now legal, says she hears about such cases but rarely handles one. A third immigration attorney, based near a major port of entry in Detroit, was unaware of the phenomenon.
The Washington state attorneys I interviewed said clients barred for prior pot use tend to be younger travelers, often stopped while coming in for a concert or festival. "They've got a marijuana leaf on their phone case or a decal on their car," says Greg Boos, a lawyer based in Bellingham.
Julie received a five-year waiver in April, but she had to cancel a trip with her husband to the British Virgin Islands last November because there was a flight connection in the States. Although she lives only minutes away from the border, her ordeal last August left her so shaken that, in spite of the waiver, she has vowed to avoid the United States "unless I absolutely have to." She used to visit about 20 times a year for business and pleasure—or sometimes just to go shopping.
Canadian Jim Schram, 62, landed on the no-entry list in the 1980s for a pot-possession conviction he picked up in his early 20s. Schram says he's spent at least $7,000 obtaining seven or eight waivers. His latest one was revoked last September after he admitted to border officials that he had smoked pot without a prescription a week earlier to ease the pain of his arthritis. He's applied for another waiver but has yet to receive one, so he hasn't been able to visit the trailer he owns at a Washington state campground where he used to spend one or two weekends a month. He also has American friends he can no longer visit. "It's burning me up on the inside," Schram says. "I haven't bothered anybody. The whole thing is just so stupid."
A former CBP officer who worked at Washington ports of entry from 2007 to 2016 told me that some Washington border agents started questioning travelers about pot use more frequently after the state legalized pot in 2012. He did not recall seeing any official directive instructing officers to ask travelers about past pot use. The agents who did were simply "overzealous," he says. "Officers knew that you might have travelers coming down to smoke it in Washington, or even to buy some and take some back."
Serge Joyal, chair of the Canadian Senate's Legal and Constitutional Affairs Committee, told me his colleagues worry that American border officials will start engaging in "extreme vetting" of Canadians "in relation to consumption of cannabis." A recent report from Canada's Senate Committee on National Security and Defence urged the Trudeau administration "to clarify [with American officials] whether Canadians who admit to having previously used cannabis will face inadmissibility." The committee also asked the administration "to make it clear to US authorities" that travelers should not be punished "for activities that are legal in Canada," including "working for a company that legally produces cannabis."
The Trudeau administration has promised a campaign to educate Canadians on the implications of marijuana use for international travel. The National Security and Defence Committee report urged the administration "to install signs and posters at border crossings" reminding Canadians that it's illegal to cross the border with pot, even when entering into a state where the drug is now legal.
Trudeau administration officials have told legislators they're certain legalization won't cause problems at the border, and have made TV appearances urging Canadians to be honest with US border officials when asked about past use. Saunders thinks that's a bad idea and told the National Security and Defence Committee as much when he testified at one of its hearings this past March. "As an attorney, I can't advocate for people to lie," he told the chamber. "What I tell them is, 'This is not a question that you are bound to answer.'"
The worst that can happen, he says, is that the agent won't let you in on that day—but at least you won't be banned for life.