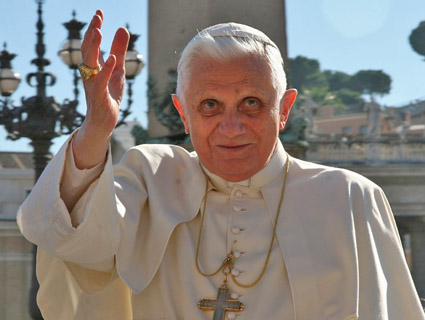 Like most people who went to Catholic school, I have a long list of offenses I feel the church inflicted on me, which is probably partly why I sort of love the idea of an international police force arresting the pope. That's what a group of victims'-rights advocates is hoping for; last week, Survivors Network of Those Abused by Priests filed a complaint with the International Criminal Court against Pope Benedict XVI and three senior Vatican officials.
It sounds like a publicity stunt to charge the pope with crimes against humanity. But the lawyers from the Center for Constitutional Rights who are handling the case sure sound like they mean business: "The Vatican officials charged in this case are responsible for rape and other sexual violence and for the physical and psychological torture of victims around the world both through command responsibility and through direct cover-up of crimes. They should be brought to trial like any other officials guilty of crimes against humanity."
Fair enough. But as explained in this primer, the ICC is a somewhat tricky institution. It can't just go after whomever it wants. Widespread rape totally qualifies as a crime against humanity, and has been a charge in several ICC cases. The real issues behind the court's potential involvement in this case are jurisdiction and responsibility.
First, jurisdiction. The court can only prosecute abuses that occur in a country that's a signatory to the ICC—or abuses that are perpetrated by a national of one of those signatories. Afghanistan, for example, is a signatory to the ICC; the United States is not. But the ICC would have jurisdiction over a crime against humanity committed by, say, an American soldier on Afghan soil. Which is precisely why the United States tried to block the creation of the ICC in the first place. The Vatican is not an ICC signatory, but theoretically, that's not a deal-breaker. The Democratic Republic of the Congo is an ICC signatory, and one of the cases cited in the Vatican filing took place there. Another case involves a priest from Belgium, which is also a signatory.
On the question of responsibility, it's not like the pope or Vatican officials wanted priests to unleash a wave of sexual abuse on innocent underage church-goers. Certainly, no one is alleging that Vatican officials actually ordered priests to rape kids. Look at the language ICC chief prosecutor Luis Moreno-Ocampo used when explaining why the court indicted Muammar Qaddafi: "The evidence shows that Muammar Qaddafi personally ordered attacks on unarmed Libyan civilians." (My italics.) So far, the ICC has only mostly* gone after people who do bad things on purpose. It's not clear if it has the ability (or interest) to go after those who neglect to stop bad things from happening or try to cover them up.
Commenting on the Vatican complaint, the ICC has said only that it will examine the evidence and the jurisdictional issues. Which is the sort of empty and official-sounding thing it would say about any complaint. Moreno-Ocampo, whom I spent a decent amount of time with when reporting a story for our current issue and covering his requests for the Libyan warrants, wouldn't comment when I reached him.
My hunch is that it's extremely unlikely this complaint, one of many thousands the ICC has received, is going anywhere. But it is an important step in raising the issue of accountability. Though the ICC is a long, long, long shot for these victims of sex abuse, it is probably more likely than the Vatican to hold the responsible parties accountable. Even priests who abused hundreds of disabled children weren't punished by the church. And though headlines have been screaming about the priest-rape scandal since I was in grade school, it took the church years to clearly order its bishops to prioritize fighting sexual abuse in their dioceses. As in, it finally issued the directive this May.
*Thanks to Wronging Rights' briliant and actually-trained-and-qualified-to-pontificate-on-legal-issues Kate Cronin-Furman for hollering with the correction. The charges in the case against Jean-Pierre Bemba—some of whose trial I caught in April—she wrote me, "are not that Bemba ordered his guys to commit atrocities in [the Central African Republic], but that he could have prevented them from doing so, and failed to. This is known as command or superior responsibility doctrine. It's how you convict military commanders for actions taken by their subordinates that they should have prevented." Not that that, and the fact that the pope is at the top of the church's hierarchy, should necessarily give these rape victims hope that the ICC will act. It is a "neat idea," Cronin-Furman says, but concurs that it's "a stretch."