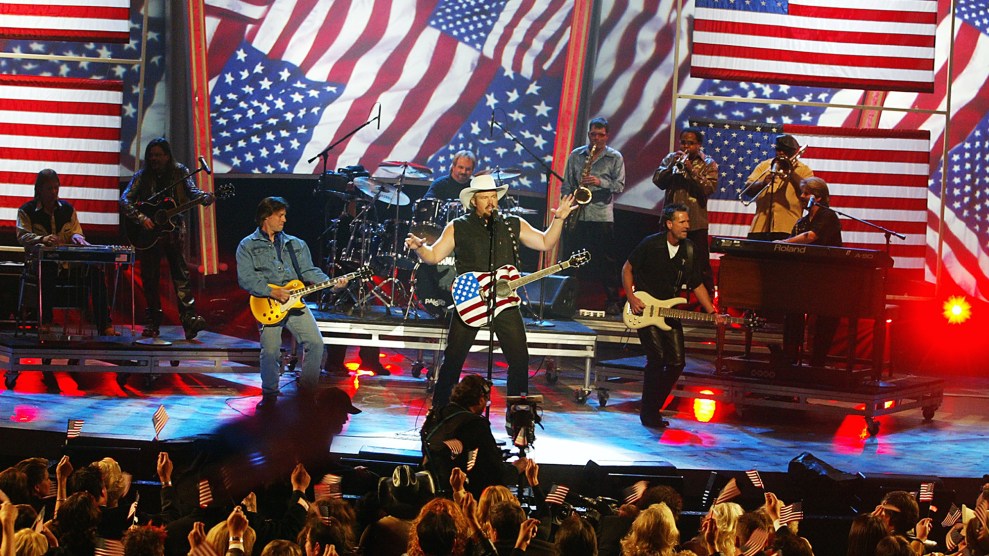 Fight disinformation:
Sign up
for the free
Mother Jones Daily
newsletter and follow the news that matters.
Within weeks, maybe even days, following the terrorist attacks of September 11, 2001, the entertainment industry mobilized to show that it too was outraged by what happened. As the 1984 Lee Greenwood song that spiked to the top of the charts after 9/11 so memorably put it, they wanted to show they were each "proud to be an American." The Disney Channel aired red, white, and blue-tinged spots with its biggest stars, the music industry rewarded artists for extremely patriotic songs, and the process of torturing of suspected terrorists became a television show and thus normalized.
"After the attacks of September 11, traditional forms of entertainment had to reinvent their place in US life and culture," Lynn Spigel a professor of screen cultures at Northwestern University wrote in her 2004 American Quarterly essay "Entertainment Wars: Television Culture after 9/11." "[I]n the weeks following September 11, the industry exhibited (whether for sincere or cynical reasons) a new will toward 'tastefulness.'" Our pop culture reoriented its messaging around 9/11 in a way not seen since the World War II era when splashy posters, radio celebrities, and movie stars would urge Americans to do all they could to support the troops abroad and root out potential enemies at home. "It became unpatriotic to suggest that there was anything wrong with the United States," Spigel told me.
As with most momentous anniversaries, the period marking 20 years after the terrorist attacks of September 11, 2001 has inspired a frenzy of retrospection—especially because it coincides with the US withdrawal in defeat from a two-decade-long war in Afghanistan that began because of the attacks. Documentaries, newspaper features, many books, and newly-released declassified documents focus on what happened, how it changed the country, and what it means today. But one area that gets less attention, but is certainly revealing of the times, is the extensive blurring of the lines of politics, patriotism, and popular culture that took place.
And those lines became really blurred in the weeks and months following the attacks on the World Trade Center and the Pentagon, the deaths of nearly 3,000 people, and the thwarting of an additional attack by some brave people in Pennsylvania. Not to mention the subsequent invasions of Afghanistan the following month and Iraq two years later as part of President George W. Bush's War on Terror.
"For the first few years, patriotism was a lucrative market," Stacy Takacs, a professor of American and Screen Studies at Oklahoma State, said. "And no one wanted to be accused of anti-Americanism."
In her essay, Spigel describes what happened with the popular political drama The West Wing. First, it scuttled the storyline for its premiere, which was scheduled for September 26, and replaced it with a very special episode. In it, a group of high school students is touring the White House when they are caught in the real west wing after a terrorist bomb threat. There, the trapped students learn all about terrorism and the so-called horrors of Islam. "Why is everyone trying to kill us?" one student asks at one point, which was a question that had been repeated incessantly following the attacks. The White House staffer then tried to explain the long history of US occupation of middle eastern countries but ends with an overly simplistic and implicitly self-congratulatory explanation for why the terrorists "hate" America. After all, in the USA women "can do anything they want including taking a rocket ship to outer space, vote, and play soccer," he explains to the teenagers.
There was also, if not a policy of official censorship, some cultural works that were actively discouraged. Clear Channel communications (now named iHeartMedia) a radio conglomerate, sent out a memo to stations around the country with a list of songs hosts should consider avoiding. The list was expansive and included Rage Against the Machine's entire catalog. First, the company denied the banned list existed at all, but then conceded that the songs were mere suggestions, not directives. Some that made the list mentioned airplanes or New York City, such as Frank Sinatra's classic, New York, New York. But other suggestions required a huge imaginative leap; like, why was Ironic by Alanis Morisette on the list. (It could hardly be because, Graydon Carter an editor at Vanity Fair, declared the end of irony after the attacks.)
I was just a few months shy of my 13th birthday on September 11, 2001, and I still remember the aggressively jingoistic tunes that dominated the radio airwaves. Clear Channel may have believed that Benny and the Jets by Elton John could be too traumatizing, but its absence was apparently compensated for by a slew of patriotic songs designed to uplift the country's spirits. Even as a middle schooler in suburban Washington, DC, I found that some of them were hard to stomach. In particular, Toby Keith's cringe-inducing "Courtesy of the Red, White, and Blue (The Angry American)."
Just in case you don't feel like listening to the whole thing, let me highlight one of the verses, and you will see what I mean.
Justice will be served and the battle will rage
This big dog will fight when you rattle his cage
And you'll be sorry that you messed with
The US of A
Cause we'll put a boot in your ass
It's the American way
More recently, Toby Keith unsurprisingly aligned himself with the Trump administration. At the Inauguration in 2017, he was one of the few celebrities who were willing to perform at the ball welcoming the new president. Then, in 2021, after thousands of Donald Trump supporters stormed the Capitol and Trump was banned from social media, one of the former president's last official gestures was to award Keith the National Medal of the Arts behind closed doors. Meanwhile, the House of Representatives was impeaching him for a second time.
"Courtesy of the Red, White, and Blue" was at the top of the charts for 20 weeks. I asked Takacs why it was so hard to find any open criticism about the song. "A lot of people made a safer choice," which was to say nothing she explains. "They weren't going to say anything bad about it." But, according to Keith, the lyrics of his song were too controversial for ABC's Peter Jennings. The country music star claimed he was dropped from the network's July 4th remembrance special because of the assertive line about boots. An ABC spokesperson blamed it on logistics and a "number of other factors." But still, country music fans criticized Jennings and told him to go back to Canada, where the anchor was born.
But if you didn't want to let your children hear a swear word in the Keith song, one could always tune into the Disney Channel. The popular kids' channel aired a series of television spots in which their biggest stars would divulge the details of how much they loved America.
Hilary Duff, of Lizzie McGuire fame, described seeing a firetruck with a flag blowing in the wind. Spontaneously, she and the other people who were there broke into cheers and applause. "The flag means everything to me," Beverley Mitchell, one of the stars of 7th Heaven said. "It means life, it means freedom, it also means unity and it means love."
"It's a beacon of peace and liberty and justice and democracy," Joey Lawrence, who starred on Brotherly Love, said while holding up a giant flag and standing in front of an even bigger flag with his younger brothers Matt and Andrew.
just remembered these absolutely wild post 9/11 disney channel propaganda videos pic.twitter.com/4vS9AxGnKa

— Ilana אילנה إيلانة (@Ilana_Who_) August 6, 2021
The messaging is clear. All your favorite TV stars love America. Shouldn't you?
It wasn't enough, however, to pledge allegiance to the flag. You could help fight the war on terror from your living room! When Takacs told me that the America's Most Wanted franchise partnered with the FBI to create America's Most Wanted Terrorist, I began laughing at the absurdity of a family tuning in over dinner to watch a show about terrorists. Did anyone honestly think that Jane Doe from Everytown, USA, was going to be calling in tips about al-Qaeda terrorists? Of course not. "It was about legitimizing [the war] after the fact," Takacs explained. "And keeping you interested."
But perhaps nothing captures post-9/11 pop culture like the hit drama series 24. The show, which first aired a few weeks after September 11, first gained attention because of its unusual formatting. Each season recounted a 24 hour time period and each episode was one real-time hour; viewers could watch the clock tick down at the corner of their screens. In it, Kiefer Sutherland plays Jack Bauer an agent for the (apparently) fictional US Counter Terrorist Unit. After the attacks, the torture methods Agent Bauer used to deter terrorist attacks felt more real. "Torture was used as a way to keep the plot moving, and it happened so ritually and successfully that people were convinced that torture works," Takacs explained. Bauer eventually goes on trial for his torture methods, "but it was more of a way to defend his actions."
Television was mirroring real life. While Bauer was torturing suspects in order to take down terrorists, the Bush administration was overseeing a torture campaign. Suspects at prisons in Iraq, Afghanistan, and Guantanamo Bay were abused and tortured by members of the military, clear violations of international law. The high-ranking officials who supported torture, such as Vice President Dick Cheney and Secretary of Defense Donald Rumsfeld, were committing war crimes in the name of "freedom."
The show became so popular that in 2006 the Heritage Foundation, a right-wing think thank, hosted an event on torture and invited the producers to join the discussion. Despite Hollywood's history of being a liberal bastion, the event was filled with conservatives gushing about how much they loved 24.
"I am literally in awe of the creativity of the brains behind the program," right-wing radio host Rush Limbaugh said, adding that Cheney and Rumsfeld loved the show too. Rumsfeld, who died this year, the architect of the wars in Afghanistan and Iraq frequently demonstrated a flagrant disregard for human rights. In one of the most appalling gestures of patriotic posturing and pandering, in 2002, People Magazine deemed him the sexiest Cabinet member.
Clearly, there are many things wrong with popular culture legitimizing the idea that everyone from the Middle East is dangerous. In 2011, Howard Gordon, a 24 producer who also produced a similar terrorism-related show Homeland, told Mother Jones that he regrets a billboard promoting the show:
In season two, the story involved a Muslim American family, and the father and the mother—and the son—were party to a terror plot. It was sort of a purple conceit in a way. But it was maybe a year and a half after 9/11, and on the 405 freeway there's this giant electronic billboard, and I think the line was: "They could be next door." The writers and the producers were not party to that campaign, but we quickly put an end to it, and realized how dangerous and potentially incendiary this show could be.
Twenty years later, and it all seems like a distant fever dream. At the time, it appeared that Rage Against the Machine on the radio and references to weaponized planes would have to be edited out of movies, television shows, and books. In some ways, that period of hyper-nationalism was short-lived. Soon South Park was parodying the rapid rise of patriotism. Saturday Night Live stars performed a sketch mocking the cavalier attitude the country had about invading Afghanistan.
George W. Bush's popularity, which enjoyed a nice spike after 9/11 began to decline during his second term and the invasion of Iraq. US troops lingered in Afghanistan as the Bush administration and subsequent presidents struggled to define why they were there and what was the goal. More critics began to openly question the purpose of the wars and Hollywood didn't feel the need to remind us that Americans Are the Good Guys at every turn. And yet, the country band that was then known as the Dixie Chicks received intense backlash from country music fans after one member, Natalie Maines, had the audacity to criticize the Bush administration's decision to invade Iraq.
While looking back at the bizarre days of post-9/11 entertainment, it's crucial to remember that even if the patriotic frenzy died down, its reverberations can still be felt today. The stereotyping of Muslims had devastating consequences. In 2017, hate crimes against Muslims exploded, surpassing 2001 levels.
Pop culture believed that its role was to help the country unite around a common enemy. But now, there are no Toby Keith songs about bombs raining on distant countries at the top of the charts, and 24 aired its final season in 2010. The war in Afghanistan, which just ended after two decades, killed 2,448 US soldiers, more than 47,000 Afghan civilians, and displaced many more. It's price tag for the United States was $3 trillion. The chaotic finale resulted in the Taliban back in power and an utterly uncertain future for the people in Afghanistan. Pundits and talking heads are scrambling to pretend they were against America's disastrous wars from the beginning. We may congratulate ourselves on considering hyper-patriotism in pop culture as a thing of the past. But just wait until the next convenient enemy comes along.