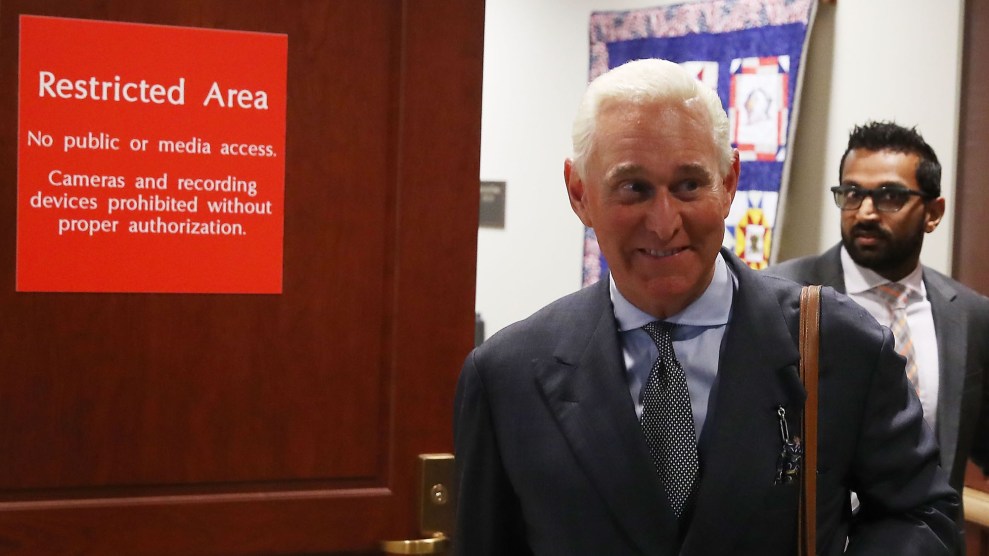 Fight disinformation:
Sign up
for the free
Mother Jones Daily
newsletter and follow the news that matters.
Roger Stone, a longtime adviser to President Donald Trump, has refused to cooperate with two Senate committees investigating his potential contacts with WikiLeaks during the 2016 presidential campaign.
An attorney for Stone, Grant Smith, said that he sent the Senate Intelligence Committee a letter in September informing the panel that Stone would decline its request for an interview. On Monday, Smith also sent a letter to Sen Diane Feinstein (D-Calif.), the top Democrat on the Senate Judiciary Committee, denying her request that Stone testify and turn over documents.
"Mr. Stone's invocation of his Fifth Amendment privilege must be understood by all to be the assertion of a Constitutional right by an innocent citizen who denounces secrecy," Smith wrote in a December 3 letter, which Feinstein posted online Tuesday.
Smith noted that Democrats' requests for information "are far too overbroad, far too overreaching, far too wide ranging both in their all-embracing" requests for long lists of documents and communications with various people whom Stone communicated with. Smith said Stone has requested his testimony be public and is unwilling to be interviewed or provide material for non-public proceedings. "Mr. Stone detests secrecy," Smith wrote.
Smith said the letter he sent to the Senate Intelligence Committee, which has also insisted on interviewing witnesses privately, was similar.
Stone's refusal to talk to the Judiciary Committee came more than a year after Feinstein first requested he appear before the panel. Smith did not say why he decided to rebuff the Judiciary Committee's request Monday. The letter was sent on the same day that Trump, in a tweet, praised Stone for showing "guts" by vowing not to testify against Trump before Special Counsel Robert Mueller. Legal experts say Trump's tweet could represent an illegal attempt to influence a witness.
The timing of Smith's letter drew speculation that it was related to Trump's tweet. Smith told Mother Jones in an email that the timing was a "total coincidence," and says he emailed the letter to Feinstein's staff at 9:33 a.m., more than an hour before Trump's 10:48 a.m. tweet. "We were surprised by the President's tweet," Smith said.
Stone did agree to testify behind closed doors last year before the House Intelligence Committee. (He has said he is disappointed they have not yet made his testimony public.) Adam Schiff (D-Calif.), who will chair the committee when Democrats take control of the House in January, has said that recent revelations by Jerome Corsi, a right-wing conspiracy theorist, that he gave Stone information on WikiLeaks' plans to release stolen Democratic emails, suggest Stone committed perjury in his testimony to the panel.
Smith told Mother Jones that Stone "entirely rejects Corsi's contentions" and "has challenged Congressman Schiff to provide any evidence he has that Mr. Stone had advance knowledge of the source or content of the WikiLeaks disclosures including any allegedly hacked or allegedly stolen emails ultimately published by Wikileaks."
Read Smith's letter to Feinstein: