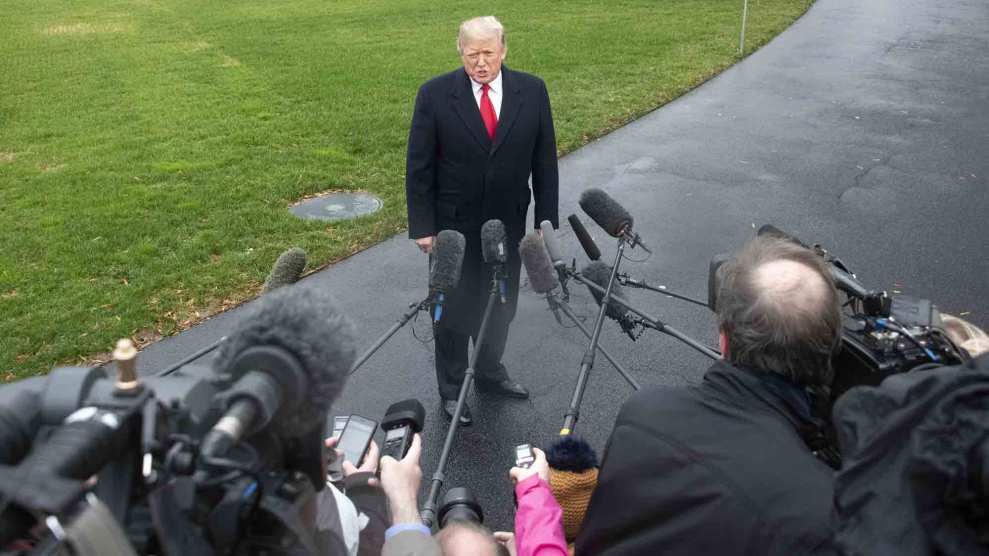 Fight disinformation:
Sign up
for the free
Mother Jones Daily
newsletter and follow the news that matters.
More lying and more evidence of a significant Trump-Russia connection—that's the story behind Michael Cohen's latest guilty plea. And it shows that Donald Trump's company in 2016 was trying to collude with Russian President Vladimir Putin in order to develop a Trump business project in Moscow.
On Thursday morning, special counsel Robert Mueller released a court filing explaining the charge of lying to Congress to which Cohen, Trump's former lawyer and fixer, has pleaded guilty. The charge is based on statements that Cohen made to the House and Senate intelligence committees about a deal Trump was pursuing in 2015 and 2016 to build a Trump tower in the Russian capital.
On this Moscow venture, Trump and Cohen were working with Felix Sater, an ex-felon and real estate developer who had previously done business with the pair, and the wheeling-and-dealing was occurring while Trump was running for president. During this stretch, Trump the candidate often spoke positively about Putin and refused to criticize him—and never publicly disclosed that he was attempting to negotiate a big deal in Russia that could not proceed if Putin's government opposed it. This meant that Trump hid from voters one of the most significant conflicts of interest in the modern history of US political campaigns.
News of Trump's secret deal in Russia did not emerge until after the 2016 election. And when the story came out, Cohen insisted that though Trump had been involved in the project, he (Cohen) ended the venture on his own in January 2016. Cohen also said he had tried to contact Dmitry Peskov, a top aide to Putin, for assistance, but that he had only used an email address he found on the internet for Peskov's office and never heard back. That's the tale he told the congressional committees: He killed the project before the 2016 primaries began, and he did not make contact with Putin's office.
This was all a lie.
According to the document Mueller filed, negotiations for the Moscow deal went on at least until June 2016, when Trump was the presumptive GOP nominee, and Cohen did make contact with Putin's office. Cohen also admitted to Mueller that he spoke with Trump more often about the Russia project than he had told Congress.
The real story, Cohen acknowledged, was that Cohen emailed Peskov's office twice, seeking help from Putin's aide. According to the filing, Cohen heard back from Peskov's personal assistant, who asked that he call her. Cohen called her and explained the project, providing the name of the Russian development company with which the Trump Organization was working. Cohen asked her for help in moving the project forward, both in securing land for the proposed Trump tower and finding financing for the endeavor. Peskov's assistant asked detailed questions, took notes, and said she would take up the matter with others in Russia. The next day, Sater contacted Cohen and asked Cohen to call him, noting, "It's about [the President of Russia] they called today."
A fair reading of this is that Cohen's call to Peskov's office paid off: The next day someone connected to Putin got involved.
This is a stunning development. During the campaign and afterward, Trump repeatedly said he had no business links with Russia. On July 27, 2016, he proclaimed, "I have nothing to do with Russia. I don't have any jobs in Russia. I'm all over the world but we're not involved in Russia." And during a January 2017 press conference, he said, "I have no deals that could have been Russia, because we've stayed away." These statements had already been proved false by the previous news of the Moscow deal. But the Mueller filing shows that Trump was even more involved in this deal and that it included a major interaction between the Trump Organization and Putin's office.
The Mueller filing depicts Cohen as attempting a partial coverup once the story broke. According to the document, Cohen said he lied to minimize the links between the Moscow project and Trump and to give the false impression that the Russia venture ended before "the Iowa caucus and…the very first primary." Cohen noted he wanted to limit any Trump-Russia investigation. Appearing in federal court, Cohen said, "I made these [false] statements to be consistent with [Trump's] political messaging and to be loyal to [Trump]." This all raises the question: Did Trump know that Cohen was lying about this project? If so, Trump allowed this limited coverup to proceed. And if Trump encouraged Cohen to lie to Congress, he might be guilty of a crime.
The filing notes that Cohen and Sater continued discussing the project until June 2016—and this included talk of both Cohen and Trump making visits to Moscow that would presumably help the deal advance. Cohen discussed with Trump the possibility of Trump jetting to Russia in connection with the project. "My trip before Cleveland," Cohen told Sater in May. "[Trump] once he becomes the nominee after the convention." Sater informed Cohen that Peskov wanted to invite Cohen to attend the St. Petersburg Forum in mid-June—a possible sign that Putin's office remained involved in the project. But Cohen ended up not making that trip. And Trump never traveled to Russia during the campaign. The Mueller filing reports that Cohen briefed Trump family members about the project.
Here's the bottom line: Trump was secretly interacting with Putin's office in order to make money while he was campaigning for president. And it seems Putin's office tried to help. The venture, though, never came together. But its existence is especially tantalizing given that the first memo in the infamous Steele dossier, which was written in June 2016, claimed that the Kremlin had attempted to cultivate and co-opt Trump in part by "offering him various lucrative real estate development business deals in Russia."
No surprise, Trump immediately tried to downplay Cohen's guilty plea. "When I'm running for president that doesn't mean I'm not allowed to do business," he told reporters on Thursday morning. But Trump is on record exclaiming that he had done no business with Russia. And he certainly never acknowledged his fixer had reached out to Putin's office for help on a Moscow project, when Trump was seeking the presidency and speaking positively about Putin. Trump also falsely claimed the Moscow deal had always been publicly known. "Everybody knew about it," Trump said. "It was written about in newspapers. It was a well-known project." Cohen is "lying about a project that everybody knew about," Trump insisted. "We were very open with it." That, too, is a lie. (During the 2016 campaign, Trump denied knowing Sater—possibly to prevent disclosing this Moscow project.)
Trump, of course, couldn't resist dumping on his former lawyer, and he called Cohen "a weak person and not a very smart person." Yet it is Trump who signed the paperwork on the Moscow deal and kept it secret from voters. And with this deal, Trump sent the message to Moscow—at the same time its hackers were penetrating Democratic targets—that he wanted to do business with Putin and Russia. Imagine how all this looked to Putin, who had already implemented the first steps of a plan to attack the American election. Trump was willing to secretly engage with him for Trump's own personal benefit. That, no doubt, was the type of fellow Putin would prefer sitting in the White House.