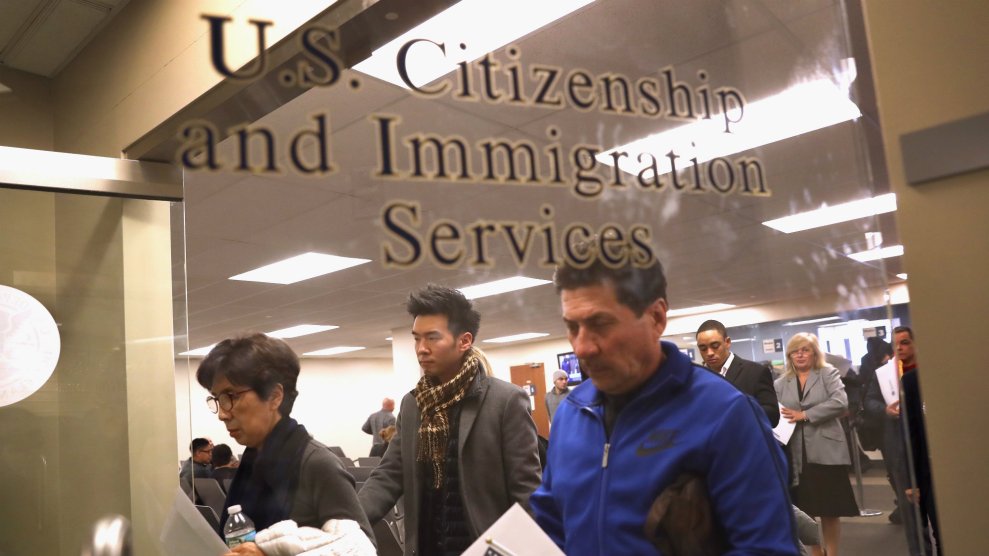 Fight disinformation:
Sign up
for the free
Mother Jones Daily
newsletter and follow the news that matters.
Over the past two years, the Trump administration has made illegal immigration a top priority, but, much more quietly, it has also been making it increasingly difficult for immigrants to be in the US legally. Now, a small rule change is set to take effect Monday that targets some of the most vulnerable immigrants in the country: survivors of human trafficking, domestic violence, and other crimes.
These groups of people typically apply for two kinds of humanitarian relief visas—the U and T visas—that require individuals to cooperate with US law enforcement in investigating certain crimes. But now, when applying for these legal protections, these men and women will face a much greater risk of deportation.
Back in July, US Citizenship and Immigration Services (USCIS), the agency tasked with processing visas and other immigration benefits, released a policy broadening its ability to issue a Notice to Appear (NTA), a document that orders an immigrant to appear before a judge and begins deportation proceedings.
As I reported previously, this change made it easier for USCIS to issue an NTA whenever someone applied for a change in benefits—like citizenship, or a green card—and was denied and lacked another legal status. Traditionally, USCIS only issued NTAs in limited circumstances, such as when an applicant was found to have committed a substantial level of fraud, and the agency referred most cases they denied to Immigration and Customs Enforcement (ICE), which would investigate. ICE then issued the majority of NTAs. As I wrote this summer after the policy was first revealed:
The new memo gives USCIS officials the power to directly issue an NTA in a broader range of circumstances, including if they find evidence of a criminal offense or fraud in an applicant's history, or if a case is denied and the applicant is found to be unlawfully present in the United States—a scenario that alarms many immigration advocates.

… While seemingly small changes, these policies could have widespread implications, potentially sending far more immigrants into removal proceedings and increasing the number of cases in an already backlogged immigration court system, according to experts who spoke to Mother Jones.

The NTA guidance alone could threaten the tens of thousands of immigrants who apply for benefits each year, such as work visas or green cards. Previously, if their application for a benefit was denied, immigrants would have the chance to appeal the decision, try again, or voluntarily depart the country if they no longer had a valid immigration status. Now, if an application is denied and the applicant loses their immigration status in the process, they could be considered "unlawfully present" and placed into removal proceedings. The changes would affect both undocumented immigrants and those who are already legally in the country.
When USCIS first announced the guidance over the summer, it was unclear exactly how the agency would implement it. Immigration advocates were especially concerned about how it would impact these humanitarian relief visas. While at least 15,000 U and T visas are allocated each year, thousands more apply; between October 2017 and June 2018, USCIS received nearly 46,000 applications for U visas, and a little more than 2,000 applications for T visas.
Now, according to an update USCIS released earlier this month, immigrants applying for these two kinds of visas, U and T, as well as three other kinds of humanitarian relief visas, could be more easily placed in deportation proceedings if their applications are denied and they do not have an underlying legal status. In addition to these crime survivors, other groups that would be affected include relatives of asylum seekers, young immigrants requesting the protection of a juvenile court, and women seeking protection under the Violence Against Women Act. (It's important to note that the NTA guidance does not affect individuals applying for Deferred Action for Childhood Arrivals or Temporary Protected Status.)
"In effect, USCIS could throw survivors of domestic violence and human trafficking into deportation proceedings for the very act of seeking protection from their abusers and captors," says Jason Boyd, policy counsel at the American Immigration Lawyers Association. "It's a morally reprehensible policy. Without question, this policy will deter survivors of human trafficking, domestic abuse, sexual assault and other horrific crimes from coming forward."
The change could have far-reaching consequences, and not just for the immigrants themselves, notes Archi Pyati, chief of policy at the Tahirih Justice Center, a nonprofit that helps immigrant women and girls fleeing gender-based violence. Congress explicitly created some of these visas with the hope that offering immigrants legal protection and status would encourage them to report crimes and cooperate with police or federal investigators. "Law enforcement across the country have spoken to the importance of community policing and working with immigrant communities to enforce the law," says Pyati. But now, "if immigrants are afraid to cooperate—because they're afraid of deportation—officers' hands are often tied."
In its update, USCIS says that it will ensure applicants receive denial letters with "adequate notice" of how much longer they would be authorized to stay in the US, and when they should leave, so that no one would be in immediate danger of getting deported. Agency spokesman Michael Bars wrote in a statement to Mother Jones that the agency expects individuals to return to their countries once they no longer have legal status, but he noted that they do have the opportunity to appeal USCIS' decision.
"Importantly, individuals who apply for benefits, continue to have rights to appeal negative decisions on their applications and petitions," Bars writes in his statement. "Ensuring that individuals who are subject to removal are placed in proceedings is fidelity to the law."
In a teleconference for stakeholders last Thursday, USCIS said that it will begin applying the NTA policy towards employment-based applications in the future, though it's unclear when it would begin implementing this policy.
These changes to how NTAs are issued, while seemingly small, continue a troubling trend of USCIS picking up far more enforcement duties than it has in the past, says Boyd. "This policy epitomizes USCIS' ongoing transformation from the service-oriented, benefits agency that Congress intended into another immigration enforcement arm of DHS," he says.