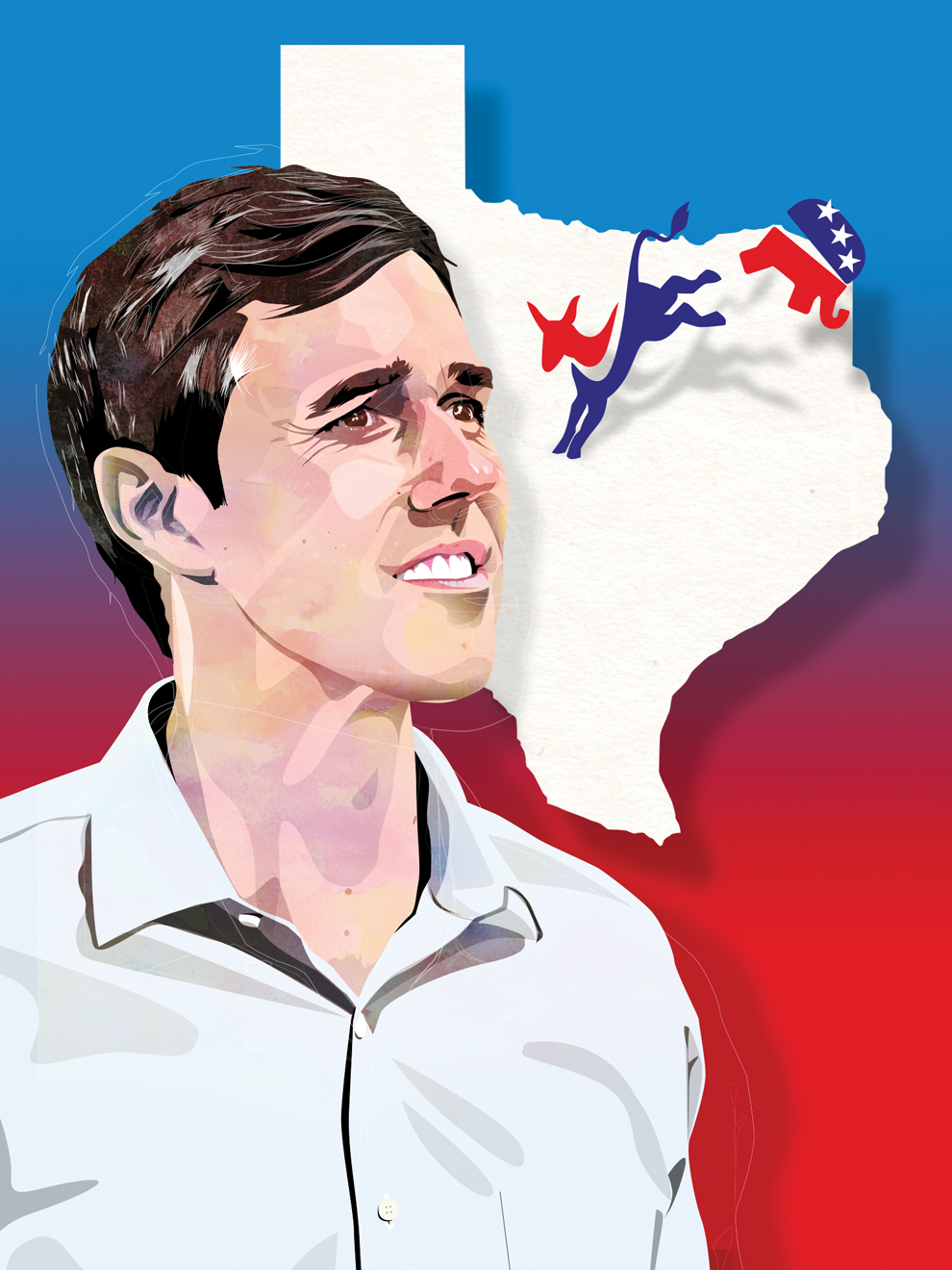 Of the many concession speeches on November 6, Beto O'Rourke's was probably the only one to feature a fog machine. It almost would have been weirder if it hadn't. The Democratic congressman's long-shot bid to unseat Republican Sen. Ted Cruz was defined at every step by an almost relentless opposition to orthodoxy. He swore off pollsters and money from political action committees, stumped in all 254 Texas counties, and livestreamed everything—a town hall with asylum-­seekers, road trips with members of Congress, early morning jogs.
Hoarse, sweaty, and still wearing his "I Voted" sticker, O'Rourke addressed supporters from a stage at a Triple-A baseball stadium in downtown El Paso, attempting to distill what the last 20 months of their lives might mean for what comes next.
Though his own plans remained unclear, he spoke eagerly about where the movement he led could go from here. "It may be in individual races, in individual communities; it may have nothing to do with politics," he said. But "there are so many great candidates who are going to come out of this campaign whose work I look forward to supporting and following and cheering on."
Hopeful is not how Democrats usually end election night in Texas. But if O'Rourke didn't sound much like a losing candidate, it was because in some ways he wasn't one. Buoyed by his campaign, and by a deep bench of down-ballot candidates, Texas Democrats had their best election in decades. They solidified control of the state's largest cities, ended the Republican stranglehold on the suburbs, and flipped more than 100 local offices. O'Rourke may have lost, but he helped foment a Democratic awakening that could have a long-term impact on the state's political makeup.
O'Rourke and his allies broke through the invisible barriers that were supposed to keep Democrats in check—undemocratic voting laws, gerrymandering, and a disengaged electorate. In the days leading up to the election, Republicans speculated that 6 million people might vote; turnout exceeded 8.3 million, nearly double the number of people who cast ballots in 2014. Those voters turned the state Democratic Party's unofficial mantra—"It's not a red state, it's a nonvoting state"—on its head. Democrats didn't take back Texas in 2018, but they showed how they could.
The first signs of a significant shift within Texas politics came two years earlier, when Donald Trump delivered the weakest showing for a Republican presidential candidate in the state in nearly two decades and Democrats made huge gains in diverse and highly educated suburban neighborhoods. The results were unexpected; Democrats hadn't even bothered to field candidates in some districts that Hillary Clinton carried or made competitive. On Election Day in 2016, Democratic Party volunteers in Austin were making phone calls to voters in Iowa.
Trump's victory, coupled with a series of legislative overreaches by the Republican­-dominated state government, sparked a wave of activism that set off a Democratic resurgence over the next two years. Some of that organizing was layered on top of painstaking work that had already been in motion, but some of it took place on turf that had been all but surrendered.
Activists met in small groups to plan voter registration drives and health care rallies. They held empty-chair town halls to shame MIA members of Congress. They filled the state Capitol to protest. And they worked to bring in new voters—predominantly immigrants and people of color—whom Democrats had long touted as their future but perpetually failed to engage.
The result felt like the kind of whupping that Republicans have previously administered to Democrats. In the suburbs of Houston and Dallas, Republican Reps. John Culberson and Pete Sessions—with 40 years in Congress between them—lost to political neophytes Lizzie Fletcher and Colin Allred. Nine other US House seats were decided by single-digit margins; six came down to 5 points or less. Kenny Marchant, a Republican incumbent who was on no one's preelection target list, won by just 3 points against an underfunded and little-­known Democratic challenger. Democrats picked up 12 seats in the state House and two in the state Senate. Cruz had described Tarrant County, which includes Fort Worth, as "the biggest, reddest county in the biggest, reddest state." It, too, turned blue.
The shift was more pronounced further down the ballot. Republicans were purged en masse from positions of power in the state's largest counties. In Bexar County, which includes San Antonio, Democrats picked up 24 county positions. In Fort Bend, they flipped 11 county races, including for county attorney.
O'Rourke, and the massive turnout he drove, accelerated a process of local organizing that progressive groups like the Texas Organizing Project had been developing in the state's largest cities for about a decade. TOP's focus on hyper­local issues among communities of color, such as bail reform, had helped Democrats turn the tide in places like Harris County, which includes Houston and has a larger population than 25 states. Democrats won 63 county offices there—59 of them judicial posts. According to Crystal Zermeno, TOP's director of electoral strategy, Democrats won state House districts in Houston they hadn't even expected to contest until 2020 or even 2022.
One defeated Republican juvenile court judge was so shell-shocked by the election results that the following day he let nearly everyone on his docket walk free. The list of ousted Republicans included Stan Stanart, the Harris County clerk who had accused George Soros of meddling in the county election and whose mishand­ling of voting in the county routinely led to long wait times and other barriers for voters of color.
Democrats made huge gains in big cities and suburbs—they knocked off six Republican state legislators in Dallas County alone, including the author of the so-called bathroom bill measures that allowed schools to discriminate against transgender students—and in doing so, they broke through a map that had been designed to thwart them. After taking supermajorities in both houses of the Legislature in 2010, Republicans greedily set out to preserve their power through an aggressive redistricting plan. But given Texas' rapid growth and demographic changes—nearly 200,000 people have moved into Fort Bend County alone since 2012—that strategy only worked for so long. Republicans effectively built a floodwall at low tide. As Michael Li, a senior counsel at the Brennan Center for Justice whose work focuses on redistricting, puts it, "In a state that's growing as fast as Texas, maybe you want to protect for a 200-year flood."
The results across the state were a testament to how fragile the facade of conservative dominance had been in the first place. Texas is still red. But it was never as red as Democrats outside of it believed, nor was it as red as Republicans acted like it was; their grip on the state is in part a legal illusion maintained through a system that makes voting and registering to vote far harder than they should be and by gerry­mandering that has considerably marginalized the state's majority-minority population. Republicans artificially inflated a particular version of Texas, but in 2018 that fiction caught up with them in a big way.
The wave didn't just sweep through the cities. It also rippled through towns like Driftwood, in Hays County. After attending college and grad school out of state, Erin Zwiener returned home to Texas and settled on two acres here in 2016. When Trump was elected, Zwiener was working on a memoir about traversing the Continental Divide trail on a mule. She shelved the book and started organizing.
Zwiener became a leader in an Indivisible group, and in March 2017 she filed papers to run for an open Republican-held seat in the state House of Representatives. Democrats had failed to contest it in the two previous elections. "When I first stepped up to run, I got a lot of, 'Oh, well, it's always good to have a name on the ballot,'" she told me two days after celebrating her victory.
Growth in Hays County had been driven in part by an exodus of families from Austin who were priced out of that city by rising costs, including high property taxes. So Zwiener focused on the state's broken public school finance system, which went underfunded as the Legislature fixated instead on things such as the bathroom bill and a succession of anti-abortion measures. "Once you explain to people that the reason they're having a hard time affording to stay in their home is because the state stopped funding public schools, their party allegiances don't matter that much," she said.
The Beto effect was magnified by strong down-ballot campaigns like Zwiener's. Hays County, which no Democrat at the top of the ticket had carried since 1992, and which O'Rourke won by 15 points, has added almost 20,000 new voters since the 2016 election. A lot of the work of registering them and turning them out was done by Zwiener and her volunteers. Zwiener also had help from Indivisible, the grassroots organization that popped up after Trump's election. Her campaign didn't knock on a single door in the town of Wimber­ley (pop. 3,019), for instance, because it left that to the town's Indivisible chapter, which, in addition to election work, also helps out immigrants who have been detained by Immigration and Customs Enforcement.
This was a group that didn't exist two years earlier, organizing in the kind of race that didn't have a Democratic candidate two years earlier, a race that was ultimately won by a political novice who two years earlier had been sitting down to write about mules. I asked Zwiener if she planned to start up her memoir again now that the race was over.
"We'll see," she said. "I think I gotta write a book about this first."
Democrats will soon have another opportunity to test their progress in Texas. Republican Sen. John Cornyn suddenly looks a lot more vulnerable in 2020, and the field of Democrats who might take him on could look a lot different than it did at the start of the 2018 cycle, when the state party's biggest names, Rep. Joaquin Castro and his twin brother, Julian, the former secretary of housing and urban development, shied away from statewide races.
Yet Texas Democrats' impressive gains in a year when Democrats had strong showings in many places does not mean their momentum will continue. As much as strategists may fantasize about Texas becoming a second California, there's another word for a rapidly changing state that's always on the precipice of going blue: Florida.
And there is another element of O'Rourke's campaign that Democrats everywhere would be remiss if they ignored, as would Republicans. The election wasn't just about demographic shifts and conservative overreach, about the resistance and the blue wave or rigged maps and digital fundraising models. It was also about the story Texas tells about itself—about which Texans and which parts of the state candidates have chosen to talk about.
When O'Rourke came to the small South Texas border city of Eagle Pass in September, he brought Juanita Martinez up onstage with him. The previous month he had been in Del Rio, a slightly larger city about an hour upriver, and after delivering his remarks, taking a few questions, and posing for photos, he was approached by Martinez. "She said, 'Hey, man. Love the campaign that you're running, love that you're here in Del Rio,'" O'Rourke recalled after she had joined him atop the bed of a pickup truck alongside the Castro brothers. "'Only problem is that you're not in Eagle Pass.'"
So here he was. In a pavilion next to a lake, with a mariachi band in the back. The crowd gave a holler and Martinez pumped her fist.
The 62-year-old Martinez is a retired public school educator who owns a small gift shop in town and serves as secretary of the Maverick County Democratic Party. South and West Texas border communities are heavily Democratic but plagued by low turnout and dysfunction. Maverick County turnout in the 2014 election was just over 18 percent. But Martinez helped build a robust field campaign from one of more than 700 pop-up field offices across the state—an unprecedented level of saturation, at least in recent history. Working closely with a small group of mostly women, she kept the office open until midnight on the last day of voter registration. On the final Sunday before Election Day, she hit every house on her target list.
"I can't imagine Ted Cruz coming to Eagle Pass," she told me.
There were a lot of Eagle Passes and a lot of Juanitas, and what O'Rourke had to offer people, whether in Pampa or Pasadena, was recognition; he roped them into the story of his campaign and the theory of the race and left them feeling not just like they mattered, but that all those other places he talked about mattered too. And in that respect, it was impossible to separate O'Rourke's message from the border city where his political career began.
"Ted Cruz doesn't have an office anywhere near El Paso, John Cornyn doesn't have an office anywhere near El Paso, presidential candidates don't come to El Paso, gubernatorial candidates don't come to El Paso. You know, people who are focused on power don't come to El Paso," he told me when we spoke in May 2017 at his Capitol Hill group house. It was before he'd blown up, before he'd set out to visit every Texas county, before the first fundraising haul, but the theme that would animate the next 18 months was already fully formed.
"A lot of the state feels like El Paso feels, and a lot of the state wants their state back and wants to be recognized and represented and served, and I think this campaign is all about that."
Last fall, as Democrats in other tough races supported sending troops to fend off asylum-seekers, backed Trump's wall, or hedged on birthright citizenship, O'Rourke ran as an unabashed fronterizo, an ambassador of the borderlands, not just in El Paso and Eagle Pass but everywhere, and he almost won, not in spite of that but because of it.
He set out to redefine what it meant to run in Texas in a way that pushed to the foreground another kind of Texas, one that was every bit as Texan—bluer, yes; crunchier, sometimes; but also younger and browner, rural and urban—and that the people who run the state, and the people who talk about the state from afar, can no longer afford to write off. That Texas has always been there, but it has never been this organized, and those Texans have never felt as if they were on the precipice of power like they did in November 2018. They didn't get all the way there—they might not for a while—but Democrats aren't afraid anymore. If O'Rourke's campaign accomplished nothing else, it would have still been revolutionary.
When I spoke with Martinez again, two days after the election, she was still fired up. Around Eagle Pass, she said, people were keeping up their black-and-white Beto signs but taping new messages over them. "For Senate" was covered up; now they said "For President." Martinez was locking up the campaign office, but not, she hoped, for good. She wanted to see if she could find the backing to keep it open year-round—for whatever campaign came next.