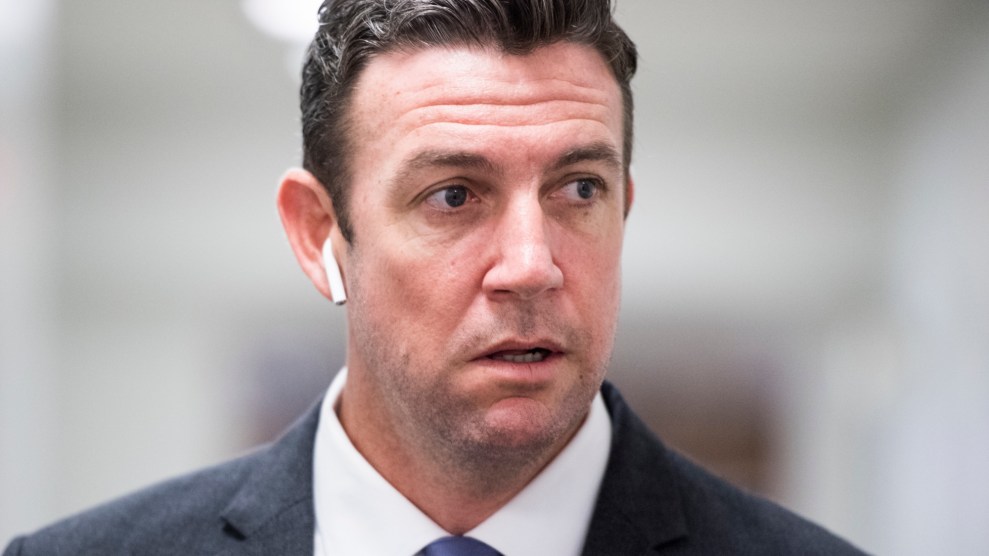 Fight disinformation:
Sign up
for the free
Mother Jones Daily
newsletter and follow the news that matters.
Speaking at a meeting of a Republican women's club on Monday, Republican Rep. Duncan Hunter of California, the recently-indicted incumbent who is running for reelection in the 50th Congressional District, suggested his opponent is part of an "Islamist" conspiracy to infiltrate the US government.
"You had more Islamists run for office this year at the federal level than ever before in US history," Hunter said. The jab was an apparent reference to the Middle Eastern heritage of his opponent, Ammar Campa-Najjar, who is Palestinian and Mexican.
"You have radical Islamist propaganda being pushed on the kids in our San Diego school district," Hunter said, according to the Times of San Diego. "Have you seen that? They put them on prayer rugs and they say: We gotta honor every religion." Campa-Najjar has said repeatedly during the campaign that he is a Christian and that he worked as a janitor and later as a youth leader at a church to help support his family.
Hunter was speaking at an event for the Intermountain Republican Women Federated, a Republican women's group based in San Diego County. The congressman, who's running for a sixth term, was indicted in August for improperly using $250,000 in campaign funds for personal expenses, allegations Hunter denies. Despite the indictment, Hunter has said he has no plans to drop out of the race. His next hearing is December 3.
In the speech, Hunter highlighted the fact that Campa-Najjar's grandfather was one of the leaders of the 1972 terrorist attack at the Munich Olympics. Campa-Najjar, who has disavowed the attack, never met his grandfather, as he died years before he was born. Hunter also said Islam is "not just a religion."
"It is a government," he said. "It's like Republicans, Democrats, Islamists. They have their own government." He also referenced Muslim immigration to Europe: "Amsterdam, Paris, London, Germany…they are done. Thank God we're such a large nation with large bodies of water on our sides. That's the only reason it has not happened to us."
The alleged threat of Islam wasn't the only thing Hunter covered in the speech. He also said that President Donald Trump's border wall plan is "not about illegal immigration." And he expressed support for Brett Kavanaugh, the Supreme Court nominee facing allegation of sexual misconduct by three different women, saying, "This Kavanaugh thing, this is a last stand for the Republican Party. This is it."
Veterans for Ammar, a group backing Hunter's opponent, released a statement Tuesday condemning Hunter's "lies and grossly un-American race-baiting." Although Campa-Najjar has not responded to Hunter's speech personally, he retweeted the group's statement.
Despite Hunter's legal woes, he is still favored to hold onto the seat.