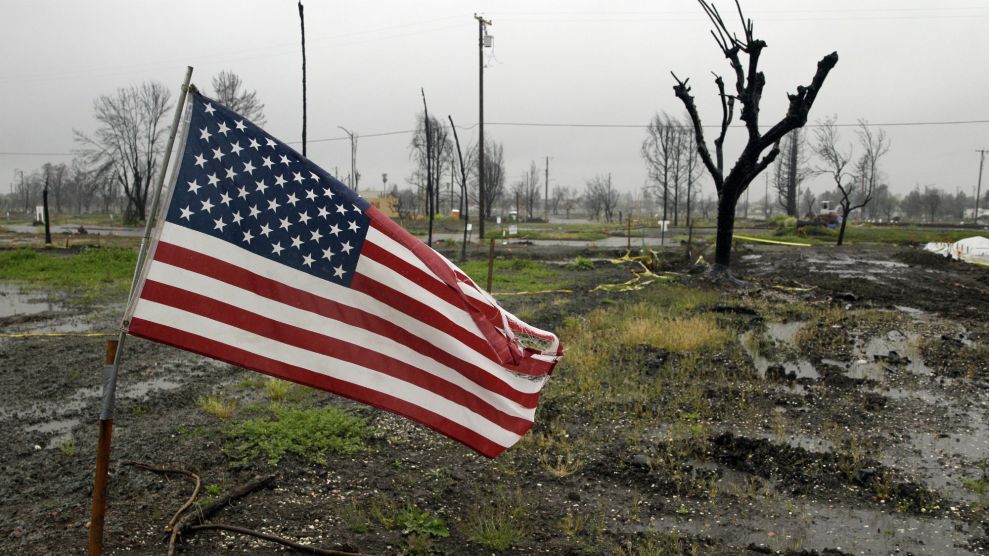 Fight disinformation:
Sign up
for the free
Mother Jones Daily
newsletter and follow the news that matters.
As wildfires continue to rage across the West during a brutally hot summer, on Thursday the US Forest Service released its new forest fire management strategy that focuses on science and the changing climate. The report comes at the same time the president has sent out misleading tweets about the causes and solutions of California's wildfires, and as Donald Trump's Interior head Ryan Zinke has blamed fires on environmentalists, denied climate change science, and called for more logging.
Zinke has said the forest fires have "nothing to do with climate change" and recently called the left "angry," "intolerant" and "uninformed" on the environment and public land management, according to the Huffington Post.
But the Department of the Interior disputes this in an email to Mother Jones, saying, "The Secretary addressed the correlation between climate and fires dozens of times over the 48 hours he was in California and all week in interviews since returning. Additionally, in his op-ed, the Secretary directly addressed longer, hotter, drier seasons in the opening paragraphs." It's true that Zinke changed his tune—after his earlier comments, Zinke told reporters Thursday that climate change has played a role in the fires and that global temperatures are rising.
Trump weighed in on California's fires on Twitter earlier this month, with tweets that were immediately described as false and misleading, saying, "California wildfires are being magnified & made so much worse by the bad environmental laws which aren't allowing massive amount of readily available water to be properly utilized…Must also tree clear to stop fire spreading!"
Governor Jerry Brown must allow the Free Flow of the vast amounts of water coming from the North and foolishly being diverted into the Pacific Ocean. Can be used for fires, farming and everything else. Think of California with plenty of Water – Nice! Fast Federal govt. approvals.

— Donald J. Trump (@realDonaldTrump) August 6, 2018
Mother Jones asked an expert to decipher this nonsense, and you can read his analysis here.
But today, the Forest Service, which is part of the Department of Agriculture, released a new 28-page fire-management strategy. In it, the service writes, "Of particular concern are longer fire seasons and the rising size and severity of wildfires, along with the growing risk to lives, homes, natural resources, and other values." The report also includes a map of changes in fire weather seasons in the United States between 1979 and 2017, a phenomenon scientists warn is largely due to climate change: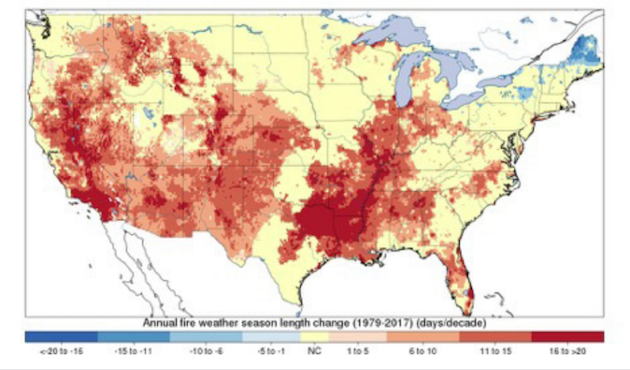 Though the Forest Service doesn't mention the words "climate change" specifically (as past versions of the plan have), it points out that "changes in temperature, precipitation patterns, and other environmental conditions" are all "driving factors" behind wildfires and other environmental challenges. And in the Appendix, the Forest Service writes, "effects of a changing climate" are a general threat to forest health.
"It's a breath of fresh air to see science, instead of politics, inserted into forest and fire management," said Kirin Kennedy, associate legislative director for lands and wildlife at the Sierra Club, in a statement. "The longer Ryan Zinke continues to ignore these facts the greater the risks to homes and families."