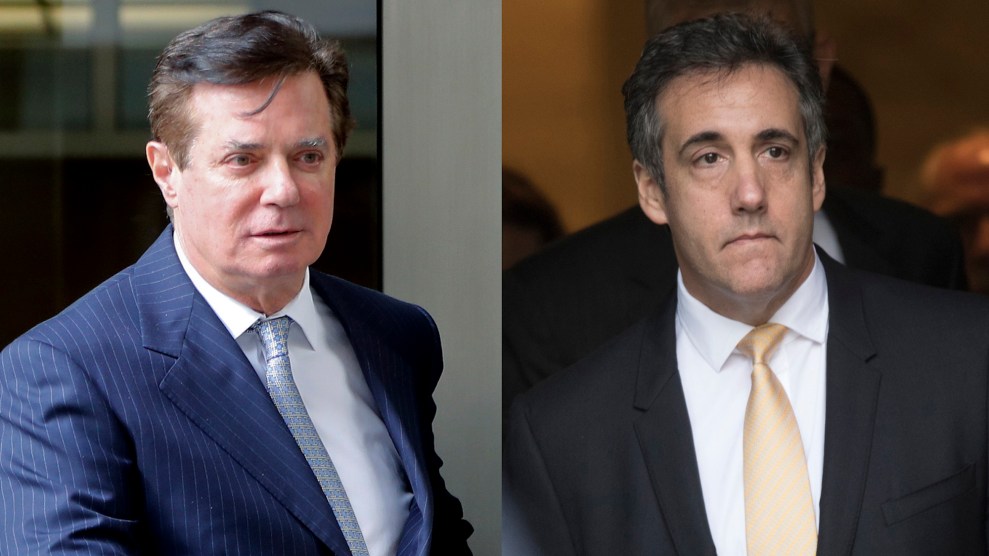 Fight disinformation:
Sign up
for the free
Mother Jones Daily
newsletter and follow the news that matters.
Last week, the news broke that a jury had convicted former Trump campaign manager Paul Manafort of eight counts of tax and bank fraud charges, and that Trump's lawyer Michael Cohen had pleaded guilty to criminal charges related to tax and bank fraud as well as campaign finance violations—all on the same day. TV pundits were largely unified in the assessment that the plea deal and conviction spelled big trouble for President Trump. NBC News anchor Chuck Todd dubbed it "the most consequential day of the Trump presidency—yet." There was endless speculation as to whether the developments would play to the Democrats' favor in the upcoming midterm congressional elections, or encourage members of Congress looking to begin impeachment proceedings.
But two new polls in the past week suggest that the Manafort conviction and Cohen plea have had exactly zero impact on the president's popularity. An NBC News poll that covered August 22, the day after the news about Manafort and Cohen broke, found that 46 percent of respondents still viewed Trump favorably, with 51 percent disapproving of his performance. That's still about 10 points higher than his ratings back in December. A separate NBC/Wall Street Journal poll conducted in the three days after the two criminal cases concluded found that Trump's approval rating was 44 percent, with 52 percent of those polled viewing Trump unfavorably.

Republican pollster Bill McInturff of Public Opinion Strategies, who conducted this survey with Democratic pollster Peter Hart and his team at Hart Research Associates, called Trump's approval rating "remarkably stable" despite the Manafort and Cohen developments, both of which became public on the same afternoon last Tuesday.

Hart adds that, for Democrats hoping to craft a midterm election strategy, the week's news thus far "represents a fools gold opportunity rather than a silver bullet solution."
Indeed, Republicans and Democrats are far apart in how they view the Manafort and Cohen cases, which is perhaps no surprise, given that the GOP media of choice, Fox News, has barely covered the Manafort conviction or Cohen plea. On Trump's favorite show, "Fox and Friends," the morning after the Cohen deal was announced, the hosts devoted three minutes to Cohen before turning their attention to a long segment on the Tooth Fairy. Much of Fox News' other coverage was focused on the murder of the Iowa woman Mollie Tibbetts, allegedly committed by an undocumented immigrant. The NBC news poll found that 20 percent of those surveyed had no idea Cohen had pleaded guilty and knew nothing about the case, and more than half of Republicans said that the guilty plea and conviction have nothing to do with Trump, even though Cohen directly implicated the president in his plea agreement.
A new Politico poll reflects the disparity: Nearly two-thirds of Republicans surveyed said that neither the Manafort conviction nor the Cohen guilty plea would affect their votes in the upcoming midterms.