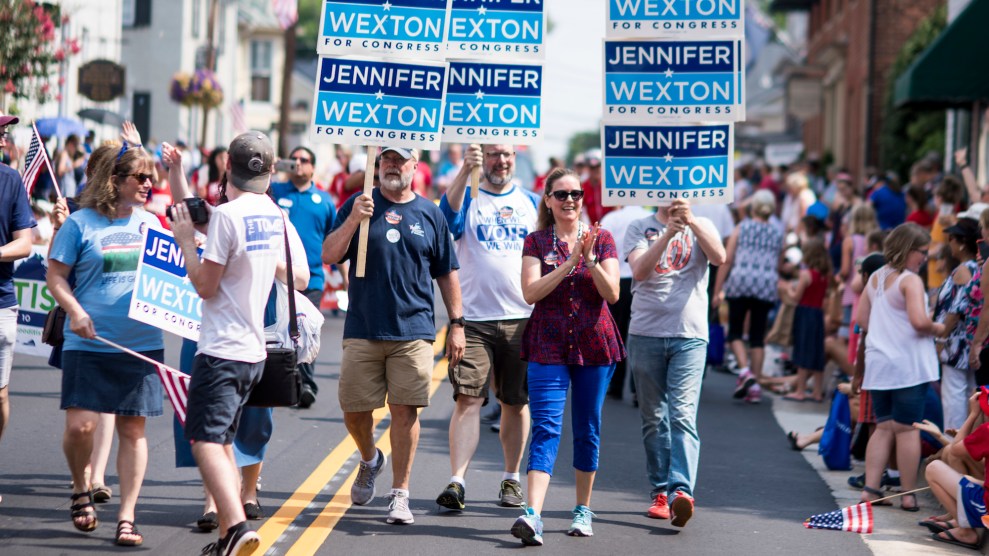 Fight disinformation:
Sign up
for the free
Mother Jones Daily
newsletter and follow the news that matters.
For more than 40 years, women have made up a majority of American voters. Women turn out to vote at much higher rates than their male counterparts, making them a critical demographic for any political candidate hoping to win in November.
A new CBS poll also suggests that women, particularly Democratic women, might be the ticket to electing many of the female candidates who've thrown their hats into the ring since the election of President Donald Trump. In April, the Associated Press found 309 women who were seeking House seats this year, which broke the previous record of 298, set during the 2012 election cycle.
The new poll shows that women in competitive congressional districts from California to New York would be five times more likely to vote for a female candidate than vote for a man, provided the candidates' policy views were similar. The percentages are even larger among Democratic women, 42 percent of whom said they'd vote for a woman over a man with the same policy positions. Only 15 percent of Republican women would do so.
The numbers won't come as much of a surprise to the record number of Democratic women running for Congress this year. The Cook Political Report earlier this year found that women in Democratic primaries have been performing far better than expected. More than 40 percent of Democratic nominees for House races are now women.
The presence of so many women in this year's electoral field may help explain the findings of another CBS poll released Sunday. That one showed that Democrats are making inroads in their fight to recapture control of the House. CBS is now predicting that Democrats would win 222 seats in the House if the election were held today, up from 219 in June when the network pollsters declared the fight for the House a dead heat. If those numbers hold, the Democrats may have women to thank.