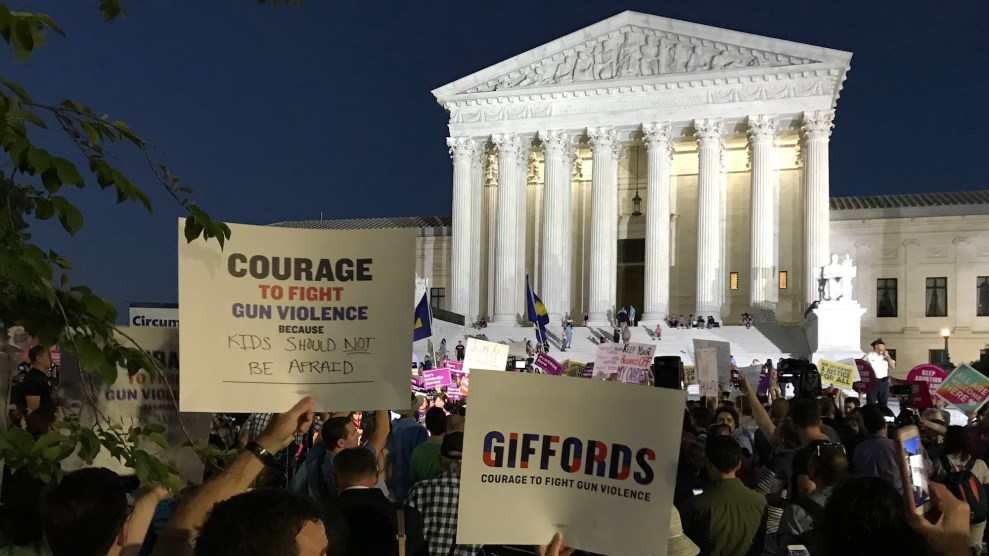 Fight disinformation:
Sign up
for the free
Mother Jones Daily
newsletter and follow the news that matters.
President Donald Trump's selection of Brett Kavanaugh to serve on the Supreme Court has been met with concern in a variety of progressive advocacy circles, but one group's condemnation has been particularly swift and forceful: proponents of gun control. Organizations like the Brady Campaign to Prevent Gun Violence, Michael Bloomberg's Everytown for Gun Safety, and Giffords—the group founded by former Arizona congresswoman and gun violence survivor Gabby Giffords—all issued statements denouncing Trump's pick. Protesters representing their cause counted themselves among the hundreds who assembled at the Supreme Court last night to object to the president's choice.
The outcry might seem surprising, since the Supreme Court has barely heard any gun-related cases since 2008, when it upheld law-abiding citizens' right to gun ownership in District of Columbia v. Heller while stipulating that such ownership should be regulated. But according to Brady co-president Avery Gardiner, a former lawyer, that may have had more to do with the moderate makeup of the court than an absence of legal challenges to gun control, and another Trump appointee may make the court more willing to take on such cases. The cases heading to the nation's highest court are constitutional challenges to the "common sense" measures gun control activists have implored lawmakers to pass since the February school shooting in Parkland, Florida.
I spoke with Gardiner about what Kavanaugh's confirmation might mean for the future of federal gun regulation.
Mother Jones: Tell me what we know about Judge Kavanaugh's position on gun rights.
Avery Gardiner: What we know about his stances is through the opinions he's issued on assault weapons. A challenge to DC's ban on assault weapons went before him and two other judges—all three were [appointed by] Republicans. The panel split 2-1 to uphold the law, with Judge Kavanaugh as the dissenter. He thinks assault weapons are within the scope of the Second Amendment, which puts him way out of step with the Supreme Court and circuit courts that have considered this issue. [The Second Amendment] protects the kinds of weapons that were "in common use at the time"—in 1791, when the Second Amendment was adopted. Those are [former Supreme Court Justice Antonin] Scalia's words. Judge Kavanaugh just uses the first part of that phrase, "in common use" and leaves out the "at the time" part.
For years, around the time that the Heller decision came down—which was almost exactly 10 years ago—everyone was talking about "What does "well-regulated militia' mean?" in the Second Amendment. Going forward, I think we're going to be talking about, "What does 'in common use at the time' mean?"
MJ: Are there cases making their way through the courts that could put these decisions to the test?
AG: There's a case in Massachusetts that raises this exact issue. Worman v. Baker was decided in April by Judge William Young. It's a 47-page opinion that really goes into this question of "in common use at the time" and said that's the standard. Judge Young quotes Scalia's opinion in Heller all the way through it and then upholds the Massachusetts law banning assault weapons. That case is going to be appealed to the First Circuit Court of Appeals. The Second, Fourth, Seventh, and the DC Circuit have all upheld assault weapons ban, so I predict the First Circuit will, too, but somebody's going to appeal that to the Supreme Court, and we will have this discussion about what does "in common use at the time" mean? I think it's likely that Judge Kavanaugh will be Justice Kavanaugh by then. And we know what he thinks because he already told us—he wrote that dissent in the DC case.
MJ: But the Supreme Court hasn't been willing to hear Second Amendment challenges since the Heller decision. Why would that change with a new justice?
AG: The Supreme Court gets to choose which cases they want to take, and the way they choose is through a vote. People write a petition for a writ of certiorari, or a cert petition, and if four of the nine vote to take up the case, the court takes the case. There have been a lot of cert petition denials on gun cases. In the last term, there were two. For one of them, Peruta v. San Diego—which challenged restrictions on California's concealed-carry permit issuing process—[Justice Clarence] Thomas was so upset about the cert rejection that he wrote a dissent to the decision to not take up the case, which is really unusual. He wrote up a long statement saying he thinks the court is not taking Second Amendment cases and is disfavoring the right. Only one other justice signed onto his dissent: Justice Neil Gorsuch [President Trump's first SCOTUS pick].
I think Judge Kavanaugh could become the fourth vote [along with Gorsuch, Thomas, and either Justice Samuel Alito or Chief Justice John Roberts]. So his presence on the court means it's quite likely the court will start taking more of these cases.
MJ: And then, of course, there are the challenges that haven't made their way to higher courts yet, right?
AG: We've got this strange schism in the United States, especially since the Sandy Hook Elementary School massacre. Some states have passed laws that keep their citizens safer from gun violence. Blue states—like Massachusetts, Connecticut, New York, New Jersey, California, Maryland—have passed sensible gun laws to expand background checks, or ban assault weapons, or require you to take a course before you can get a concealed-carry permit, things that fit into the category of "common sense" gun laws. The gun lobby has challenged every single one of those laws. States have passed more than 50 new gun laws since the Parkland school shooting, and I expect to see more than 50 new lawsuits. That's the pattern that we've seen for years. To be fair, that's true on the other side as well. We see some red states pass gun laws that put people at greater risks, particularly on this question of who can carry guns, and gun control groups like us mount lawsuits against them.
No cases against these laws have made their way up to the Supreme Court because of the cert petitions, but there are plenty of them. There have been more than 1,200 cases that have involved Second Amendment issues in the 10 years since Heller, and in more than 90 percent of them, the courts rejected the premise that the Second Amendment was very broad.
KV: What would you like senators to do in the confirmation process?
AG: I think the most important thing is that people demand the nominee explain what he thinks the Second Amendment says. Before somebody gets a life appointment to the highest court in the land, we should know his or her views on issues that are truly life and death. What's happened in the last several confirmation battles is the nominees have gotten away with statements to the effect of "It would be inappropriate to comment on how I might rule in any particular case."
Judge Kavanaugh is 53 years old. He's likely to be on the bench for 30 plus years. We deserve to know what he says. The Senate has a role here, and that is to confirm the president's appointment. They cannot perform that role if the confirmation hearings are just fluffy discussions.
We've already heard from many champions of gun violence prevention that they will vote against the nominee. [Senate Minority Leader] Chuck Schumer, [New Jersey Sen.] Cory Booker, [Connecticut Sen.] Chris Murphy have already said they won't vote for the nominee. And there will the ones who will be much harder to push. There's going to be a lot of pressure on [Maine] Sen. [Susan] Collins, and she's someone I hope will demand those answers to what the nominee thinks on gun issues and other issues.
MJ: Let's say Judge Kavanaugh gets confirmed. Looking ahead to the next Congress, does having someone like Kavanaugh on the court discourage gun control efforts at the federal level?
AG: Not at all. There are a few issues that do raise some constitutional questions, and I think the assault weapons issue is one of them, but there's an awful lot that doesn't go anywhere near serious questions about the Second Amendment—most obviously, background checks. We've had a background check system in place since the Brady Bill went into effect in the 1990s, but only federally licensed gun dealers are required to do background checks. Private sellers are not required to do them. And the way guns are bought and sold have changed massively since the '90s, mainly through the advent of the internet. The Supreme Court already said that background checks are a perfectly appropriate thing to do during the legal challenge to the Brady Bill.
Right now, there are 208 cosponsors on a bill to expand background checks to private gun sales, and the [House] Speaker will not sponsor a vote. If control of the House flips in the fall, you'll start to see votes and hearings on these questions of federal law. That goes for background checks and a whole lot of other things, including resources for the Bureau of Alcohol, Tobacco, and Firearms, who we've found has not been doing a good enough job cracking down on the small number of gun dealers who sell guns to criminals. If there's a change of control in the House, I think we'll start to see more questions asked of ATF and how it works.
This interview has been lightly edited for length and clarity.