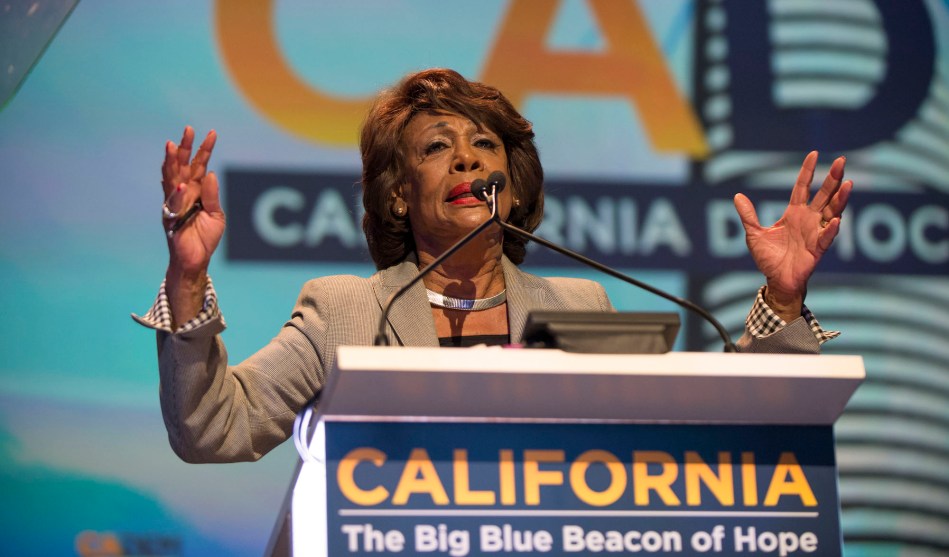 President Donald Trump on Monday falsely accused Rep. Maxine Waters (D-Calif.) of attempting to incite violence against his supporters, warning the California lawmaker to "be careful what you wish for." He also viciously branded Waters as being an "extremely low IQ person."
Congresswoman Maxine Waters, an extraordinarily low IQ person, has become, together with Nancy Pelosi, the Face of the Democrat Party. She has just called for harm to supporters, of which there are many, of the Make America Great Again movement. Be careful what you wish for Max!

— Donald J. Trump (@realDonaldTrump) June 25, 2018
The president's tweet is a blatant misrepresentation of Waters' actual comments, in which she recently urged Democrats to confront Trump administration officials in public with words of protest, not violence. "Let's make sure we show up wherever we have to show up," Waters said at a rally in Los Angeles Saturday. "And if you see anybody from that Cabinet in a restaurant, in a department store, at a gasoline station, you get out and you create a crowd."
"Tell them they're not welcome anymore, anywhere," she said, before speaking out against Trump's immigration policy separating migrant children from their parents.
Conservatives instantly seized on the remarks, which came amid a recent spate of public protests against Trump officials inside privately owned restaurants. The latest involved White House press secretary Sarah Huckabee Sanders on Saturday, when the owner of a Lexington, Virginia, restaurant asked her to leave over the Trump administration's "inhumane" policies.
Adding to the misrepresentations Monday, Trump also appeared to accuse House Minority Leader Nancy Pelosi of supporting Waters' remarks moments after Pelosi did exactly the opposite.
In the crucial months ahead, we must strive to make America beautiful again. Trump's daily lack of civility has provoked responses that are predictable but unacceptable. As we go forward, we must conduct elections in a way that achieves unity from sea to shining sea. https://t.co/vlpqOBLK4R

— Nancy Pelosi (@SpeakerPelosi) June 25, 2018