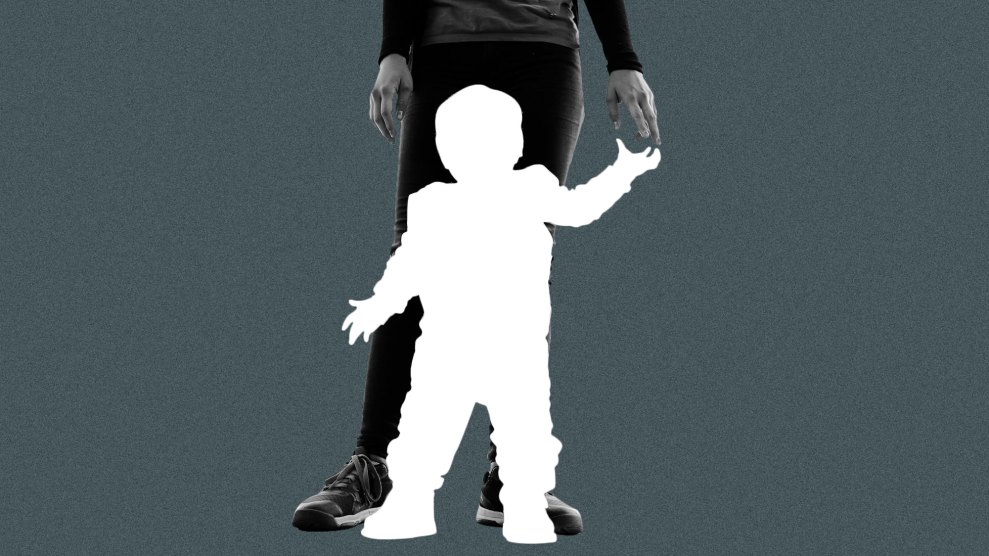 Fight disinformation:
Sign up
for the free
Mother Jones Daily
newsletter and follow the news that matters.
The sounds of sobbing children were still resonating yesterday as President Trump signed an executive order to end family separation at the border. Anger and anguish over Trump's "zero tolerance" immigration policy came to a head this week, after ProPublica obtained and published a recording of distraught kids at a US Customs and Border Control facility. It conveyed the horrifying situation faced by hundreds of immigrant families: a sound few mothers could bear.
The psychological effect of traumatic child-parent separation on children is well documented. Less studied, though, is the impact of that separation on the mothers. Yet the experts I spoke with warn that having a child taken away, especially after a family reaches what is believed to be a safe haven, could have devastating effects, including depression, symptoms of post-traumatic stress syndrome, and the loss of will to live. "I think what we're potentially talking about is a total mental health catastrophe," says Aurélie Athan, a clinical psychologist who studies motherhood at Columbia University.
Dr. Patricia De Marco Centeno, a California psychiatrist who specializes in maternal mental health, adds that mothers forcibly separated from their children are likely to suffer from acute stress reactions such as extreme fear, panic-like episodes, insomnia, poor eating, and poor self-care. "The biggest risk," she says, is that these symptoms may develop into more-serious stress reactions such as PTSD. "What I think perpetuates the problem is the degree of uncertainty in the situation—the fact that there is no end point, the fact that there is no date of reunification. It's as if you lost your child to a motor vehicle crash, and you don't know if they're alive or not."
The researchers point out that many of the mothers separated from their children by American authorities are already dealing with trauma as the result of violence and poverty in their home countries—not to mention the things they go through during the harrowing journey north to the US border. People who experience a sequence of traumatic experiences may end up with a particularly severe type of post-traumatic stress known as Complex PTSD. "It's a lot harder to treat," De Marco Centeno says.
Complex PTSD, according to the Department of Veterans Affairs, is often associated with experiences in which the victim is held in a long-term state of physical or emotional captivity—a concentration camp, for example, or an abusive and violent relationship.
Despite the lack of research on the mothers, Athan says a mother's and a child's experience are opposite sides of the same coin. To leave the women out of the research, and out of the national conversation around Trump's policy, "is to lose 50 percent of the story," she says. "These are really the mothers at the margins."
To reduce the psychological damage, for both, De Marco Centeno is clear: "Stop and reunite. Stop and reunite. Everything else can be figured out later," she says. The longer families are kept apart, "the more permanent the damage is going to be." But the question of whether reunification will quickly reverse the trauma caused by forced separations is unresolved. "I don't think we're talking about anything that can be cured, or even redressed," Athan told me. "I think what we can talk about is to what degree it can be mitigated."
As it stands, thousands of children have been taken from their families, and while Trump's executive order is intended to halt further separations, Homeland's plan for reuniting families remains unclear. On Monday, The New Yorker reported that no protocols have been put in place for keeping track of parents and children concurrently, or for eventually reuniting them. Reports have circulated of parents being deported without their children. Meanwhile, detained parents may be foregoing legitimate claims for asylum by pleading guilty to expedite the return of their children. On Wednesday evening, officials said children already separated from their families would not be immediately reunited in the wake of the executive order.
In an interview with MSNBC, a Salvadoran mother identified as "Christina" who was separated from her 10-year-old son and 16-year-old daughter by US authorities, shook her head when asked if she would have come to America knowing her kids would be taken from her. "You suffer a lot on the journey and you think that it's over when you get here," she said through a translator. "But once you are detained here, that's where the most painful part of the journey begins."
This article has been revised.