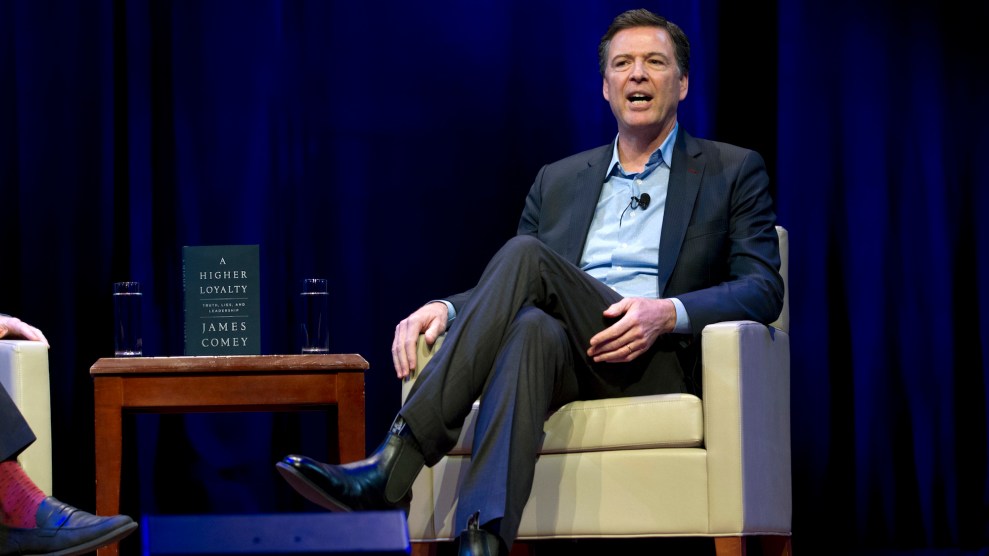 The FBI leaked like a sieve in 2016, and those disclosures helped Donald Trump, according to a newly released inspector general's report on former FBI Director James Comey's handling of the Hillary Clinton email investigation. The 500-page report from Justice Department Inspector General Michael Horowitz suggests anti-Clinton leaking from the bureau's New York office likely influenced Comey's decision to announce the resumption of the email probe less than two weeks before the presidential election—a step that may have thrown the race to Trump. The FBI could be in for a bloodbath over these leaks: Horowitz says his office plans to report on multiple investigations into extensive "unauthorized media contact by FBI personnel."
"We have profound concerns about the volume and extent of unauthorized media contacts by FBI personnel that we have uncovered during our review," the report says. Horowitz also writes that his office "identified instances where FBI employees improperly received benefits from reporters, including tickets to sporting events, golfing outings, drinks and meals, and admittance to nonpublic social events."
The report doesn't say which agents allegedly accepted such benefits. But elsewhere it notes that senior FBI and DOJ officials were especially concerned about leaks from the bureau's New York field office, many of which were damaging to Clinton. Former Deputy FBI Director Andrew McCabe—who himself was fired earlier this year in part for a lack of candor regarding disclosures to the press that he authorized—told the IG's office that he was concerned about leaks from the New York office. The report also notes that then-Attorney General Loretta Lynch repeatedly raised concerns about leaks from New York.
During the campaign, former New York Mayor Rudy Giuliani—a Trump backer who once served as a US attorney in Manhattan—claimed that he was in touch with current FBI employees who informed him that many agents were unhappy that Comey had announced the bureau would not recommend indicting Clinton. Two days before Comey sent his October 28 letter to Congress announcing the resumption of the Clinton email investigation, Giuliani predicted on Fox News that Trump had a "pretty big surprise" coming in the "next few days." Giuliani later said he was referring to a new Trump advertising campaign, not to the Comey letter. Giuliani now represents Trump in Special Counsel Robert Mueller's Russia investigation.
"It will be vital that the IG thoroughly review whether these leaks informed public statements by Trump campaign surrogates, including Rudy Giuliani, who boasted of foreknowledge about DOJ and FBI actions in the weeks prior to election day," said Rep. Adam Schiff (Calif.), the top Democrat on the House intelligence committee, in a statement Thursday.
The IG's report suggests worries about possible leaks factored into Comey's decision to send the October 28 letter, which disclosed that the bureau was looking into emails that Clinton had exchanged with an aide, Huma Abedin. The emails were found on the computer of Abedin's husband, former Rep. Anthony Weiner. Comey told the IG that fear of leaks didn't drive his decision, but the report says several top FBI officials recalled that concerns about unauthorized disclosures came up in discussions about informing Congress. "If we don't put out a letter, somebody is going to leak it," then-FBI General Counsel James Baker told the IG's office. "That's just what we talked about."
"Leaks, fear of potential leaks, and a culture of unauthorized media contacts" the report says "influenced FBI officials who were advising then Director Comey on consequential investigative decisions in October 2016."