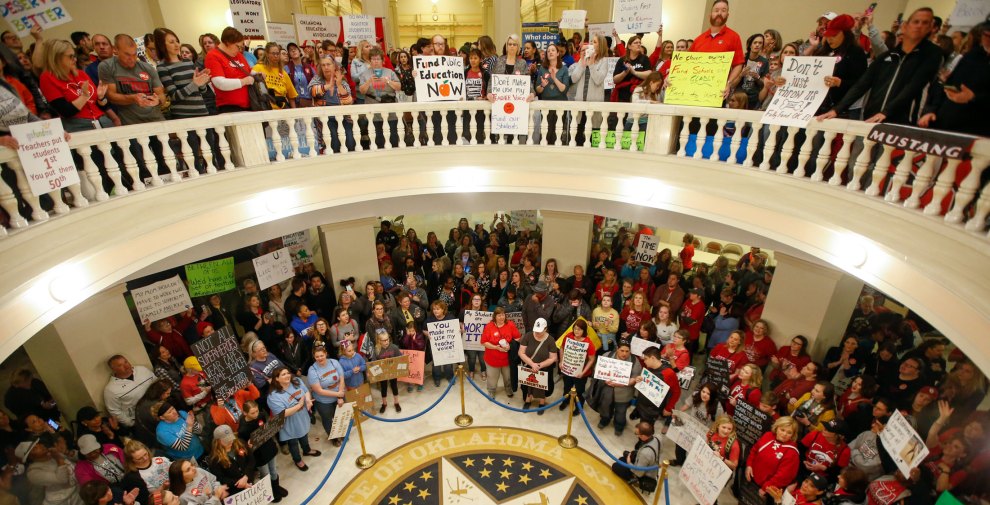 Fight disinformation:
Sign up
for the free
Mother Jones Daily
newsletter and follow the news that matters.
Two months ago, thousands of public school teachers flooded Oklahoma's statehouse and shut down nearly half of the state's school districts for nine days. Now, during a record-breaking year for candidates filing for state office, about 100 educators and administrators from both parties are running for the Oklahoma legislature, facing off in primaries Tuesday against several Republican lawmakers who resisted protesters' calls for more school funding and higher teacher salaries.
Tuesday's primary is one of the first major tests of whether any political momentum remains from the onslaught of teacher activism this spring, though it's not the first time teachers have coordinated runs for office in Oklahoma: In 2016, a so-called "teacher caucus" of more than 30 current or former educators ran for state House and Senate demanding more school funding and higher wages. Just five won seats that November. But this year looks different. The 97 teachers and administrators vying for seats in the Oklahoma legislature, as compiled by the Oklahoma Teacher Walkout Facebook group, have been emboldened by this spring's walkout and by similar demonstrations in West Virginia, Arizona, and other states.
Here's the backstory: On April 2, Oklahoma teachers left their classrooms, flooding the state Capitol in Oklahoma City to demand, among other things, a $10,000 increase to salaries and more than $200 million in funding for classrooms. A week before, Republican Gov. Mary Fallin signed a bill that gave teachers an average salary increase of $6,100 by raising taxes on gas, tobacco, oil, and other goods. The measure, approved by three-fourths of state lawmakers, was the first tax increase of its kind since 1990 and the first time Oklahoma teachers, who were among the lowest paid in the country, were given raises in a decade. The move came after years of tax and education spending cuts from the deeply conservative state legislature, which caused class sizes to rise, classes to be cut, school districts to switch to four-day weeks, and teachers to flee the state for better pay. After a week and a half, Oklahoma Education Association president Alicia Priest called an end to the walkout.
In several of the races on the ballot this Tuesday, educators are specifically targeting some of the lawmakers who criticized teachers for protesting in the spring. In House District 63, for instance, Republican state Rep. Jeff Coody, who is running for a third term, told a group of students at Cache High School in March that a possible walkout from state employees and teachers would be akin to extortion, adding that the students would "suffer as a result of it." Coody, who eventually voted against the tax raise measure, has since back-peddled from his extortion remark. Still, he faces Elgin Public Schools Assistant Superintendent Tammie Reynolds in the Republican primary. Meanwhile, Cyndi Ralston, an elementary school teacher in Broken Arrow, who is running as a Democrat, announced in April she would run for House District 12 against Republican state Rep. Kevin McDugle after McDugle said in a (since-deleted) Facebook Live video that he disagreed with how teachers were protesting at the state. "I'm not voting for another stinking measure when they're acting the way they're acting," he told viewers. He later apologized for the remark.
Sherrie Conley, an elementary school principal in Newcastle who is running in House District 20 against two-term incumbent state Rep. Bobby Cleveland, meanwhile told the Associated Press she is running because she saw "what happens to our people when core services are cut and when we don't take care of our families." Her district is one of 91 throughout the state that had switched to four-day school weeks after budget cuts. State Rep. Cleveland has taken a hard stance against taxes and was one of 19 representatives who voted against the tax increase package that paid for teacher salary raises in the spring. According to Vox, educators are running against 10 of those 19 House Republicans who voted against the measure. During the walkout in April, Cleveland, who said he received a barrage of calls after his vote, told News9 that teachers "were hired to teach" and "should be in the classroom." He later clarified that he wished teachers "weren't in this mess," noting that he had voted for teacher pay increases before. Two other teachers are also challenging Cleveland in his district.
In the final days of the walkout, dozens of teachers swarmed the statehouse to file to run for office, many for the first time. Renee Jerden, a middle school choir teacher, told the Oklahoman that the walkout, paired with the "general uncaring attitude of a lot of our legislators," made her decide to run for Senate District 24 as a Democrat. "The public has a tendency to forget things, so it's really up to us as teachers to keep this momentum going," Jerden told the Oklahoman.
Announcing the end of the walkout on April 12, Priest, the Oklahoma Education Association president, told reporters: "We got here by electing the wrong people to office. We have the opportunity to make our voices heard at the ballot box."
Whether that happens today and into November is another question altogether.