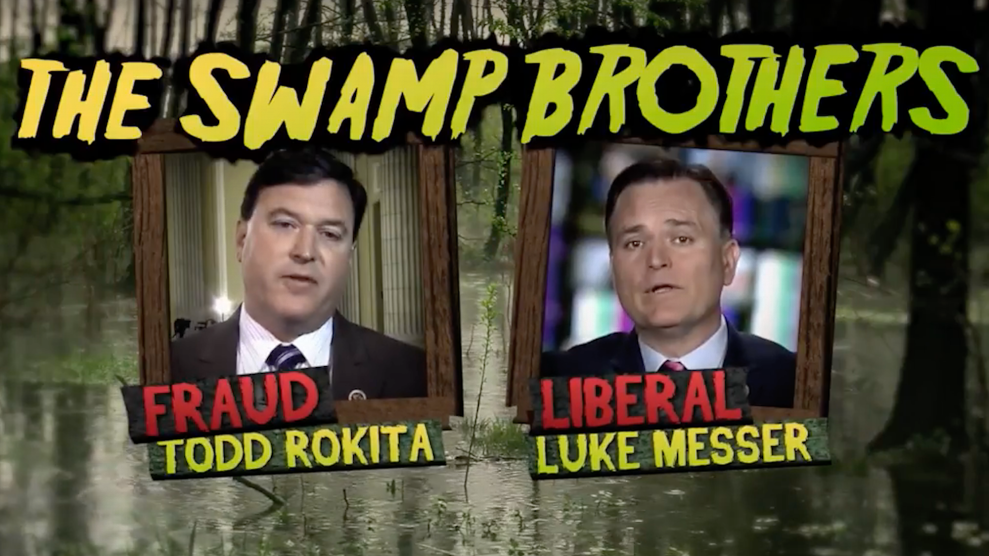 For the better part of a year, Indiana Republicans have been duking it out for a chance to take on Democratic Sen. Joe Donnelly in a state President Donald Trump won by 19 percentage points. The race, which journalists have dubbed the "nation's nastiest" primary, has been a drawn-out battle, with each candidate seeking to portray himself as Trump's most loyal foot soldier. Now, with Election Day less than a week away, the campaign has devolved into a series of brutal political attacks that have raised the eyebrows of even the most cynical observers.
The primary contest began as a fight between Luke Messer and Todd Rokita—two deeply conservative Indiana congressmen with a longstanding political rivalry and remarkably similar biographies. Aside from their shared congressional status, the two attended the same college, have maintained nearly identical voting records during the Trump presidency, and—much to the internet's delight—wore the same outfit to the first primary debate. With so much in common, the two candidates have relied on negative campaigns to distinguish themselves.
Those dynamics opened the door for former state representative Mike Braun to enter the race late last fall. A wealthy businessman, Braun has vastly outspent his competitors in a self-funded campaign as he's tried position himself as a Trump-style outsider who will disrupt the DC political establishment. An April poll from Gravis Marketing gave Braun a 10-point lead over second-place Rokita, but with 45 percent of voters still undecided. While national polls suggest the 2018 midterms will be an uphill slog for the GOP, red-state Democrats like Donnelly are widely viewed as vulnerable. But Republicans worry that the Indiana primary fight could end up hurting the party's chances—one party official, who compared the race to Dante's Inferno, told the Associated Press that the GOP campaigns have already provided Democrats with "an awful lot of free opposition research."
As we await the Tuesday's results, here's a look back at some of the of the primary's highlights—and lowlights.
The Trump Loyalty Pissing Contest
At the heart of this three-way battle royale is an effort to capture the hearts of Trump enthusiasts, who dominate Indiana's GOP base. The candidates' efforts to out-Trump one another have ranged from the mildly sycophantic—Rokita, for example, shows up to rallies sporting a "Make America Great Again Hat" and a life-size cardboard cut-out of the president—to the extreme: Earlier this week, Messer authored a letter nominating Trump for the Nobel Peace Prize, in recognition of the president's efforts "to end the Korean war, denuclearize the Korean peninsula, and bring peace to the region." All three candidates, meanwhile, have called for an end to Special Counsel Robert Mueller's investigation into whether the Trump campaign colluded with Russia.
The demonstrations of fealty have occasionally drawn ire from the White House. When Rokita distributed yard signs proclaiming he'd received the endorsement of "Trump/Pence 2016 Indiana Team Leaders"—with "2016 Indiana Team Leaders" in much smaller print than "Trump/Pence"—the Trump camp requested their removal.
"Meet the Swamp Brothers"
Braun, too, has taken several pages out of Trump's campaign playbook. In addition to capitalizing on his status as a wealthy Washington outsider, he's also relied on nickname-laden attacks. Both tactics are in play in his recent ad, titled "Meet the Swamp Brothers," which labels Rokita as "Todd the Fraud" and Messer as "Luke the Liberal" as it criticizes votes they cast during the Obama years. (Another Braun ad features voters trying to tell the difference between cardboard cutouts of Messer and Rokita, who are similarly dressed and posed.)
https://www.youtube.com/watch?time_continue=1&v=XeOxcdU6de8
Messer and Rokita, meanwhile, have not let voters forget that Braun voted in Democrat primaries until 2012. In his opening statement at the first debate, Rokita sarcastically welcomed Braun to the Republican Party.
The Personal Attacks
The mudslinging started before the candidates officially entered the race. Last summer, Messer accused Rokita of "spreading lies and half-truths" about his record and attacking his wife. Rokita countered by calling Messer "unhinged" and a "ticking time bomb." Not to be outdone, Braun ran an early ad mocking Rokita for the eight pages of detailed instructions given to the congressman's drivers and those staffing him at events. In the ad, an actor playing an elementary school-age Rokita says, "When I'm in Congress, maybe one of you will be my driver. See? Job creation!"
https://www.youtube.com/watch?v=KlA0x4zxYjs
Things escalated in the campaigns' final weeks. The last debate was so riddled with attacks that the moderator repeatedly had to remind candidates to answer the questions. Rokita and Messer reserved most of their swipes for Braun, who is now the apparent front-runner. Rokita said Braun would "only add to the Swamp," while Messer said he used to think Rokita "was running the most dishonest campaign in Indiana history" until he saw Braun's TV spots touting Braun's longtime Republican affinity. Braun brushed off the assaults with snark. "You know you're circling the drain, and it's fun to watch it," he observed.
The Children's Book
Perhaps the most elaborate personal attack of the race has been Oh, the Places You'll Forget. The Rokita campaign published the Dr. Seuss parody to criticize Messer for moving his family to Washington after winning his congressional seat in 2012. "He said he's go to Washington to to fight for us Hoosiers, but he forgot who we were and threatened our futures," reads one passage. The book's dedication tries to align Messer with former Indiana Sens. Richard Lugar (R) and Evan Bayh (D), both of whom struggled to explain their DC-area homes to voters.
The Gun Ad
In the days following the school shooting in Parkland, Florida, Rokita released an advertisement that features him shooting what appears to be an AR-15, the same type of assault weapon used in the massacre. "The elites" told him not to run the ad, Rokita said to the Indianapolis Star, but he defended his decision, saying that "there's no better way to know where candidates stand on issues like that until after tragedies like Parkland." The ad also features footage of former NFL quarterback Colin Kaepernick kneeling during the national anthem and criticizes those who "attack our police," which led a group of Indiana pastors to decry the ad as racist.
The Alcohol Scandals
There's scant daylight between the Messer's and Rokita's policy platforms. But that's not their only similarity. The Indianapolis Star revealed two weeks ago that Messer had not disclosed his multiple DUIs when he first sought public office—a 2003 appointment to replace a state legislator who was killed by a drunk driver. Not to be outdone, Rokita also had his own alcohol-related incident. As a 20-year-old college student, he was pulled over speeding, and the officer—who described Rokita as "intoxicated," according to police records—arrested him for illegal alcohol consumption and possession of a fake ID. The arrest occurred the same year as Messer's first DUI. Unlike Messer's charges, however, Rokita's were later dismissed.
The Alleged Straw Donor Scheme
Alcohol-related incidents may not end up being the candidates' only brushes with the law. The Cincinnati Enquirer reported late last week that Messer and other members of Congress may have been involved in an improper straw donor scheme in which they allegedly received campaign funds from, and then donated funds to, Rep. Jim Renacci (R), who at the time was running for governor in Ohio. (Renacci is now running for the Senate, instead.)* Election law experts told the paper that the flow of funds between the campaigns may have violated Ohio's campaign finance laws by allowing Renacci to funnel large amounts of money from his old congressional campaign account to his gubernatorial campaign. The Indianapolis Star later reported that Rokita may have been involved, as well. Renacci, Messer, and Rokita have all denied wrong-doing.
*Due to an editing error, this story originally stated that Renacci is currently running for Ohio governor. Though Renacci was running for governor at the time of the alleged straw donor scheme, he switched to the Senate race in January.