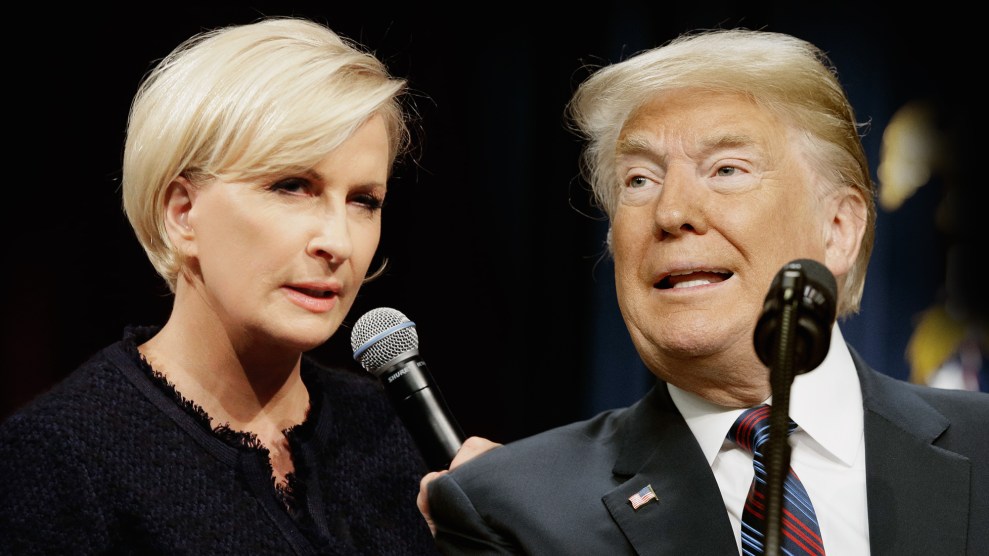 Almost a year ago, in the early hours of a Thursday, President Trump took to Twitter and launched an angry attack on Morning Joe co-anchor Mika Brzezinski. The provocation might have been Brzezinski's ardent on-air criticism of the president, but it hardly mattered. He described her as "low I.Q. Crazy Mika" and said the MSNBC journalist had appeared at Mar-a-Lago, the president's private club in Florida, for a New Year's Eve party after his election, "bleeding badly from a face-lift."
I heard poorly rated @Morning_Joe speaks badly of me (don't watch anymore). Then how come low I.Q. Crazy Mika, along with Psycho Joe, came..

— Donald J. Trump (@realDonaldTrump) June 29, 2017
…to Mar-a-Lago 3 nights in a row around New Year's Eve, and insisted on joining me. She was bleeding badly from a face-lift. I said no!

— Donald J. Trump (@realDonaldTrump) June 29, 2017
The tweets were instantly condemned as the latest example of the president's well-documented obsession with belittling successful women by attacking their looks, including disturbing references to women's blood. (A signal moment during the campaign occurred after he had been been robustly questioned during a televised debate in August 2015 by then-Fox News anchor Megyn Kelly. Trump said Kelly had "blood coming out of her eyes, blood coming out of her wherever.")
When he attacked Brzezinski, Mark Kornblau, a NBC senior vice president, said it was "beneath my dignity to respond to the President of the United States," and even some Republicans were critical. Brzezinski teamed up with her co-host Joe Scarborough to correct the record and fire back at the president in a Washington Post op-ed. No, they wrote, it wasn't a face-lift. It was a chin-tuck. And no, Trump didn't refuse to meet with Brzezinski and Scarborough because of it. "That is laughable," they wrote. "After we arrived, the president-elect pulled us into his family's living quarters with his wife, Melania, where we had a pleasant conversation." (Not long after, Scarborough said he was quitting the Republican party.)
So why bring this ancient history up now, when so very much has happened since? Because on Thursday afternoon, Brzezinski revealed more details of that private conversation with the president, to a rapt audience at BookExpo, a publishing convention in Manhattan. I hosted a panel discussion with her that also featured journalist Alex Wagner and comedian D.L. Hughley. Brzezinski was promoting her newly updated book, Know Your Value, a guide for women to fight wage disparity in the workplace.
I asked her about that encounter with Trump, which she writes about in a new section of her book. Brzezinski said she dragged herself to Mar-a-Lago that fateful New Year's Eve to try to land an interview with Trump, but she only did so because the president had pestered her and Scarborough for days to come to dinner. Brzezinski, it appeared, was the most recent tough reporter to be the target of a charm campaign by the new president in order to get better press. Subsequently, during his first year in office, Brzezinski and Scarborough have continued to excoriate the president's behavior and policies, but before he officially took office, he apparently thought there was still hope. "Donald thinks that if he gives you dinner you will nice saying things about him," she told the BookExpo audience. "Donald kept calling: 'Where's Mika? Where's Mika? Where's Mika? Bring her over to dinner!'"
Brzezinski dryly remarked that when she turned up to the resort, she looked around at her fellow partygoers and saw that clearly, she wasn't the only one who had had a bit of work done. "So much plastic surgery that I looked like a nun compared to them!" she joked. "I'm just saying: It was Palm Beach."
Finally, the couple was called into the Trumps' private quarters, where they took in an unusually serene domestic display. Baron played in the background, while the president adjusted his outfit. Melania came in, and in that comfortable and confiding atmosphere, Brzezinski decided to share the details of her cosmetic procedure, what she calls a "chin tuck," with the couple. This was not unusual for a woman who has talked and written openly about the difficulties of maintaining a career on television and her earlier struggles with body image. Her close friends all knew, and she didn't want to hide it, she said.
"Oh, you look good!" Melania enthused first, according to Brzezinski. That piqued the president's interest. He came to make his own assessment.
Far from being disgusted by the procedure, as Trump later claimed he was, he appeared genuinely impressed, according to Brzezinski, and even tempted. He proceeded to lavish her with private praise. "Oh my God, it's amazing!" Brzezinski recalled Trump saying, as he pressed her for more details. "Who's your doctor? Who's your doctor? I need to go to this doctor! Who's your doctor?"
"And he was obsessed with who my doctor was, asking all night," Brzezinski said, as she leaned in, "because he wanted to go."
"And the rest," she said, "is history."
Why is Brezinski talking about this now—almost a year later, and in such detail? At the Thursday event, she explained it to the audience this way:
"In the age of Trump, and the age of #MeToo, there is no time to mince words," she said. "I really think in the age of this presidency, we're also at a kind of a turning point, where women are like, 'You know what? I've got to do this myself.' Everybody is saying, 'You know what, move over, pass me the broom, I've got to clean up this mess myself.'"
I approached the White House Thursday afternoon for reaction to Brzezinski's comments. We'll update this post if we hear back.