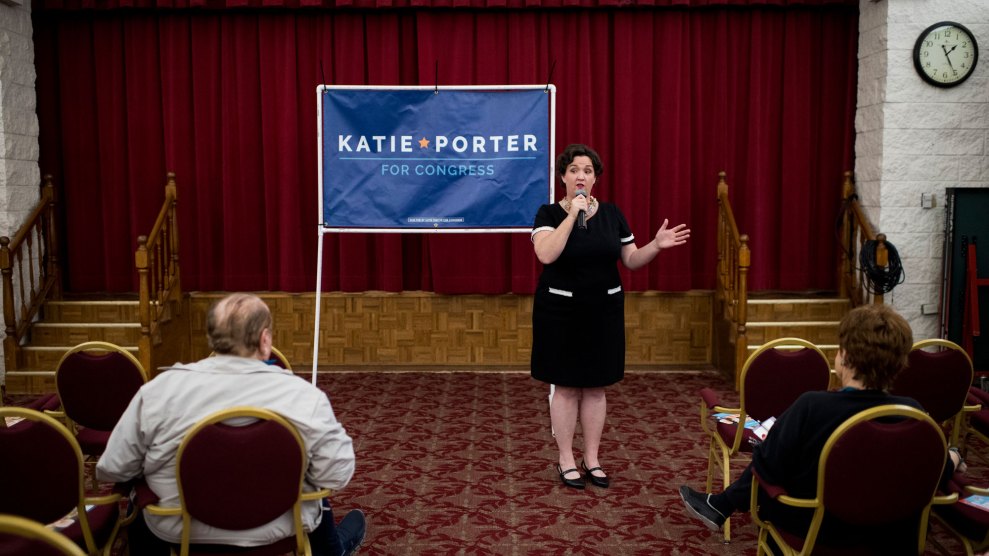 Fight disinformation:
Sign up
for the free
Mother Jones Daily
newsletter and follow the news that matters.
Katie Porter was a rookie law professor at the University of Iowa in 2006 when she started asking questions about mortgage fraud. Egged on by a $100 million lobbying campaign from the financial services industry, Congress had recently overhauled federal bankruptcy laws, and much of the debate in policy circles focused on how the people drowning in debt behaved. Were they gaming the system? Were they responsible? Porter, who is now a Democratic candidate for Congress in California's 45th District, wanted to know if the banks and credit card companies were playing fair, too. Over the next year and a half, she and a colleague at Stanford University studied 1,733 foreclosure-related bankruptcy cases in 24 states, camping out at courthouses and poring over filings.
What they found, she told me recently, was a "systematic fraud on the rule of law." Individuals who had filed for Chapter 13 bankruptcy trying to save their homes were subjected to excessive or even fictitious charges that were sometimes orders of magnitude larger than the original loan itself. Banks were breaking the law in half the cases Porter studied. By the time she began publicizing her findings in 2007, the damage was done.
"I remember a lot of folks in the room were like, 'That can't be right, banks don't make mistakes, Wells Fargo doesn't make mistakes—consumers make mistakes,'" Porter says of one early presentation. "Now, if you say Wells Fargo follows the law, people just laugh, right?"
When she talks about predatory banks and rigged systems, Porter sounds unmistakably like another high-profile consumer protection advocate, and for good reason—Sen. Elizabeth Warren (D-Mass.) was her college mentor. The 44-year-old Porter, now a bankruptcy law professor at the University of California-Irvine, studied under Warren at Harvard Law School and helped direct the research project that launched Warren's landmark book, The Two-Income Trap. When Porter edited her own book, Broke: How Debt Bankrupts the Middle Class, Warren contributed a chapter for the collection of scholarly papers. Now, Porter wants to follow Warren to Washington. She's a leading contender for the Democratic nomination in the 45th—a district that's among the party's top November targets—against Republican Rep. Mimi Walters.
With the June 5 primary a week away, Porter is locked in a competitive race with four other Democrats, including Dave Min, a fellow UC-Irvine law professor, and Brian Forde, a technology adviser to the Obama White House. The Warren connection is her not-so-secret weapon. Porter's campaign website includes a snapshot of the candidate at her law school graduation, diploma in hand, next to a smiling professor Warren—the same photo Warren used in a fundraising email for Porter last year. Warren has come to the district to campaign for her, and in March, she co-starred with Sen. Kamala Harris (D-Calif.) in Porter's first TV ad.
Running as a Warrenite in Orange County is a gamble. The 45th District isn't Cambridge; it is in the cradle of modern American conservatism, the land of Ronald Reagan and Billy Graham. It has evolved, more recently, into the kind of Clinton-supporting, Republican-held district (one of seven in California) that Democratic campaign types believe will lead them back to power. Republican critics, wary of Warren's reformist politics and eager to take her down a notch, have sought to portray Warren as an overpaid elitist with a radical streak—equal parts Hillary Clinton and Emma Goldman. Some Democrats have expressed skepticism at her message. (The leaders of the centrist think tank Third Way famously warned that Warren would lead the party "over the populist cliff.") In an increasingly nasty primary, Porter too has come in for similar criticism from Min, her top rival for the nomination—which is what makes Porter's race so interesting. If Porter can sell her brand of wonky populism in the quintessential 2018 swing district, it just might work anywhere.
Porter traces her political outlook to her childhood on a family farm outside Des Moines in the 1980s, when plummeting commodities prices led to the worst economic downturn in the rural Midwest since the Great Depression. During the farm crisis, the community bank where her father worked was shut down by the government, and Porter's mother took a new job 50 miles away. "There were farmers who were committing suicide because they were going to lose their farms, and nobody came to help," she says. "Washington looked the other way as the economy really fell apart in the agricultural Midwest. So growing up, I had really seen firsthand what happens when people need help and they don't get it."
She came into Warren's orbit on a whim. In the fall of 2000, during her final year at Harvard Law, Porter came across an article in Time about a bankruptcy bill working its way through Washington. The bill, an early incarnation of the one that would pass five years later, would have imposed a litany of means tests on individuals who wanted to escape their mounting debts. Warren, who was quoted in the story, described it as "death by a thousand paper cuts." Porter dropped her tax law class and signed up for Warren's bankruptcy course.
"I remember calling on Katie early in the semester, and she kind of fumbled around a bit, and she came to see me afterwards," Warren told me. "And I've had this happen a thousand times—a student doesn't give a good answer in class and they come to see you, they plead for mercy, 'Don't call on me, please don't do this.' Katie sat down across from me and said, 'I didn't give a great answer today,' and I said, 'No, you didn't.' And she said, 'So please call on me again.'"
After graduation Porter took a job as project director for the Consumer Bankruptcy Project, a collaboration among researchers at different universities, including Warren, to study the causes and consequences of bankruptcy, and later joined the faculty at the University of Iowa College of Law. Her research zeroed in on the paperwork that individuals have to navigate before they can declare bankruptcy.
"The bankruptcy forms themselves, they're extensive—they ask a lot of questions about income, assets, debt, expenses, how much do you spend on gas each month, how much do you spend on household products," Porter says. "Nowhere on the bankruptcy forms does it ever ask why are you in trouble?"
She and her researchers canvassed the country with clipboards in hand, camping out in the waiting rooms of bankruptcy trustee offices in Orange County, Iowa, Boston, and Philadelphia, asking families exactly what troubles had landed them there. The waiting rooms were quiet but tense, like emergency rooms, a patchwork of people in distress waiting to learn their fate. In Broke, Porter compared the ritual to a housewarming or a graduation in reverse—a solemn ceremony for one's departure from the middle class. To Porter, it was increasingly clear that the good ceremonies had a causal effect on the bad ones—simply trying to live a middle class life was setting people up for disaster.
But it was also, she believed, a problem that was rooted in politics. After all, it wasn't always the case that going to college saddled you with decades of debt that became impossible to repay. Household debt was growing way faster than incomes for reasons that had little to do with consumers' personal behavior. Because of government choices—deregulation in some cases, new regulations in others—creditors could get away with more and more while debtors could get away with less and less. The failure to bail out underwater homeowners during the financial crisis laid bare this imbalance of power.
"[I]t is hard to dispute the fact that the media, Congress, and pundits have spent more time on the financial collapse of big banks than of everyday families," she wrote in Broke, which was published in 2012. "At a conference I attended, someone quipped that while banks were 'too big to fail,' families were 'too small to save.'"
After a decade and a half researching consumer debt, Porter approaches politics, as her mentor does, from a vantage point that is gaining traction in the Democratic Party. It is not quite the leftist politics of Sen. Bernie Sanders (I-Vt.), although their policy prescriptions often overlap. But it is rooted in breaking big banks' grip on political and economic systems. "I don't know that we've still grappled with what my whole career has been about studying, which is that families today are asked to carry so much more debt and so much more risk than at any other time," she says. Porter wants Democrats to talk about household debt with the same urgency as a generation of Republican candidates has warned about national debt.
In practice, that means a few things, some of which are now familiar policy ideas among Democrats. She warns against embracing seemingly pragmatic solutions to ballooning student debt, for instance. Rather than simply extending the length of the loan—something that has happened in the mortgage and automobile industries—she'd like to eliminate the source of the problem entirely by making college tuition-free for families under a certain income threshold, cut the interest rate on new loans in half, and make the federal student loan program revenue-neutral so there's no profit motive. Porter supports Medicare for all as a replacement for the Affordable Care Act for similar reasons. Her interviews at bankruptcy offices helped confirm what is now accepted dogma—hospital bills are one of the leading causes of going broke in the United States. Medicare for all, in Porter's view, is a way to keep the middle class, middle class.
And, like Warren, Porter's time on the policy side of politics has given her grist for a spirited critique of her own party. Although the Obama administration got a lot of things right, she believes, the handling of the housing collapse was a repeat of what happened during the farm crisis. "I remember having this conversation, actually, with Elizabeth," she says. "It is a tremendous problem for progressives and for government when people look for help and the government doesn't respond."
Porter has signaled her independence in other ways. She won't commit to backing Rep. Nancy Pelosi (D-Calif.) for Speaker of the House should Democrats win back the chamber. When we spoke in March, the first thing she brought up was the bill that had just passed the Senate rolling back portions of the Dodd–Frank Wall Street reform law, with 17 Democrats supporting the bill. The rollback measure, which was signed into law by President Donald Trump, loosened regulations on banks such as Credit Suisse and Barclays under the guise of helping out community banks. Porter struggled, she said, to "keep things PG" in her discussion of the Senate Democrats who voted for the bill.
"I think it's revealing," she said, "that relief for Wall Street is going to be the first bipartisan initiative of the year."
Porter has a real shot at winning. Her campaign has gained traction, picking up the support not just of Warren, but of Harris—who as California attorney general appointed Porter to serve as the monitor of the state's share of a $25 billion mortgage fraud settlement—EMILY's List, and Democracy for America, the group founded by former DNC chair and Vermont Gov. Howard Dean. In the only public poll of the primary, conducted in February by the pro-Porter Progressive Change Campaign Committee, she held a narrow lead. Another poll (which was paid for by End Citizens United, an organization that has endorsed Porter) showed Porter leading Walters by three points in a hypothetical general election matchup.
But the race has gotten ugly as the June 5 primary approaches. In May, Porter told the Huffington Post that she had been a victim of domestic abuse by her ex-husband and had ultimately been forced to take out a restraining order to protect herself and her three kids. She decided to tell her story publicly, she explained, because the restraining order had been the subject of a whisper campaign she and other Democrats in the race believed originated with her law school colleague, Min. (The Min campaign denied that allegation.) "To be made to feel like I've done anything wrong—I'm just outraged," she said at the time.
A few weeks later, Min launched a series of attack ads against Porter and Forde. He accused Porter of taking big bucks from "Washington insiders"—that would be the pro-choice group EMILY's List—and subsequently attacked Porter for describing herself as a "consumer protection attorney" without having a California law license (a bit of a technicality, given her work on mortgage fraud).
But there are also real fault lines between Porter and Min, a former financial policy analyst at the Center for American Progress. At the state party convention in March, Porter lost out on the coveted party endorsement to Min. The party endorsement is a big deal in a crowded field; one study showed that endorsed candidates in down-ballot races got a 10 percent bump at the polls. Min won the nod after a contentious floor fight. When staffers from rival campaigns attempted to gather enough signatures to block the endorsement, Min aides followed after them—in one case literally chasing them down a hallway.
Someone who says he's with the Forde campaign is running around with a clipboard and signatures, while two guys identifying with Min campaign pursue. Broke out into an honest sprint right after this pic.twitter.com/5i5Zmk43vn

— Christine Mai-Duc (@cmaiduc) February 25, 2018
Porter's message to the convention was simple: "It's not just about electing any Democrat; it's about electing a Democrat who will act like a Democrat."
That was a clear dig at Min, whose political mentor was Warren's Democratic foil—Senate Minority Leader Chuck Schumer (D-N.Y.), a champion of the Wall Street bailout. Min has branded himself as a "fiscally responsible Democrat" and picked up the endorsement of the proudly moderate "pro-growth" New Democrat Coalition, a group composed of 68 Democratic House members. After the state convention floor fight, Min's campaign manager told the Intercept that Porter's Medicare-for-all proposal was too far left for a "conservative" place like Orange County: "People here care a lot about their taxes." It wasn't an unusual argument; it's the same criticism that often gets lodged against Elizabeth Warren.
"I just think the old labels don't apply anymore," Warren says. "I don't see it as along a political spectrum. I see it as who has a vision of how government can work for the people and who's willing to fight for that vision—and that's Katie."