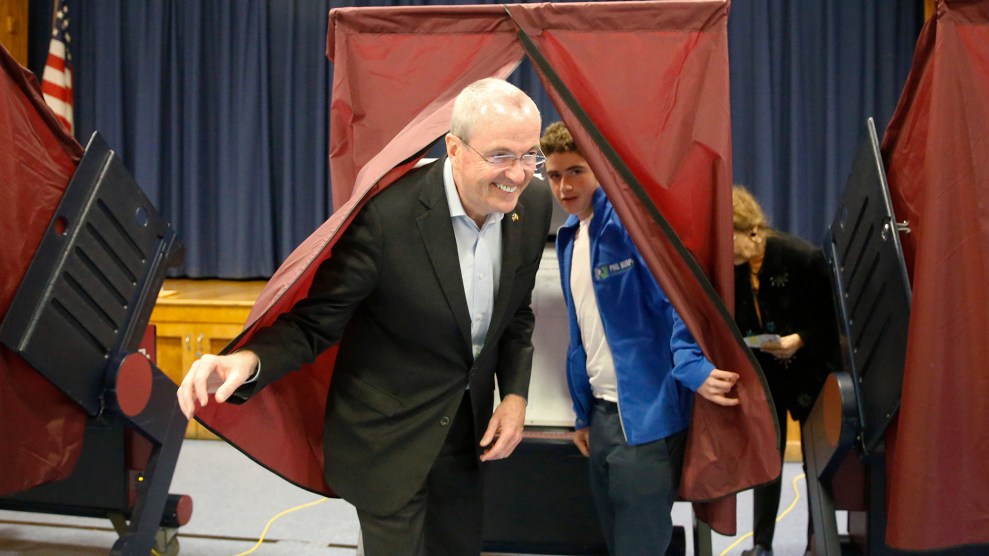 On Tuesday, New Jersey became the 13th state to adopt automatic voter registration—and the third to do so this year—continuing a trend that has seen blue states expand access to the ballot in an attempt to combat Republican voter suppression efforts. "The ability to exercise your basic right to vote has become a right that's more important now than arguably any other time in our nation's history," Gov. Phil Murphy, a Democrat who was elected last year, told Mother Jones. "Opening democracy up and making it work for as many folks as possible has never been more important."
Murphy signed the bill, which was passed by the Democratic-controlled Legislature, on Tuesday afternoon at Trenton's Hughes Justice Complex, which houses the state's justice system. The new legislation could register nearly 600,000 new voters, according to a study by the Center for American Progress. "It will get a ton more people registered," said Murphy. "We will be in the top rung of open democracy."
In the age of President Trump and voter suppression, states must expand, not just protect, voting rights.

That's why tomorrow I will sign into law among the most expansive Automatic Voter Registration policies in the nation to empower New Jerseyans to make their voices heard.

— Governor Phil Murphy (@GovMurphy) April 16, 2018
Eligible voters will now automatically be registered when they obtain or renew a driver's license, unless they opt out. New Jersey's secretary of state has the power to expand the law to register people at other state agencies. The law will go into effect in November.
Oregon became the first state to enact automatic registration in 2016, registering 270,000 new voters and seeing the largest turnout increase of any state during the last presidential election. Since then, 12 other states and the District of Columbia have passed or implemented similar laws, with Washington state and Maryland enacting automatic registration this year.
After years of Republican attempts to restrict voting rights, Democratic-controlled states are taking more aggressive steps to expand access to the ballot. According to the Brennan Center for Justice, 514 bills to expand voting access have been introduced this year in 41 states, and 20 bills expanding voting access have passed at least one legislative chamber in 12 states. But the trend is not limited to blue states: Automatic registration has also been passed or implemented in red states like Alaska, Georgia, and West Virginia.
New Jersey is also considering legislation to enact early voting and Election Day registration and restore voting rights to ex-felons on probation or parole. "This will be the first voting rights bill I sign, but I hope it won't be the last," Murphy said.
This post has been updated to reflect the governor's signing of the bill.