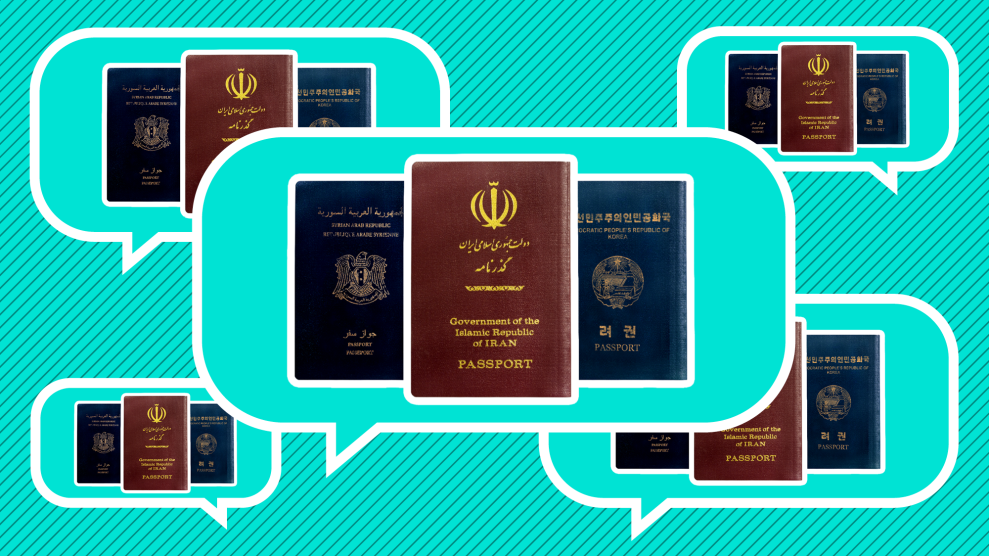 Fight disinformation:
Sign up
for the free
Mother Jones Daily
newsletter and follow the news that matters.
S. was at home in Iran, checking Twitter in bed when he first heard rumors about President Donald Trump's plans to block citizens from Muslim-majority countries—including Iran—from entering the United States. It had been his first trip home in more than five years, but S., an engineering Ph.D student, was worried and unable to sleep. He didn't want to risk not being able to return to his studies in the US, and decided to expedite his flight back. Without saying good bye to his grandparents, he left Iran less than 24 hours after he first heard the rumors. A few hours after he arrived at John F. Kennedy International Airport in New York, Trump signed his first executive order banning citizens from seven Muslim-majority countries and all refugees from entering the country.
S., who tells Mother Jones he would prefer to remain anonymous because of his visa status, completed his Ph.D six months later, but says he hasn't seen his parents or grandparents since last January. "They're sad and depressed—I'm their only child," says S. "We don't know how long we have to wait, and we haven't done anything wrong. It seems like 'innocent until proven guilty' doesn't apply to us. We're being punished for what we have not done."
Since that first executive order in January 2017, Trump's travel ban has continued to complicate the lives of many people in the US. Though courts have struck down several iterations of the travel ban, one version remains in effect due to a temporary order from the Supreme Court in December. The ban is indefinite, and applies to Iran, Libya, Syria, Yemen, Somalia, North Korea, Chad, and government officials in Venezuela and their families. The high court is expected to hear arguments in the legal case against the ban in April.
On the anniversary of the travel ban, we asked people to share their stories of how the executive orders have affected them. We heard from nearly a hundred people about the different ways the restrictions have changed their lives: Dozens wrote about the difficulty of being separated from their spouses or fiancées; some delayed or canceled weddings because family members were unable to join them. Others described the pain of not being able to leave the country to visit a sick or dying parent. Many wrote about waiting for months on a visa application, only for their family members to get denied.
"I feel like a prisoner, without the permission to have any visitors, in the most free country in the world," says Maryam, who is Iranian and a lawful permanent resident, and says she would prefer to share only her first name. Both her parents were refused visas just days after the first executive order went into effect. Now, Maryam says she has to save all her vacation days so she can visit her parents.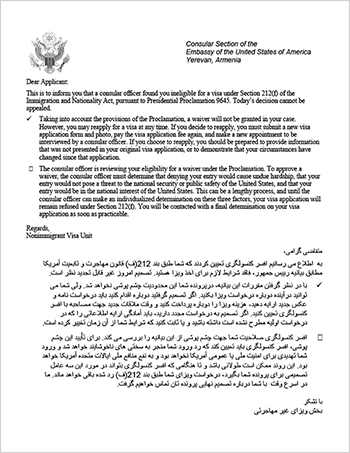 Others have been trapped outside of the country trying to get loved ones in. Amar Homran, a U.S. citizen whose wife was stuck in Yemen, feared for her safety because of the country's ongoing war and deadly airstrikes. "I got to go there, pick her up, get the hell out of there," Homran remembers thinking to himself. He left California in December 2016, expecting to get his wife, a Yemeni national, to the US in a matter of months. But the couple has yet to hear back about their visa application, and has been stuck in Djibouti since September 2017. (The US Embassy in Yemen is closed because of the conflict.) Homran worries that his wife's application will get rejected because of her nationality, and thinking about the outcome of the case brings him to tears. "I'm not trying to leave unless I can bring her," he tells Mother Jones. "I'm being treated unfairly by my country."
Sara M., a 26-year old Iranian student in Charlotte, North Carolina says the ban has made her rethink her choice to study in the US. Her mother was denied a visa to visit not long before she shared her story with Mother Jones. "How much do I care about my dreams?" she asks. "How much do I care about having a high degree while I'm being kept apart from the person I value the most in my life?"
Mania Aghdasi, a US citizen, says the ban separated her family during a critical time in her life. After her brother died of cancer in September 2016, she tried to get her father, who lived in Iran, a visa to visit the US. The thought of being reunited with her father "helped relieve some of the pain…I was suffering," she says. Aghdasi was told before the ban that getting the necessary approvals should only take three months, but the process dragged on for more than a year. Despite her father's positive attitude when they video chatted, she later found out through a friend that her father was very depressed.
Aghdasi tells Mother Jones she rushed to see him this past Thanksgiving break. "What I saw was unbelievable, he was very weak and deeply depressed," she writes. "I told him that I got him a lawyer who will fight for our right so he can come and join us soon, but for a first time he did not say anything. When he looked at me in the eyes, and I saw a deep disappoint[ment] in his face." A week after Aghdasi returned to the US, her father passed away. "My father died of a broken heart," she writes. "After so much time, he [had] given up hope that we were ever going to be together again."
We'll be publishing more individual stories of what life has been like under the travel ban in the weeks to come, and will continue to collect stories. If you're one of the many people who've been affected, tell us: How have the travel ban restrictions changed your life?
[contact-form to="talk@motherjones.com" subject="Travel Ban 2 "][contact-field label="YOUR STORY" type="textarea"][contact-field label="NAME (OPTIONAL)" type="text"][contact-field label="EMAIL" type="text"][contact-field label="CITY, STATE" type="text"][contact-field label="AGE" type="text"][/contact-form]
We may share your response with our staff and publish a selection of stories which would include your name, age, and location. We respect your privacy. Your email address will not be published and by providing it, you agree to let us contact you regarding your response.
Image credit: labsas/Getty; WestWindGraphics/Getty; evgovorov/Getty