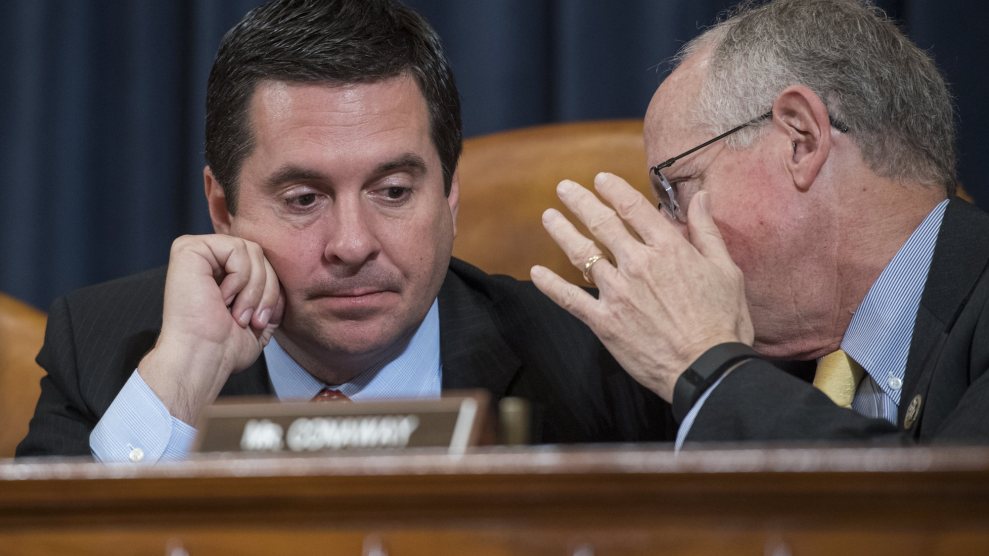 Fight disinformation:
Sign up
for the free
Mother Jones Daily
newsletter and follow the news that matters.
Republicans on the House Permanent Select Committee on Intelligence officially announced Monday night what has been evident for months: They are all done investigating Russian interference in the 2016 election.
Rep. Mike Conaway (R-Texas), a senior Republican on the committee who has been leading the investigation since Rep. Devin Nunes (R-Calif.) stepped aside in April, said that the panel has concluded its interviews and has begun writing a final report, which could be complete within a few weeks. Republicans on the committee, however, shared their conclusion on Monday: "We have found no evidence of collusion, coordination, or conspiracy between the Trump campaign and the Russians."
Conaway on Monday agreed with US intelligence agencies that Russia meddled in the election, but, strikingly, he said the Republicans on the panel rejected the intelligence community's unanimous conclusion that Russia wanted Trump in the White House. "We disagree with the narrative that they were trying to help Trump," Conaway said.
Democrats called the completion of the probe an abdication, but the reality is that a serious, independent House investigation never existed. Since it began January 2017, the project has been crippled by Republicans' unwillingness to defy the White House and has evidently been operating with the goal of clearing President Trump and his campaign.
"I don't think there's any collusion here," Nunes, the intel committee chair, said back in June.
Republicans have hampered the investigation by limiting the topics they discuss and witnesses they question, and by accepting White House-imposed restrictions on which questions witnesses have to answer.
Democrats on the committee, who have long ripped Republicans over their conduct in the probe, say they will issue their own competing report to detail the avenues the Republican majority refused to investigate.
"While the Majority members of our committee have indicated for some time that they have been under great pressure to end the investigation, it is nonetheless another tragic milestone for this Congress, and represents yet another capitulation to the executive branch," Rep. Adam Schiff (D-Calif.), the top Democratic on the committee, said in a statement Monday evening. "By ending its oversight role in the only authorized investigation in the House, the Majority has placed the interests of protecting the President over protecting the country, and history will judge its actions harshly."
Republicans heading the probe have done little to dispel impressions that they are going through the motions of investigation without seriously looking for wrongdoing. They appear to be doing "just enough interviews to give the impression of a serious investigation," Schiff said in December.
Democrats argue Nunes has played a major role in hamstringing the investigation. While he was forced to announce that he was stepping away from the probe after it was revealed he briefed White House officials on committee findings, Nunes never gave up control, Democrats say. He oversaw Republicans' rejection of Democratic requests to seek information and contact new witnesses, according to Schiff. That includes the GOP refusing to seek phone and bank records that could corroborate claims by witnesses and by blocking new topics of investigation.
"On a whole host of investigative threads, our work is fundamentally incomplete, some issues partially investigated, others, like that involving credible allegations of Russian money laundering, remain barely touched," Schiff said Monday. "If the Russians do have leverage over the President of the United States, the Majority has simply decided it would rather not know."
Nunes also ran his own side investigations, which appeared aimed at undermining special counsel Robert Mueller's work. Nunes' efforts culminated in past months with a quickly-debunked memo, in which he argued that the Mueller investigation was tainted by improper procedures on the part of FBI agents seeking a Foreign Surveillance Court warrant to monitor former Trump adviser Carter Page.
Transcripts of interviews released by the committee also show that Republican members often left much of the witness questioning to Democrats. And GOP members failed to use subpoena power when a series of witnesses, including Donald Trump Jr., Corey Lewandowski, and Hope Hicks, refused to answer questions based on dubious assertions of executive privilege or other causes.
The committee did subpoena former White House chief strategist Steve Bannon in January after he claimed the administration had barred him from answering questions even about his communications after he left his job last year. Still, GOP lawmakers appeared to back off threats to hold Bannon in contempt of Congress for his refusal to answer questions.
Republicans also asked few questions of former Blackwater CEO Erik Prince about a United Arab Emirates-brokered meeting he held during the presidential transition with a Russian fund manager in the Seychelles. After recent disclosures drew accusations that Prince lied to the panel by downplaying the meeting, committee Republicans still declined to seek more information from him. Recent news reports have also revealed that George Nader, a Lebanese-born adviser to the UAE, helped broker the Seychelles meeting, and is now cooperating with Mueller's team. But when asked last week if the committee would interview Nader, Conaway pleaded ignorance. "I don't have a clue who George Nader is," he said.