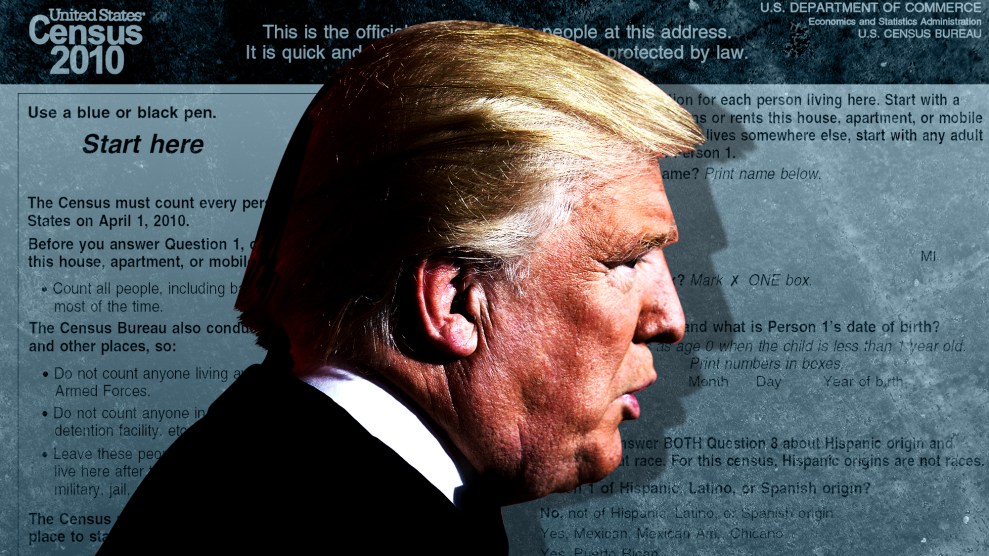 Fight disinformation:
Sign up
for the free
Mother Jones Daily
newsletter and follow the news that matters.
The Trump administration's controversial pick to run the 2020 census has withdrawn from consideration to be deputy director of the US Census Bureau, according to sources close to the bureau.
In November, Politico reported that the administration planned to put Thomas Brunell, a political science professor who has defended Republican redistricting efforts in more than a dozen states, in charge of the decennial census count. He was supposed to begin in late November, according to documents from the Census Bureau released by the watchdog group Protect Democracy as part of a Freedom of Information Act request. But civil rights advocates and Democratic members of Congress pushed back against the appointment.
Now Brunell has withdrawn from consideration, according to two sources who were informed of his decision. A spokesperson for the Commerce Department, which houses the Census Bureau, confirmed that Brunell is "not under consideration." Brunell did not immediately respond to a request for comment.
Unlike past deputy directors of the bureau, who have been nonpartisan career civil servants, Brunell has no prior government experience and is a registered Republican. The University of Texas-Dallas professor is the author of the 2008 book Redistricting and Representation: Why Competitive Elections Are Bad for America, which provocatively argues that politically lopsided electoral districts offer better representation for voters than competitive ones.
Brunell's appointment had raised grave fears among civil rights advocates that the 2020 census would not accurately count minority communities and would be manipulated by the Trump administration to give Republican areas more political representation and federal funding than Democratic ones. The census, which is mandated by the Constitution to accurately count every person in America, determines the level of representation for state and federal districts and the allocation of $600 billion in federal funding to states and localities.
"It's breathtaking to think they're going to make that person responsible for the census," former Attorney General Eric Holder told me in early January. "It's a sign of what the Trump administration intends to do with the census, which is not to take a constitutional responsibility with the degree of seriousness that they should. It would raise great fears that you would have a very partisan census run in 2020."
On January 30, Democratic Sens. Cory Booker of New Jersey and Brian Schatz of Hawaii urged Commerce Secretary Wilbur Ross to block Brunell's appointment to the Census Bureau. "Dr. Brunell's well-established partisanship, indifference toward civic engagement, and lack of managerial experience make him ill-qualified for the responsibility of carrying out a decennial census already in peril," the senators wrote.
As I previously reported, Brunell has been hired to testify or produce expert reports for Republicans in states like North Carolina in favor of redistricting maps that were later struck down in federal court:
In June 2011, the North Carolina Legislature hired Brunell to produce a report that would help defend the state's new redistricting maps. The maps, approved by the Republican-controlled Legislature, concentrated black voters, who tended to vote Democratic, into as few districts as possible in order to maximize the number of safe Republican districts. Under the Voting Rights Act, North Carolina had to get Justice Department approval for any voting changes, and so it asked Brunell to provide a justification for the maps.

Brunell argued that clustering black voters into a few districts was necessary to maintain their political influence. Though North Carolina was a racially integrated swing state, where black officials represented majority-white districts and vice versa, Brunell's report found "there is clear evidence for the presence of statistically significant racially polarized voting" in North Carolina, necessitating majority-black districts. When the maps were challenged in court, state Republicans paid Brunell $300 an hour for research and $500 an hour for testimony as an expert witness.

The strategy worked—for a time. With the new maps in effect, Republicans controlled 10 of the state's 13 congressional districts after the 2014 election and had a supermajority in the Legislature. But in 2017, federal courts struck down two of North Carolina's congressional districts and 28 state legislative districts, calling the state maps "among the largest racial gerrymanders ever encountered by a federal court." A unanimous three-judge court in North Carolina said Brunell's "generalized conclusions regarding racially polarized voting" demonstrated a "misunderstanding" of the Voting Rights Act and "fail to demonstrate a strong basis in evidence justifying the challenged districts as drawn."
Even with Brunell's withdrawal, the Census Bureau is facing a slew of other problems as it prepares for the 2020 census. It has no permanent director, its funding has been cut, field tests have been canceled, and it is unveiling a controversial new IT system for 2020. The Government Accountability Office now calls it a "high risk" program. Moreover, the Justice Department has asked the bureau to add a question to the census form about whether people are US citizens, a move civil rights groups fear will drastically reduce response rates among immigrant communities and cause areas with large immigrant populations to receive less funding and representation. "That will sabotage the entire census count, making it impossible to convince people to fill out the form," says Arturo Vargas, executive director of the National Association of Latino Elected and Appointed Officials Education Fund, who serves on the Census Bureau's National Advisory Committee on Racial, Ethnic, and Other Populations.
Vanita Gupta, president of the Leadership Conference of Civil and Human Rights, urged the administration to select qualified census leaders. "The administration should name experienced, qualified, and nonpartisan leadership at the Census Bureau, including a Senate-confirmed director," Gupta, who led the Justice Department's Civil Rights Division under President Barack Obama, said in a statement. "We renew our commitment to working with current leaders at the Commerce Department and Census Bureau to ensure a fair and accurate census—one that counts all communities equally well."
For much more on Brunell and the problems facing the census, read my piece from early January: "Trump's Pick to Run 2020 Census Has Defended Racial Gerrymandering and Voter Suppression Laws."