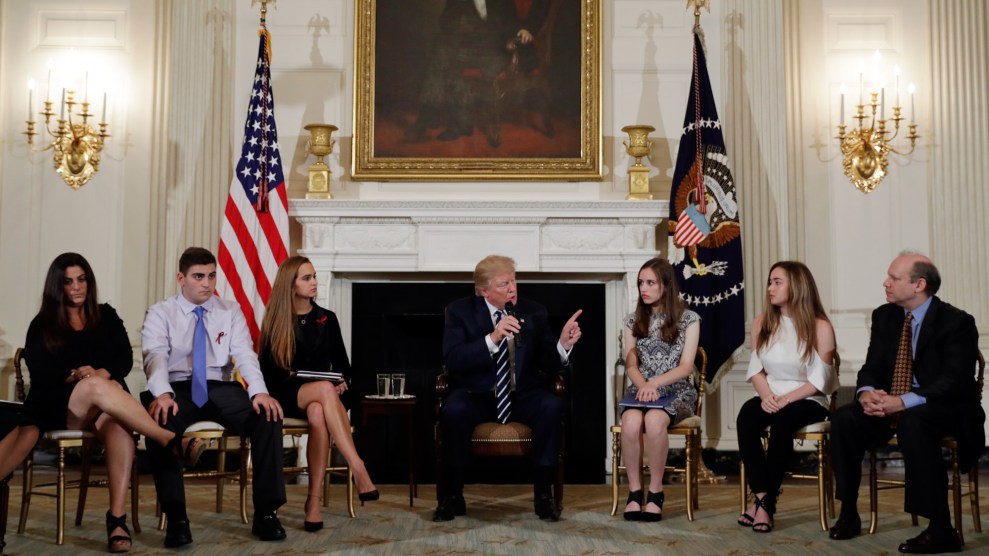 Fight disinformation:
Sign up
for the free
Mother Jones Daily
newsletter and follow the news that matters.
At the White House on Wednesday, seated with President Donald Trump, six students from Majory Stoneman Douglas High School spoke of their pain in the aftermath of a shooting at their school that left 17 people dead. Parents called for more work to bolster safety measures inside and outside the classroom, prompting a father whose daughter was killed in last week's shooting to ask President Trump: "How many children have to get shot?"
Wednesday's listening session included the president, the six survivors, parents of Stoneman Douglas students, parents of the Sandy Hook and Columbine victims, and Education Secretary Betsy DeVos, who recently told conservative talk show host Hugh Hewitt that the shooting should spark a "robust conversation around tracking and tackling mental health issues."
During Wednesday's listening session, Trump expressed support for allowing teachers and staff to carry concealed weapons as long as they receive special training. Trump used the story of Aaron Feis, the assistant football coach who was killed while protecting a student at Stoneman Douglas, to illustrate why he thinks teachers should be armed. If Feis had a gun, Trump said, "he wouldn't have had to run—he would've shot and that would've been the end of it."
Trump spent some time on his good-guy-with-a-gun talking point, which is a popular NRA myth that Mother Jones has debunked in past coverage of mass shootings.
"If you had a teacher who was adept at firearms, it could very well end the attack very quickly," Trump told the group. "If these cowards knew that the school was well guarded from the standpoint of having professionals with great training, I think they wouldn't go into the school to start off with. I think it could very well solve your problem."
Trump also promised that the administration would be "very strong" as they consider measures to toughen background checks and improve mental health resources at schools.
Andrew Pollack, whose daughter, Meadow, was killed in last week's shooting, urged unity to make schools more safe for students. "I'm very angry that this keeps happening," Pollack said. "I'm not going to sleep until it's fixed."
"I'm pissed cause my daughter I'm not going to see again," Pollack added later. "She's not here. She's at King David Cemetery."
Sam Zeif, a student at Stoneman Douglas, recounted the moments during the shooting when he texted family members to tell them he may never see them again. Zeif's brother was in the classroom a floor above, where his teacher Scott Beigel was killed.
"I lost a best friend," Zeid said. "I'm here to use my voice because I know he can't."
Zeif, who turned 18 a day after the shooting, pointed out that he could go into a store and "buy a weapon of war."
"How is it that easy to buy this type of weapon? How have we not stopped this after Columbine, after Sandy Hook? It's still happening," he said. "Let's never let this happen again."
Nicole Hockley, whose son Dylan was killed in the Sandy Hook shooting, disagreed with Trump's argument that teachers should be armed—she would "rather arm teachers with the knowledge on how to prevent shootings from happening in the first place." She called for funding for mental health and school safety programs instead.
"No parent should go through this," Hockley said. "Every parent who sends their kid to school should know without a question in their mind that they are going to be coming home that day."
Nicole Hockley, a mother of a Sandy Hook victim, says she'd rather arm teachers with knowledge on how to prevent shootings from happening in the first place rather than arming them with weapons https://t.co/9pJy3o7ARb

— CNN Politics (@CNNPolitics) February 21, 2018