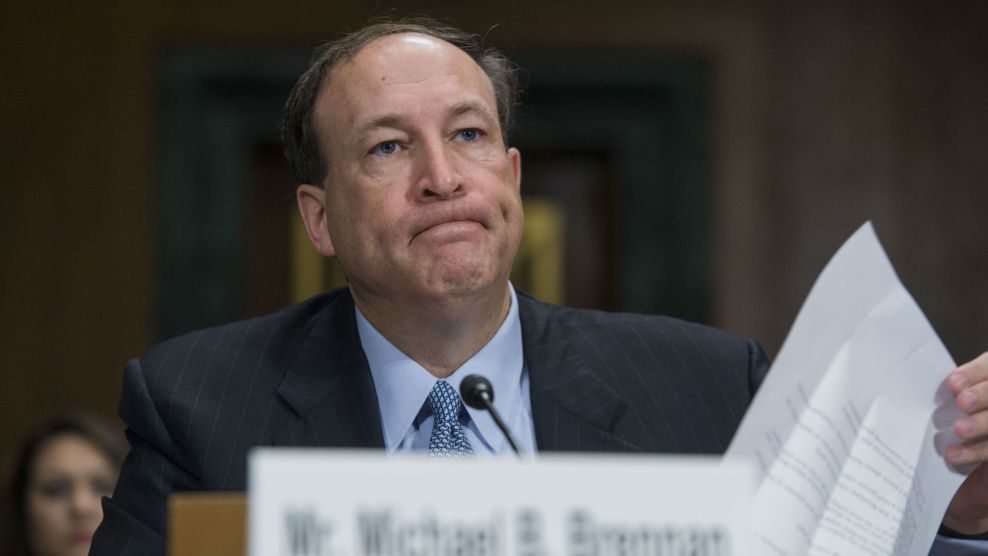 Fight disinformation:
Sign up
for the free
Mother Jones Daily
newsletter and follow the news that matters.
On Thursday, the Senate Judiciary Committee is expected to vote on the nomination of Michael Brennan to become a judge on the U.S. Court of Appeals for the Seventh Circuit, which oversees district courts in Illinois, Indiana, and Wisconsin. Brennan came to wide attention after a January hearing where he could not answer questions from Senator Cory Booker (D-N.J.) about whether there is implicit racial bias in the criminal justice system.
Brennan also has the distinction of being the second Trump judicial nominee to move forward without a so-called "blue slip" from both of his home state senators. Senator Tammy Baldwin (D-Wis.), did not return the document signaling her approval of the nomination. As I explained in a previous story:
"The blue slip process is a longstanding tradition—not a law—designed to ensure meaningful consultation between a presidential administration and senators over potential federal judges. Under the system, senators from the judicial nominees' home states are asked to sign slips of approval before the confirmation process can continue. When a senator refuses to return a blue slip, the act typically blocks the nominee from moving ahead. It is one of the few levers available to both parties to block objectionable nominees."
The decision on whether to abide by the blue slip tradition rests with Senator Charles Grassley (R-Iowa), chairman of the Senate Judiciary Committee. He first announced that he would break with the protocol in November to allow a different nominee, David Stras, to be confirmed to the Eighth Circuit. Grassley's announcement and the question of when nominees will be allowed to progress without blue slip approval have been an ongoing source of controversy. While past chairmen of the Judiciary Committee have made occasional exceptions to the blue slip rule, Democrats argue that Grassley's actions could destroy the tradition's power; Senator Diane Feinstein (D-Calif.) has warned it could make the Senate "nothing more than a rubber stamp" for judicial nominees.
"Once you make the exception, the rule is gone," warns Chris Kang, a former White House lawyer who led judicial selection for four years under Obama. Historically, Democratic leaders of the committee have generally respected the objections of Republican senators who don't turn in blue slips, according to Kang: Three out of the last four Republican Judiciary Committee chairmen, including Grassley, have advanced nominations without Democratic senators' sign offs. No Democratic Judiciary Committee chair, on the other hand, has ever moved ahead a nominee lacking a Republican's blue slip.
"For Chairman Grassley [and] Republicans in the Senate, they seem perfectly okay with having one set of rules for a Democratic president [and] another set of rules for a Republican president," said Dan Goldberg, legal director at the Alliance for Justice, who pointed out that Grassley made no exceptions to the blue slip policy under President Obama. "The long term effect of that is eroding the constitutional role of the Senate with respect to judicial nominees going forward, whomever the president is."
In late January, Senator Baldwin wrote a letter to Senator Grassley, explaining that she decided to withhold her blue slip because the White House was "circumventing" the Wisconsin Federal Nominating Commission—a initiative managed by the state bar association that vets and recommends potential judges. (More than a dozen states have such commissions.) Baldwin's letter goes on to describe how she and her home state colleague, Republican Sen. Ron Johnson, agreed to make use of the nominating commission, before laying out a timeline that suggests the White House was moving toward picking Brennan before the Wisconsin commission even opened its application process to people wanting to be considered for the vacancy.
"It is troubling enough that the President chose to nominate someone who was not a product of our bipartisan process," Baldwin wrote, adding that it was "clear the White House never intended to respect what Senator Johnson and I had established."
Like roughly half of Trump's nominees, Brennan is affiliated with the Federalist Society, a conservative network of 65,000 students, lawyers, and scholars. The Leadership Conference on Civil and Human Rights has described Brennan's judicial philosophy as "far-right."
Goldberg pointed to a 2001 piece Brennan wrote for National Review where he argued that judges appointed by George W. Bush should be free to only follow "correct precedent," writing that federal judges owe allegiance "to the Constitution and the laws of the United States, not to other judges' interpretation thereof."
"He is inviting conservative judges to use their lifetime seats on the court to look back at court decisions that they quite frankly disagree with," Goldberg explained. "He believes that conservative judges only need to apply the ones they agree with. That's deeply disturbing."
Brennan's last hearing before the Senate Judiciary Committee in January drew a crowd of people in blue shirts protesting Grassley's decision to allow his nomination to move forward without Baldwin's blue slip. It is unlikely that the battle over the tradition will end with Brennan: Just this week, Democratic senators Ron Wyden and Jeff Merkley of Oregon announced they will not return blue slips for Ryan Bounds, a nominee for the Ninth Circuit Court of Appeals, after discovering opinion pieces that Bounds had written in college in which he used derogatory language to criticize multicultural groups on campus.
After today's committee vote, Brennan's nomination is expected move to the Senate floor for final consideration.