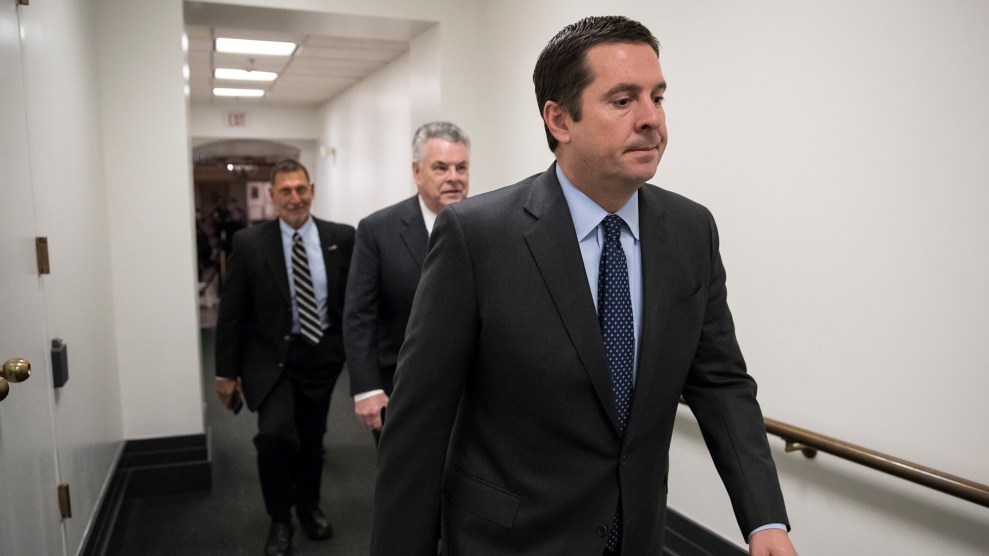 Fight disinformation:
Sign up
for the free
Mother Jones Daily
newsletter and follow the news that matters.
Rep. Devin Nunes (R-Calif.), the chairman of the House intelligence committee who loves to rail against the fake news of the mainstream media, has set up his own news site to propagate GOP-friendly stories. According to a Politico report, Nunes' re-election campaign owns a site that looks and functions as a conservative news outlet—except for the fine print at the bottom: "Paid for by the Devin Nunes Campaign Committee."
From Politico:
Resembling a local, conservative news site, "The California Republican" is classified on Facebook as a "media/news company" and claims to deliver "the best of US, California, and Central Valley news, sports, and analysis."

But the website is paid for by Nunes' campaign committee, according to small print at the bottom of the site. Leading the home page this week: A photograph of Nunes over the headline: "Understanding the process behind #ReleaseTheMemo."

The story, like many others on carepublican.com, largely excerpts other publications, including both conservative and mainstream sources. Headlines include "CNN busted for peddling fake news AGAIN!," "California's budget future isn't as good as it looks" and "Billions of dollars later, Democrats and the LA Times start to see the light on high-speed rail."
Nunes has come under fire from national and local media for his role in his committee's investigation into the Trump-Russia scandal. Nunes recently pushed a now-famous memo purporting to show that the FBI used deceptive practices to obtain a surveillance warrant on former Trump campaign adviser Carter Page. The move earned him scorn back at home; an editorial in the Fresno Bee, his local paper, called him "Trump's stooge" and described his work on the committee as "nothing short of embarrassing."
"The California Republican" also takes on the Russia investigation. A December 2017 headline read, "Mueller's missteps began from the get-go. They've gotten worse." The story, which has no author byline, cites a National Review article to claim that Special Counsel Robert Mueller's probe is biased. In January, the site published a piece titled "The Russians are everywhere… and nowhere," which concludes that "seeing Russians around every corner has proved to be the downfall of credibility for many arm-chair pundits." The story, again with no author, links to a story from the pro-Trump outlet The Federalist.
Nunes' office declined to comment on the website to Politico. "Until Politico retracts its multitude of fake stories on Congressman Nunes, we will not go on the record," Anthony Ratekin, Nunes' chief of staff, is quoted as saying. But "The California Republican" couldn't help but respond when Politico tweeted the piece.
https://twitter.com/CaRepublicanCom/status/962677749264633856