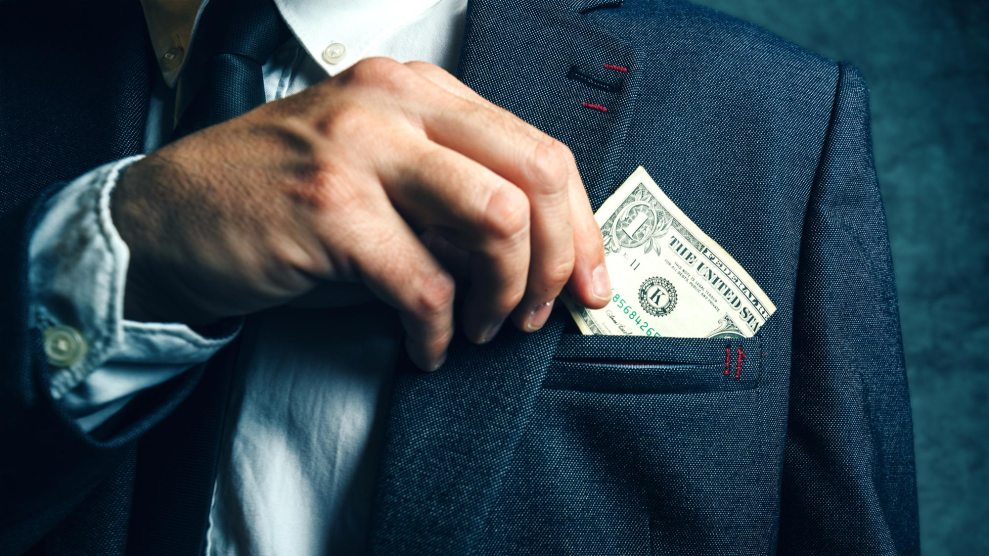 Late on Tuesday, the Consumer Financial Protection Bureau (CFPB) announced that it is planning to "reconsider" the Payday Rule, an Obama-era rule that created the first federal restrictions on payday loans. The rule takes aim at predatory practices by payday lenders—companies which give out high-interest loans and disproportionately target low-income borrowers, by requiring them to assess a borrower's ability to pay back debt—and capping the number of payday loans individuals can obtain.
This is one of the first major public moves at the CFPB—the Elizabeth Warren-inspired watchdog agency created in the wake of the financial crisis to keep tabs on big banks—since Trump appointed Mick Mulvaney as the agency's temporary director. Since November, Mulvaney has worked two jobs for Trump, keeping his job as the budget director at the White House and also leading the CFPB. At the same time, Mulvaney's leadership of the agency is being contested in a lawsuit brought by Leandra English, a senior CFPB staffer who argues that, according to the rules of succession laid out in the law that created the CFPB, she is the rightful acting director of the agency.
While the case continues to work through the courts, consumer advocates have expressed concern about Mulvaney's power to upend the CFPB, because he has a lengthy record of opposing, and even trying to eliminate, the agency. As a congressman from South Carolina from 2011 to 2017, Mulvaney cosponsored numerous proposals aimed at diluting the CFPB's power. Mulvaney proposed replacing the director with a five-member commission, requiring the director to appoint an advisory board, and even shutting down the agency altogether by repealing the clause that established it. He's called the agency a "sick, sad joke."
"This is exactly what we've been fearing," says Lauren Saunders, the associate director of the National Consumer Law Center. "Mulvaney seems to be planning to undo critically important rules to protect people against the most predatory lenders who trap people in a cycle of debt."
Tuesday afternoon's announcement is the clearest signal yet that Mulvaney is bringing years of his proposals to life now that he has the opportunity to reshape an agency he's long maligned. The CFPB's loosened approach to payday lenders is in line with Mulvaney's own history. As a congressman, he received more than $60,000 in campaign donations from payday lenders. And the CFPB's plan to weaken the payday rule echoes a bill that Mulvaney sponsored in 2016 as a congressman. As I explained in November:
It also proposed establishing a two-year moratorium during which the CFPB could not issue or enforce any regulations on payday loans…and proposed allowing states to receive five-year waivers from CFPB payday lending rules indefinitely.
Tuesday's announcement, coincidentally, also offers up waivers from compliance. "The Bureau will entertain waiver requests from any potential applicant," notes the announcement.