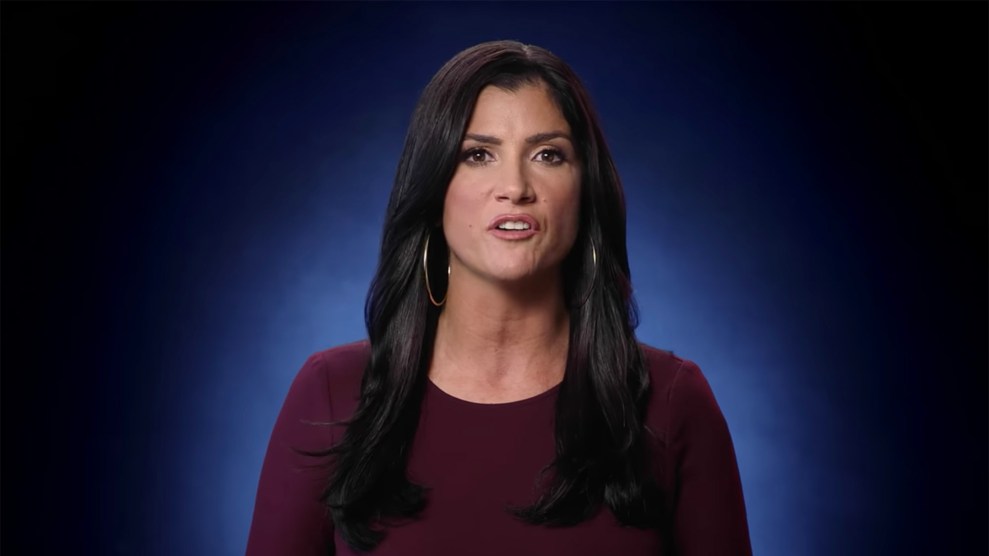 Fight disinformation:
Sign up
for the free
Mother Jones Daily
newsletter and follow the news that matters.
In a profile published this weekend in the Style section of the New York Times, National Rifle Association spokesperson Dana Loesch was dubbed a "telegenic warrior." Earlier this month, Loesch was joined on her nationally syndicated radio show by Vice President Mike Pence, who lavished her with praise. "I'm a fan," Pence told her, noting that she has "an awful lot of fans back in my home state of Indiana." They went on to discuss what Pence called the Trump administration's "extraordinary" first year and what Loesch described as the media's "desperate ploy" to undermine it. Pence thanked her for her "great voice all across America."
But Loesch, who has long been a voice for far-right media outlets, has built her profile over the years on ugly rhetoric. Examples include referring to gun safety advocates as "tragedy dry-humping whores," and bullying a paralyzed gunshot survivor. She has said that penalizing a gun owner for not storing a weapon properly is akin to "shaming a rape survivor," and that the the political left is "godless" and responsible for "letting terrorists in" the country. More recently, she aimed to menace the New York Times in a video for the NRA; attacking the Times' coverage, her sneering monologue evoked "a shot across the bow" and vowed, "We're coming for you." (For Sunday's article, she took the Times reporter to a shooting range, ruminated about her childhood, and spoke of her Christian faith.)
.@DLoesch has a message for the @nytimes: "We're coming for you." One
non-#fakenews story is not enough. #NRA #ClenchedFistofTruth pic.twitter.com/Hm1QkJi5Tp

— NRATV (@NRATV) August 3, 2017
Another recent NRA spot featured Loesch driving home a dark theme about "they" and "them," suggesting a brewing war in a bitterly divided America. As Jezebel's Anna Merlan put it, "The ad explicitly positions Real Americans against the violent, lying left, and—given that it's an ad for a gun lobbying organization—it reads a lot like a call to take up arms against those menacing liberals."
Loesch builds to a fever pitch of violent rhetoric:
They use their media to assassinate real news. They use their schools to teach children that their president is another Hitler. They use their movie stars and singers and award shows to repeat their narrative over and over again. And then they use their ex-president to endorse the resistance. All to make them march, make them protest, make them scream racism and sexism and xenophobia and homophobia and smash windows, burn cars, shut down interstates and airports, bully and terrorize the law abiding — until the only option left is for the police to do their jobs and stop the madness. And when that happens, they'll use it as an excuse for their outrage. The only way we stop this, the only way we save our country and our freedom is to fight this violence of lies with the clenched fist of truth.
Her kicker? "I'm the National Rifle Association of America, and I'm freedom's safest place."
Here are a few more examples from Loesch's over-the-top oeuvre:
How penalizing a gun owner is like "shaming a rape survivor"
"Their ex-president…" "Their media…" "Their schools…"
https://www.youtube.com/watch?v=XtGOQFf9VCE
"These saboteurs…drive their daggers through the heart of our future."