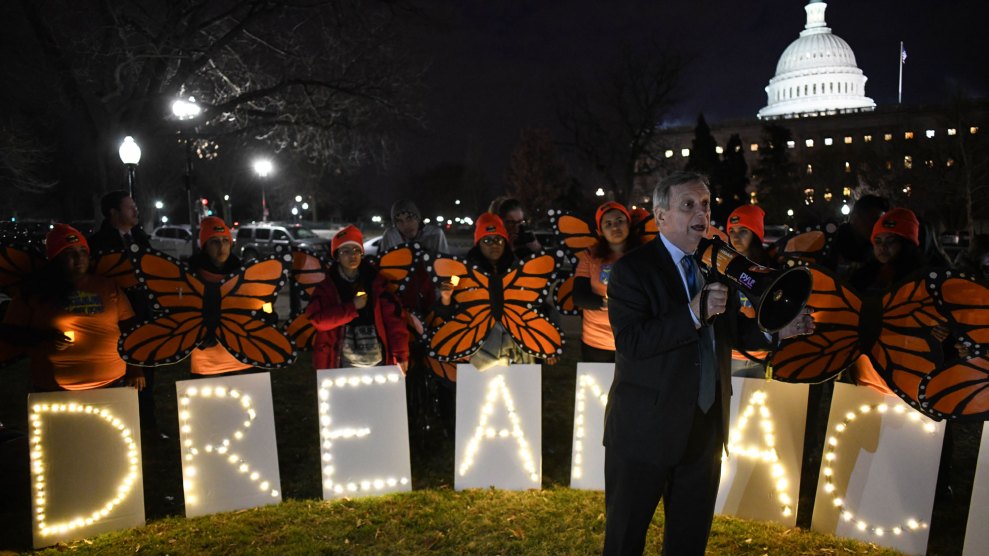 There are a few things we can predict with certainty about Tuesday's State of the Union: professional political observers will praise the president for using his "inside voice"; the opposition party's response will be awkward; and Democratic members of Congress will use their plus-ones to troll Republicans. During the Obama administration, Republican guests included Ted Nugent, Duck Dynasty star Willie Robertson, and the economist Art Laffer (thanks, Darrell Issa). This week the tradition will live on when, for instance, iron-worker and Democratic congressional candidate Randy Bryce takes his seat in the audience facing the man he's running against—Speaker of the House Paul Ryan. (Bryce is a guest of Wisconsin Democratic Rep. Mark Pocan.)
There is a decided theme to the Democratic guest list this year—the human toll of the new administration. Rep. Nydia Velazquez (D-N.Y.), for instance, is bringing Amy Gotlieb, the wife of Ravi Ragbir, a prominent immigration activist who was detained by Immigration and Customs Enforcement in January and held for two weeks before a judge ordered his release Monday. (Immigration advocates and members of Congress have accused ICE of targeting political activists for deportation.)
Velazquez is one of at least 27 members of Congress bringing guests who are at risk of deportation or related to someone who is. Eight members of Congress—including one Republican, Florida Rep. Carlos Curbelo—invited DACA recipients. Sen. Catherine Cortez-Masto (D-Nev.) and Rep. Seth Moulton (D-Mass.) invited Salvadoran immigrants whose temporary protected status was revoked by the Trump administration in January. Cindy Garcia, whose husband Jorge was deported in January after 30 years in the country and who had no criminal history, will attend as a guest of Rep. Debbie Dingell (D-Mich.). Jorge Garcia's tearful farewell from his family at the Detroit airport went viral over Martin Luther King Jr. Day weekend:
#MLKDay w/@ICEgov
We need #ImmigrationReform
Because #racism doesn't take a day off.https://t.co/1TpxQYX5PK

— Michigan United (@MichiganUnited) January 15, 2018
Several members of Congress invited Puerto Ricans who were displaced by Hurricane Maria last fall. Sen. Kirsten Gillibrand (D-N.Y.) is bringing San Juan mayor Carmen Cruz, whom Trump famously attacked on Twitter while her city was flooded and without poweer.
The next two weeks, as Congress tries to forge an immigration deal, will go a long way toward determining the fate of DACA recipients and the future of legal immigration in the United States—subjects Trump will no doubt address during his address. The State of the Union invite game may be a stunt, in other words, but this year it is a stunt that carries a deep political message. On Tuesday, Trump won't just be talking to members of Congress, he'll be speaking directly to some of the people whose lives are now in his hands.