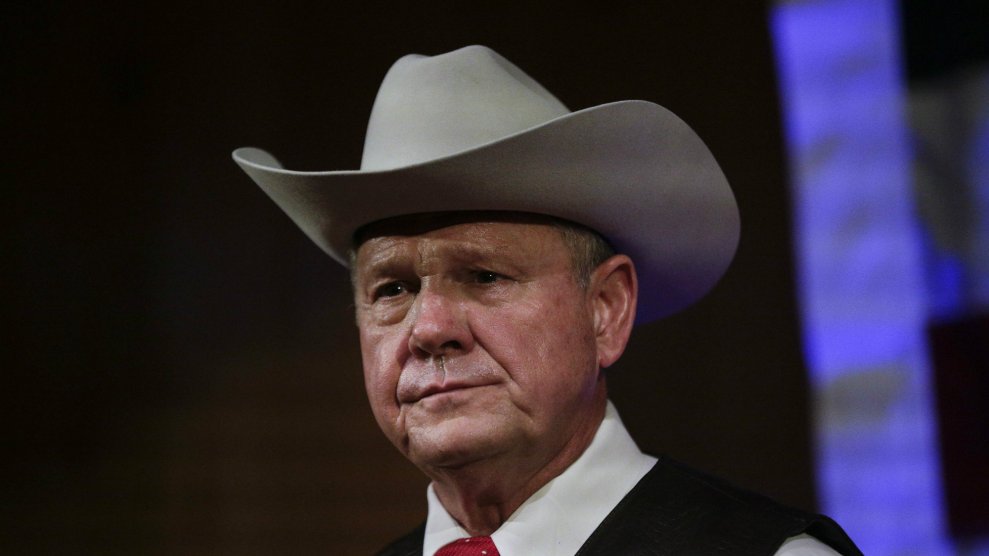 Several Republicans in the Senate, including Majority Leader Mitch McConnell, have called for Alabama Republican Senate candidate Roy Moore to exit the race if reports of sexual contact with a minor are true. But it wouldn't be quite so simple for Moore to drop out of the race.
On Thursday, the Washington Post reported that four women have said Moore pursued them when they were teenagers, including one who was 14 when Moore, then 32, allegedly initiated a sexual encounter with her. That quickly prompted McConnell and others to say Moore should step aside if the allegations are valid.
But Alabama law prohibits a candidate from withdrawing within 76 days before the election. The runoff between Moore, who beat incumbent Luther Strange in the Republican primary, and Democrat Doug Jones is scheduled for December 12. And Moore's name will be on the ballot.
https://twitter.com/derektmuller/status/928687268663095296
Moore is best known as the controversial state supreme court judge who was removed from the bench after refusing to take down a courthouse monument to the Ten Commandments. He has vehemently denied the allegations of pursuing the teenagers, saying they are "the very definition of fake news and intentional defamation."