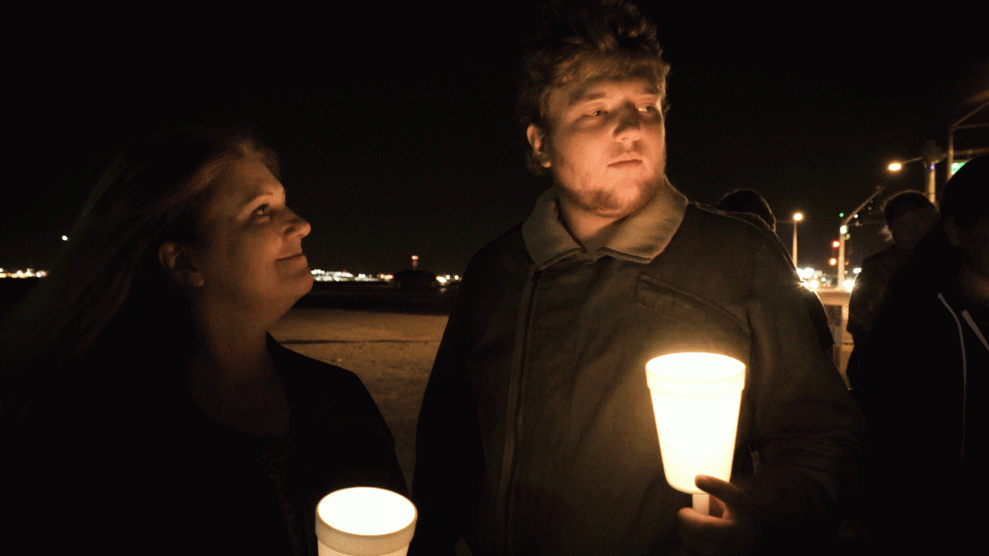 Fight disinformation:
Sign up
for the free
Mother Jones Daily
newsletter and follow the news that matters.
When the bullets started flying on that October evening, some hit Las Vegas' Route 91 concert stage so close to Royce Christenson that shards of aluminum landed in his hair. He saw a man go down, and the man "did not get back up." He applied pressure to a bullet wound in a woman's leg. Amid the chaos, he tried to keep people hidden behind tour buses, and keep them calm. When the shots finally stopped, Christensen exited through the field—"the killing zone," he calls it—where "there was a body every five feet. Some of them were covered, some of them were not." In an area where people had taken the injured, the gutters were covered in blood. He looked up and saw a truck weighed down with the wounded and the dead screech by, honking its horn. "I had never seen any video game, any movie, nothing that prepared me for the gruesome things I was seeing," he recalls. "I didn't know how to react, I guess, I just started laughing—that nervous laughter that you can't believe it."
More than a month has passed since the massacre in Las Vegas that claimed 58 lives and wounded hundreds more, but Christensen can't shake the scenes from his head. Sometimes he'll be at the sink washing his hands and find himself transported back to "that place," he says—the screaming and running, the rapid-fire gunshots, the people sobbing over their loved ones—and he doesn't snap out of it until the sink starts to overflow. His mother, Darla, who was also at the concert, instinctively takes cover behind cement walls when she's near tall buildings, subconsciously seeking out barriers that would shield her from gunfire. Neither of them get much sleep these days, and they have a hard time going out.
Royce and Darla are members of a family of security guards who work for Contemporary Services Corporation, a crowd management company that provided security for the Route 91 Country music festival. Royce was positioned closest to the Mandalay Bay Hotel and Casino, and therefore, the shooter. My colleague Al Kamalizad and I covered their story in the days after the massacre, when they spoke at a roadside candlelit vigil. The Mandalay Bay loomed golden in the background as a collection of survivors shared their stories. "Twenty-two thousand people were in attendance Sunday night," said Samantha French, a Las Vegas native who spoke at the vigil. "That's 22,000 people who experienced war."
Now, after the initial shock has faded, survivors are confronted with how to deal with what may prove, in some cases, to be long-term trauma. "On average, about 20 percent of people who experience events that are tragic to this degree are susceptible to PTSD," says Noelle Lefforge, the assistant director of clinical services and research at The Practice, UNLV's community mental health clinic, which has been offering free services to those affected by the shooting. "We know that a significant number of people are going to have a really hard time returning to functioning after this."
Lefforge says mental health workers are just beginning to see what the long-term impact might look like. Some survivors have been able to return to normal life, yet others remain overwhelmed. "This has really shattered their sense of safety in this world." As with combat soldiers, it's not uncommon, she says, for survivors to experience a sense of hypervigilance: They're quick to startle, they have nightmares and trouble sleeping, and they find it difficult to concentrate and connect with others. Some, like Royce, have panic attacks. "The stress on the nervous system this can cause can impact your immune functioning," Lefforge adds. "You can literally be more susceptible to feeling sick."
In 2015, my colleagues at Mother Jones published a breakthrough investigation, in collaboration with the Pacific Institute for Research and Evaluation economist Ted Miller, on the annual cost of gun violence in America. The report found that the total financial impact exceeds $229 billion annually, including direct costs such as emergency care, medical expenses, and court and prison costs, and indirect ones related to declines in a person's productivity and quality of life. The long-term cost to society of a single murder is almost a half-million dollars, according to the report—a typical victim's hospital expenses runs more than $10,000, and mental health treatment for the victim's family in an average case exceeds $11,500.
There are gaps in what we know about the costs associated with mental trauma caused by gun violence. As my colleague Mark Follman wrote in the investigation, Miller had to rely on a study he co-authored back in 1998 to estimate current costs because no contemporary research existed. That study calculated the rate at which people sought counseling, and the corresponding costs. "Applying those numbers to current data on gun injuries and deaths gives an estimate of $410 million annually in direct mental-health costs," Follman wrote. "But that sum would rise substantially if all gun victims and their families could afford to seek counseling. Miller hasn't had resources to build on the data since, and Mother Jones could find no other firearm-related mental-health studies by government or private institutions."
But it's clear that survivors such as Royce and Darla suffer an array of consequences. Shortly after the shooting, unnerved by simply being in Las Vegas, Royce flew to Utah to spend time with his fiancé. He missed several weeks of work. The first day back on the job, he had a panic attack. "Being back in my uniform brought some bad memories," he notes. Many of the events he provides security for have fireworks, which is problematic because, like so many at the Route 91 music festival, he first thought that was what the gunshots were. "If I don't know about it," he says, "it can catch me off guard and I duck for cover."
Royce, who finds comfort in group therapy and who sees a counselor no less than once a week, has had several panic attacks since the Route 91 shootings, at work and elsewhere. He's sometimes surprised by what triggers them. "Maybe the smell of pine dirt, like what was there in the back of the stage, or maybe the smell of blood—or somebody screams in an awkward way, or maybe for no reason at all—and I'll have these flashbacks and start crying."
The same thing has happened to Darla. "I went to go visit someone to give them a thank you gift, and where she lives she has a view of the strip," she told me. "I looked down and instantly started crying."
For the first week after the shooting, the Christensens wouldn't leave the house for fear of what they might encounter. On sleepless nights, they would find each other pacing in the living room, trying to calm themselves down. Even now, says Darla, "I question how to keep my family safe."
Their sense of insecurity was only exacerbated by news of the rampage at the First Baptist Church in Sutherland Springs, Texas, one month after the Las Vegas massacre. "Hearing about that church shooting, it puts you right there," says Darla. "You know what they went through, what they felt and what they heard and what they saw…People say, 'You're probably in the safest city in the world right now because this definitely won't happen again.' And then, when another mass shooting happens, suddenly you're like, 'Oh wait, this is pretty darn common.'"
"It scares me to think of all these shootings lately," Royce says. "I feel so much for those people." He adds: "Before the shooting, I thought it couldn't happen to me. After, I feel like it could happen anywhere."
Nevada's mental health system is being stretched by the Las Vegas aftermath—perhaps beyond its capacity. Psychologist Michelle Paul, a professor at UNLV who was among a small army of volunteer mental health professionals who mobilized after the shooting, told Mother Jones that Nevada was already facing a mental health crisis. "We don't have providers for the need, and that was before this happened. Are people going to be able to find a therapist without a long waiting list? Are they going to find somebody who takes their insurance?"
"We're dedicated to doing everything we can," says Lefforge, Paul's colleague, "but it is pretty daunting to consider this on top of everything else we were already doing."
Time will help, but survivors will face heartbreaking milestones that bring their horrific memories flooding back. "A month is one milestone," says Lefforge. "But people have their own dates: If you've lost somebody, you're going to have to struggle through their birthdays and anniversaries, and with the holidays coming up, they're going to have a different experience this year."
In terms of scope, the Vegas massacre was perhaps the most shocking event in a horrific year for mass shootings. They began in January with a rampage at Fort Lauderdale airport. In the months to follow, there were mass shootings in downtown Fresno, California; at an Ohio nursing home; an awning manufacturer in Orlando, Florida; a Pennsylvania supermarket; a San Francisco UPS store; the Las Vegas strip; a Maryland business park, a Colorado Wal-Mart; a Baptist church in rural Texas; and in the rural town of Rancho Tehama, California. All told, there have been nearly 700 casualties—not including family members, friends, and bystanders left to navigate their newfound grief.
Until it happened to him, Royce says, "I wasn't afraid of the world."