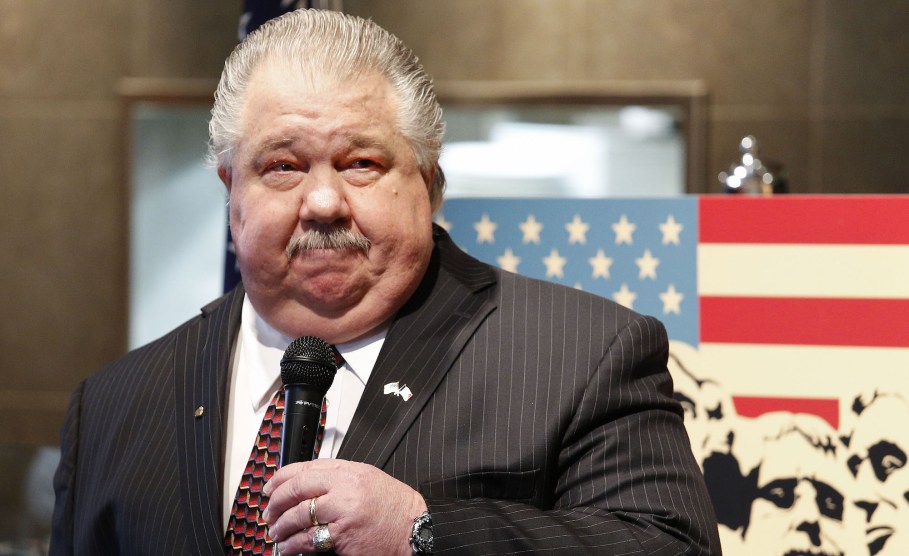 President Donald Trump's controversial pick for a key Department of Agriculture post withdrew from consideration Thursday, just days after the emergence of explosive details about his involvement in the Trump campaign's contacts with Russia.
Sam Clovis, a former Trump campaign aide who the president picked to serve as the agriculture department's top scientist, said in a letter to Trump Wednesday that "the political climate inside Washington" had left him unable to receive fair consideration. "As I am focused on your success and the success of this Administration, I do not want to be a distraction or negative influence, particularly with so much important work left to do for the American people," Clovis wrote.
Clovis' nomination faced stiff opposition from Democrats, who pointed to his lack of scientific credentials and his history of controversial comments—including his assertion that climate change research amounts to "junk science." But it appeared to be Clovis' emergence as a significant figure in the Russia scandal that forced his withdrawal. Senate Republicans, including Agriculture Committee chairman Pat Roberts (Kansas), had previously said they would allow Clovis' nomination to advance to a hearing. But they balked this week as Democrats geared up to question the nominee about the campaign's contacts with Russia. Roberts on Tuesday would not say if Clovis' confirmation hearing would go ahead as planned. "To be determined," Roberts told Mother Jones when asked if the nomination would be withdrawn.
Clovis' attorney on Tuesday confirmed reports that Clovis was the unnamed Trump campaign supervisor identified in recently unsealed court filings who oversaw George Papadopoulos, a campaign aide who pleaded guilty to lying to the FBI about his contacts with Russians. Prosecutors said they suspect that Papadopoulos' contacts worked for Russian intelligence agencies. It's unclear how much Clovis knew about Papadopoulos' activities. But Clovis has been questioned by Special Counsel Robert Mueller's team—and interviewed by the Senate intelligence committee.
Democrats said on Tuesday that they would aggressively question Clovis about the Trump campaign's Russia ties at a confirmation hearing Roberts had previously scheduled for next week. Clovis' withdrawal deprives senators of the chance to put Clovis under oath in a public setting.