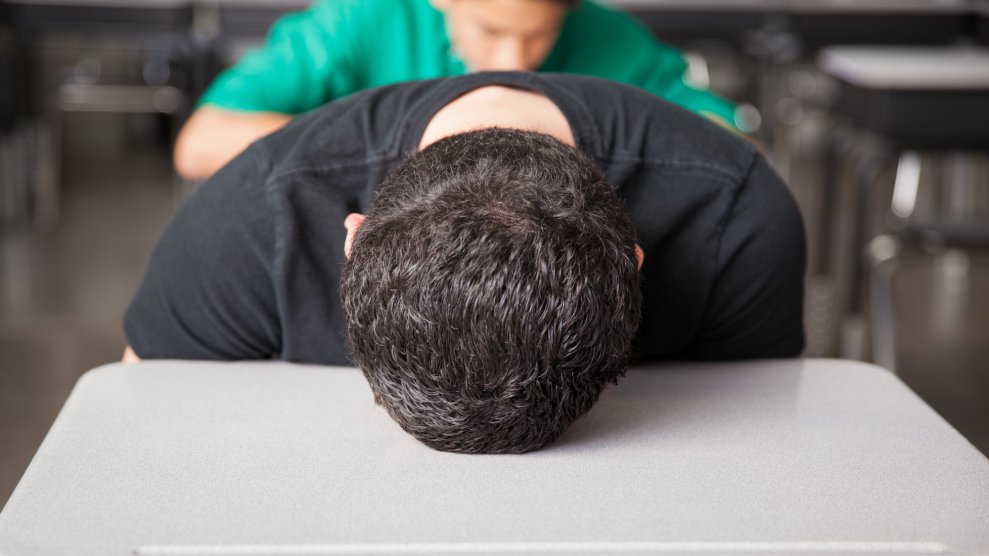 Fight disinformation:
Sign up
for the free
Mother Jones Daily
newsletter and follow the news that matters.
When Kellan Powell was in the first grade in 2011, he and his family moved from Ohio to Georgia. Kellan is on the autism spectrum and being uprooted came during an especially rough time in his life. His mother Kerstin says he had been traumatized after a substitute teacher restrained him, giving him bruises and making him wary of teachers; once in a Georgia public school, he needed extra support. Finally, in third grade, school administrators decided Kellan's needs could not be met in the neighborhood school and suggested that he attend the Georgia Network for Educational and Therapeutic Support, a separate state-wide network of schools for students with disabilities and behavioral problems.
It only took a Google search for Kerstin to understand she didn't want her son in GNETS, but she had no choice. She found that many of those schools, which serve approximately 5,000 students, lacked playgrounds, art classes, and physical education programs. The current graduation rate for the students is unclear, but a 2009 report found that only 10 percent of students graduated with a regular diploma within five years. One problem is that many of the schools don't offer all the classes required to graduate. Leslie Lipson, of the disability rights group the Georgia Advocacy Office, describes GNETS as "drop out factories for abandoned kids."
Conditions were so bad at the GNET schools that the Department of Justice under the Obama administration conducted an investigation in 2015 and found they violated the Americans with Disabilities Act—a 1990 law that guarantees people with disabilities equal access to education. The investigation charged that Georgia unnecessarily segregated "students with disabilities from their peers" and it offered opportunities "to its students that are unequal to those provided to students throughout the state." The DOJ sued the state of Georgia, asking for the courts to desegregate students in the GNETS program. That case has stalled in the U.S. District Court in the Northern District of Georgia over the question of whether the department even has the standing to sue at all. It's one of several lawsuits filed under the Obama administration that disability rights advocates are watching closely to see how the new administration will handle such matters, and it could prompt other states to reevaluate whether they're illegally separating students with disabilities from their peers.
This week, disability advocacy groups joined with families in a separate class action lawsuit against Georgia, asking for the state to desegregate GNETS students from their non-disabled peers and provide them access to the services they need at their neighborhood schools. The plaintiffs argue that students in Georgia don't have time to wait and see if the DOJ lawsuit moves forward.
The lawsuit charges GNETS with having violated the ADA, the Rehabilitation Act of 1973—which prohibits entities that receive federal funds from discriminating against people with disabilities in their programs—and the 14th amendment, which prohibits the government from denying specific individuals or groups protections under the law. Plaintiffs also point out that 51 percent of GNET students are black compared with 37 percent in the state's other public schools, raising additional legal concerns about segregation.
The Attorney General's office in Georgia did not return Mother Jones' request for comment. Last year, when Mother Jones reported on the DOJ lawsuit against Georgia, state school superintendent Richard Woods said officials put "tremendous efforts…into enhancing the educational experience for the small percentage of children who receive education services from GNETS programs," adding that the state "will continue to make the well-being of these children our first priority."
Lipson points out schools often are incentivized to send students who require additional help to GNETS instead of giving them the support they need in their neighborhood school because funding is tied to the program instead of to individuals students. This situation often makes it impossible for student's local schools to get the resources they need to support certain students with disabilities who struggle with behavioral issues. When the state-wide system was formed in the early 1970s, before the Americans with Disabilities Act, it was seen as relatively progressive, but today Lipson describes the program as being "significantly outdated."
Another reason advocates are filing their own lawsuit is because of concern the Department of Justice under Jeff Sessions won't make enforcing disability rights a priority. Alison Barkoff, director of advocacy at the Center for Public Representation, a disability rights group involved in the lawsuit, tells Mother Jones that an ADA case the DOJ had previously appealed was recently withdrawn. "All of us are watching lots of different areas in the civil rights divisions and across the Department of Justice to see where priorities are changing," she says.
Barkoff worked on enforcing disability rights for the Department of Justice under the Obama administration and says even if the Georgia case moves forward, the DOJ has signaled it favors private settlements rather than agreements for oversight from a judge. She stresses the importance of an enforceable court order but is concerned that "some of the public statements from the Department of Justice have indicated that's not what they plan to do any longer in this new administration." Disability rights advocates are "reading tea leaves," as Barkoff puts it, "but we feel incredibly strongly this is important, this is something that impacts thousands of students and these are students who have waited a very long time to have their rights vindicated."
Kellan's mom didn't have the resources to hire a lawyer to fight the placement and send her son to a private school—even if she could find one that would give her son the attention and care he needed. "When your 8-year-old thinks they're such a bad person they tell you they want to kill themselves because they can't do anything right, you're just willing to do anything to do anything to get them out of the situation." Kerstin Powell tells Mother Jones. "Sometimes you buckle down and accept it and hope that maybe the change of scenery will be better. Or that maybe somebody will finally understand what he's been through and help him."
Kellan spent almost four years in GNETS, where he didn't have recess, art classes or field trips. But this year, Kellan is spending 8th grade in a private school. "Where he struggled to get C's, he's getting A's at a grade level higher than what he's in," she says. "I'm getting notes about his leadership ability, about how he's helpful and kind to other students… These are things that I have never heard about him, but I knew were there."