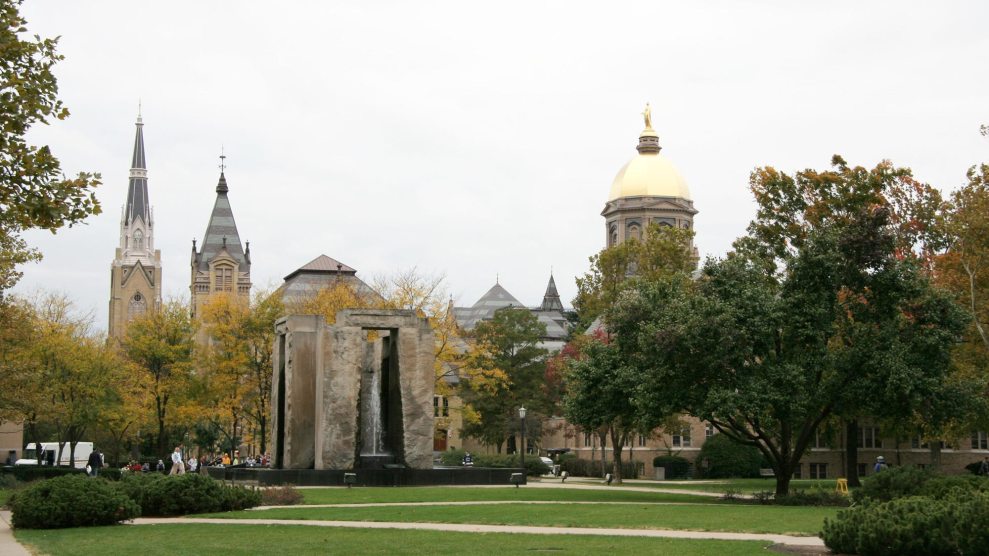 Fight disinformation:
Sign up
for the free
Mother Jones Daily
newsletter and follow the news that matters.
The University of Notre Dame announced last Friday that it plans to stop providing no-cost birth control in health insurance plans for employees and students. The move comes as a result of changes earlier this month by Trump's Department of Health and Human Services that weakened the Affordable Care Act's mandate requiring employers to provide free birth control.
In emails reported Tuesday by the South Bend Tribune, the Catholic university's human resources department informed staff and students that coverage for employees will end on January 1, 2018. Students' coverage through Aetna student health will continue through August 14, 2018, which is the end of the current plan year.
With approximately 10,500 undergraduate and graduate students, Notre Dame sued the Obama administration in 2013 over the Affordable Care Act's contraceptive mandate, claiming that requiring the Catholic school to provide contraceptive coverage violated the university's religious beliefs. The Obama administration soon permitted religious employers to file paperwork with the government indicating their religious objection to contraceptive coverage. This government notification triggered separate no-cost contraceptive coverage for employees provided directly by the insurance company and paid for by the government. Since then, university staff and students have received contraceptive coverage through a third party provider.
For years, the case wound its way through the courts as part of nationwide litigation challenging the contraceptive mandate. But following major changes to the contraceptive mandate, enacted by the Trump administration on October 6, Notre Dame settled its lawsuit. The changes expanded the types of employers that can opt out of birth control coverage and eliminated the requirement that employers notify the government to enable third-party contraceptive coverage.
In its email, the university said that it will continue covering contraceptives "when there is an appropriate medical necessity as shown by a treating physician. The use of the medication must be for treating a specific medical condition and not as a means of preventing pregnancy," according to the Tribune. The contraceptive prescriptions that are covered will be subject to standard medication co-pays.
Also on Tuesday, three Notre Dame students sued the Trump administration over the changes to the contraceptive mandate that have enabled the university to opt out of covering birth control.
"Blocking access to basic health care that 99 percent of women use at some point in their lives is unlawful, discriminatory and harmful," said Fatima Goss Graves, the president and CEO of the National Women's Law Center, one of the groups representing the Notre Dame students. "Everyone deserves birth control coverage, no matter where they work, how they are insured, or where they go to school. Our lawsuit aims to shut down this latest assault by President Trump on women's health, equality, and economic security."