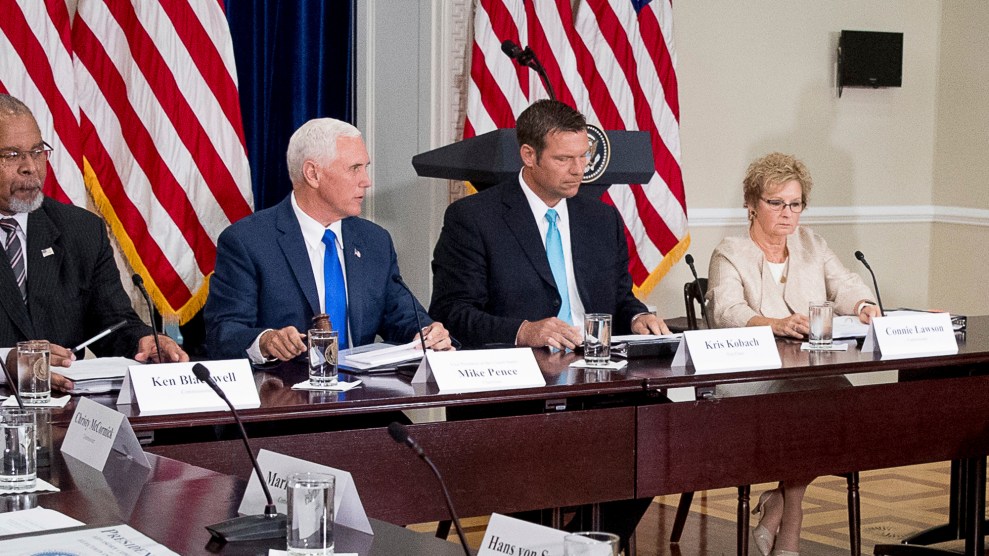 Fight disinformation:
Sign up
for the free
Mother Jones Daily
newsletter and follow the news that matters.
A program promoted by the vice chair of President Donald Trump's election commission to crack down on voter fraud has serious flaws, says another Republican member of the commission. So much so that Indiana—home to both the commissioner and Vice President Mike Pence, the chair of the commission—had to come up with its own software to compensate for the errors.
Kansas Secretary of State Kris Kobach, the vice chair, has made it his mission to find evidence of voter fraud and crack down on it. (In reality, there have been few documented cases of voter fraud.) Part of that effort is the interstate Crosscheck program, which his office administers and he has called a model for the country. It compares voter lists between participating states in order to find people who are registered in multiple states and could try to vote twice.
But the program has been found to generate thousands of false positives—flagging legitimately registered voters and threatening to remove them from the rolls. The false positives have also been used as proof of voter fraud. At a congressional hearing on Wednesday, a Republican secretary of state who uses Crosscheck acknowledged its flaws.
Connie Lawson, a commission member, is Indiana's Republican secretary of state and served in that role while Pence was the state's governor. Indiana is one of the 30 states that use the Crosscheck program. But according to her testimony Wednesday, Lawson has run into problems with Crosscheck.
As she explained to the Committee on House Administration, Indiana has layered its own software on top of Crosscheck's findings to weed out the false positives generated by Crosscheck. "As it regards the Crosscheck program [in which] Indiana participates, we developed a software program where we have a confidence level," she said. Lawson described software that assesses each Crosscheck match by using additional data to assign points for matches, including a voter's driver's license number and Social Security number. (Crosscheck looks only at voters' first name, last name, and birthdate—hardly enough data to distinguish among millions of voters.) If the points don't add up to a certain threshold, then the state doesn't forward those names to the county election officials who are responsible for removing ineligible people from the rolls.
"We worked with a statistician who told us that the way we were doing our work, that I would have a better chance of winning the lottery than the counties removing the wrong person, the way were doing [it]," she testified.
After the hearing, Lawson confirmed to Mother Jones that Indiana had adopted the software because Crosscheck was generating false positives. "We had never done it before we entered Crosscheck," she said. "We got a lot of what we were afraid might be false positives, so we decided that the county clerks couldn't possibly work all this information, so we decided to develop a confidence level so that we wouldn't be sending all this information to the counties for them to go through." She added, "I think that they would have caught these false positives themselves, but we didn't want to make them go through all that when they were already busy running elections."
Lawson said she discussed Indiana's program with other election officials from around the country at a meeting of the National Association of Secretaries of State last summer.
Lawson is not the only person to note that Crosscheck generates false positives. The inaccuracies have led some states, including Republican-led Florida, to withdraw from the program. And in 2016, researchers at Stanford, Harvard, Yale, and the University of Pennsylvania found that on voters lists Crosscheck had sent to the state of Iowa before the 2012 and 2014 elections, "200 legitimate voters may be impeded from voting for every double vote stopped." (Minorities are at a particularly high risk of being erroneously flagged since they're likelier to share common last names.)
Though Lawson still uses the software, her acknowledgement of its flaws as an election administrator is important because of her close ties to Kobach and Pence and her position on the election commission that has come under fire for its apparent singular focus on proving the existence of widespread voter fraud. When the commission ultimately makes its recommendations to the president, voting rights advocates and academics fear that promoting Crosscheck—either by making it a national program our encouraging more states to join—will be on the list.